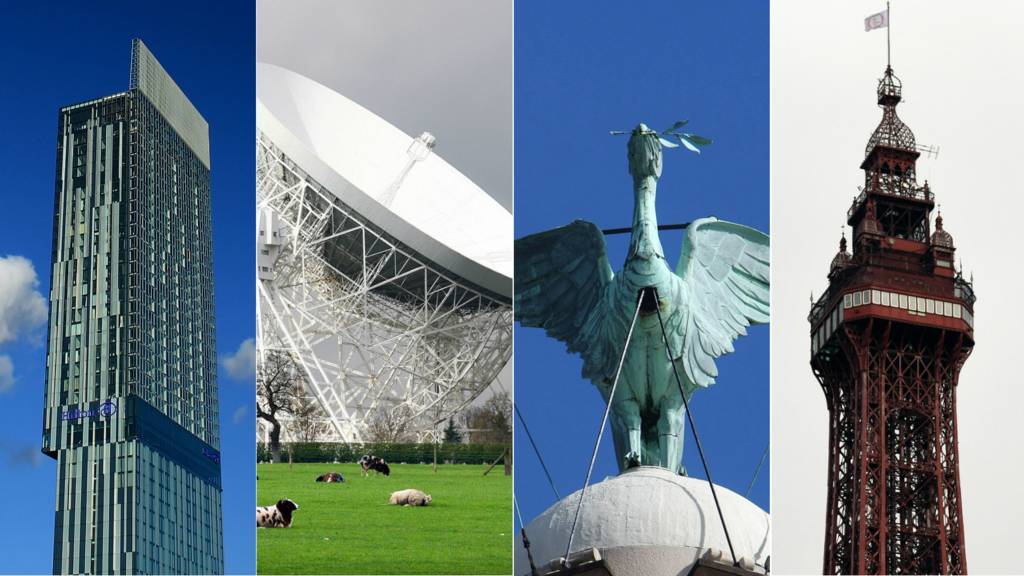 BBC Local Live: North West of England
Our coverage across the day

That's it from us on Friday. Please join us again from 08:00 on Monday for our normal service of news, sport, travel and weather updates.

Have a good weekend.

Weather: Cloudy with some rain

Remaining cloudy through the evening and first part of the night with a little patchy light rain. 

However, most areas will become dry with clear spells later, leading to a chilly end to the night.  Lowest temperatures 8C.

Sun columnist Kelvin MacKenzie 'to be quizzed' over Ross Barkley comments

Merseyside Police are to interview Sun columnist Kelvin MacKenzie over his article about Everton footballer Ross Barkley, according to the city's mayor.

Image caption: Kelvin MacKenzie is on holiday but will be interviewed on his return

His column compared the midfielder - who has a Nigerian-born grandfather - to a "gorilla" saying he is "one of our dimmest footballers".

At a meeting of Liverpool City Council's cabinet this morning, Mayor Joe Anderson described the comments as a "racial slur" and said Merseyside Police will be "interviewing the person concerned".

The Sun which suspended its former editor apologised for the offence and said it was "unaware of Ross Barkley's heritage". 

Mr MacKenzie has been approached for comment but is currently on holiday. 

Merseyside Police said it was an ongoing investigation and officers will be speaking to relevant witnesses.

Textile industry brings 1000 new jobs to Greater Manchester

Investment in the Textiles Growth Programme has created nearly 1,000 new jobs in Greater Manchester.

Copyright: Science Photo Library

Cabbage lead singer Lee Broadbent denies claims of sexual assault at gig

Manchester band Cabbage have denied claims their lead singer assaulted a female audience member at one of their gigs.

A woman who attended the Wednesday night gig - but not the person said to have been assaulted - claimed on social media to have seen the incident.

The band strongly deny the accusations made against singer Lee Broadbent.

Nicole Rushworth said Cabbage's performance was poor and claims he was "so off his head" that he was unable to remove his own guitar strap.

Latest headlines for the North West

Morrisons recalls green beans after metal was found in a store in Manchester

A man who had sex with a 13-year-old girl from Nelson and abducted her is jailed

Morrisons recalls green beans after metal find

Morrisons is recalling its own-brand trimmed green beans after metal was found inside them.

Copyright: MERCURY PRESS AND MEDIA LTD

Two customers found the metal in packets of the vegetables in Manchester and Glasgow stores.

The Food Standards Agency issued a warning for the affected products, which are the supermarket's 170g bags of the beans with display until dates of 22 April, 23 April and 24 April.

A spokeswoman for Morrisons said an investigation was under way.

Moston man jailed for murdering wife during row

A man who strangled his estranged wife during a row has been jailed for life for murder.

Christine Neary, known as Chrissy, was found dead at a property in Kinver Road, Moston, Manchester on 28 January.

The 46-year-old and her husband James Neary, or Jimmy, had recently split up and he had taken it "badly", police said.

Neary, also 46, of Kinver Road, admitted murder at Manchester Crown Court. He will serve a minimum of 12 years in prison.

Football: Burnley defender's future has not changed, says manager

Michael Keane's future at Burnley has "not changed" despite reports linking the defender with a move away from the club, says manager Sean Dyche.  

The 24-year-old has had an impressive season and has been shortlisted for the Professional Footballers' Association young player of the year award.

He made his England debut on 22 March in the 1-0 defeat by Germany.

"He is focused on the job at hand in delivering performances for the club," said Dyche.

Severe disruption: M60 Greater Manchester clockwise

BBC News Travel

M60 Greater Manchester clockwise severe disruption, between J16 for A666 and J17 for A56 Prestwich affecting J13 for A572.

M60 Greater Manchester - One lane closed and heavy traffic on M60 clockwise between J16, A666 (Pendlebury) and J17, A56 (Prestwich), because of a broken down car. In the roadworks area. Congestion to J13, A572 (Worsley).

To report traffic and travel incidents dial 0330 123 0184 at any time

CCTV of 'shocking' east Lancashire arson released

Police are investigating an arson attack on a car in Brierfield which spread to a nearby house.

Copyright: Lancashire Police

CCTV images show two men poured accelerant on a blue Vauxhall parked outside a bungalow on Walter Street in the early hours of Thursday morning, and then set it alight.

The men then ran off along the side of Walter Street Primary School.

The blaze damaged the side of the bungalow and a garage.

Quote Message: This was a truly shocking incident, especially considering one of the occupants is disabled and there were also two teenagers inside the house. It is lucky that no one was seriously hurt. from DC Mick Smith Burnley CID

Latest headlines for the North West

A man who had sex with a 13-year-old girl from Nelson and abducted her is jailed
Police are hunting a man who kidnapped a couple at gunpoint from their home in Wigan then forced them to take hundreds of pounds out of a nearby cash machine  
The Lancashire Teaching Hospitals NHS Foundation Trust is told it must improve its services to patients

Lancashire bride 'heartbroken' as shop closure leads to dress confusion

A bride-to-be from Ribbleton says she is "heartbroken" after one of Lancashire's oldest wedding dress businesses collapsed. 

Beth Whiting, 26, from Ribbleton ordered her dress from Dan Kerr for her wedding in October and has paid more than half of the cost already.

She says the company have told her she can collect her outfit from a warehouse in Manchester but to do so she must pay all the outstanding costs first.

Dan Kerr, which has shops in Preston and Blackpool, called in the administrators after more than 100 years of trading.   

Quote Message: It's heartbreaking. Luckily we didn't have our suits with them otherwise we wouldn't have survived this because suits are just as expensive as wedding dresses. It's just crazy what they've done and how they've done it. from Beth Whiting Bride-to-be

Roller Derby summit to be held in Manchester

Manchester will host the global summit for Roller Derby, the first time it has ever been held outside of North America.

The sport is played by two teams of 14 players, who are on roller skates.  

The city is also set to host the Roller Derby World Cup in 2018.    

Photos show devastation after huge fire at Widnes warehouse

These pictures by Cheshire Fire show the devastation caused after a huge fire at warehouse in Widnes last night.

At its height, 15 fire engines were needed at the site on Tan House Lane and smoke could be seen for miles around.   

No-one was injured, but officers expect to stay on the scene for some time to damp down.   

Tranmere Rovers has 'de facto ban' on Sun newspaper

Tranmere Rovers say a "de facto ban" on the Sun newspaper will remain in place. 

The club has issued a statement clarifying its position in relation to the newspaper after bans imposed recently by Liverpool and Everton. 

The club says although the Sun doesn't normally report on the National League, requests for interviews or comments have been declined.

There has therefore been a de facto ban in place at least since 2015, the club said.

Weather: Grey afternoon with chance of rain

A grey and cloudy afternoon with the odd patch of drizzly rain. Highs of 13C.

Blackpool boy pleads guilty to taking indecent images of young girls

A 15-year-old schoolboy from Blackpool has admitted taking indecent pictures of girls and sharing them on the internet.

Blackpool Youth Court was told he targeted younger girls at his school, some as young as 12.

A prosecuting lawyer said the boy bullied and pestered them to take pictures of themselves and then send the photos to friends. 

The judge ordered that reports be prepared on the teenager before he passes sentence.