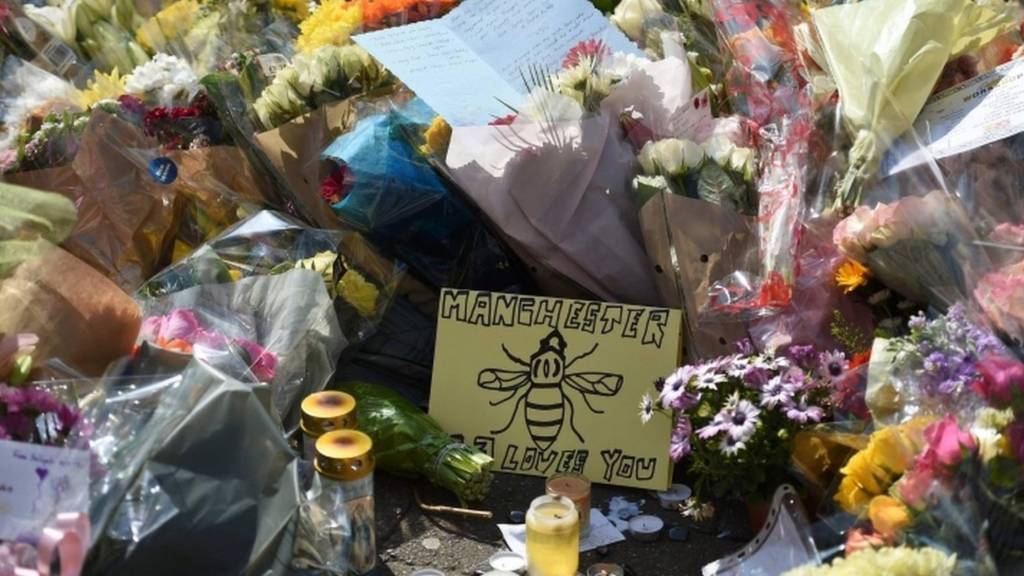 Summary
Intelligence sharing between the UK and the US resumes after row
Police search a property in Wigan following an assessment by a bomb disposal team
Police say they have made "significant" arrests - eight people are still in custody
Raids on properties have yielded "very important" items, police say
The Queen has visited victims at Royal Manchester Children's Hospital
A national minute's silence has been held to remember victims
Suspected suicide bomber is UK-born Salman Abedi, 22, of Libyan origin
'There were bodies everywhere'

An eyewitness told BBC Radio Manchester what they saw...

Ambulance staff issue plea

In pictures: Police at the scene

Police have advised people to avoid the area and will release details of the casualty bureau as soon as possible.

'We don't know if this is the end'

Pat Carney, the council's spokesman for the city centre, said everyone's thoughts were with the families of those killed and injured.

"It's a very easy target - a concert hall where young people are enjoying music," he said.

"The public are really co-operating by staying away from what is basically now a crime site.

"The world we live in, police and the council have emergency procedures that we practise all the time.

"Obviously everyone in the city is shocked, having seen how young some of these people are

"The police are treating it as a live site, we don't know if this is the end or there are other incidents in that area... we don't know at the moment."

Bomb disposal squad near arena

Guardian journalist Frances Perraudin has tweeted this video of a Royal Logistics Corp bomb disposal unit in the area.

Jade Baynes, who is from Hull, said she was told to run by armed police after leaving the arena.

The 18-year-old said she heard loud bangs and what sounded like gunshots just after the concert had finished.

She added: "There were just a loud bang and a flash and everyone tried to scramble out.

"An alarm came on telling everyone to stay calm but leave as quickly as possible."

Explosion 'in foyer', say police

British Transport Police have issued a statement saying its officers had responded to reports of an explosion in the foyer of Manchester Arena.

Hospital staff expecting 'mass casualties'

Manchester Evening News journalist tweets...

A number of people living in Manchester are offering accommodation to those who have been stranded in the city, using the hashtag #RoomForManchester on Twitter.

Concert-goer Josh Elliott, speaking to BBC Radio 5 Live, described what happened inside the arena as the gig finished.

"A bang went off and everyone stopped and screamed... we basically hit the deck," he said.

"It was bedlam… it was horrific

"We got up when we thought it was safe and got out as quickly as possible.

"People were just crying and in tears... police cars were everywhere."

"We just wanted to get out as quickly as possible because we didn't know what was going on."

The latest from Greater Manchester Police

Details of a casualty bureau number will follow shortly, Greater Manchester Police tweets...

'They told us to keep running'

Michelle Sullivan, from Huddersfield, was attending the concert with her daughters, aged 12 and 15.

"It was really scary," she said. "Just as the lights have gone down we heard a really loud explosion... Everybody screamed.

"When we got out they just said 'keep on running, keep on running'."

Singer Ariana Grande confirmed safe

A spokesman for singer Ariana Grande, who was performing at the arena, has said she was OK.

Concert-goers flee the scene

A Twitter user posted a video of Manchester Arena following reports of a "huge bang".

Manchester Arena blast: What we know

Police have confirmed a "number of fatalities" following reports of an explosion at Manchester Arena.

Witnesses reported hearing a "huge bang" following an Ariana Grande gig at Manchester Arena.

Network Rail said train lines out of Manchester Victoria station, which is close to the concert venue, were blocked.

Greater Manchester Police tweeted to urge people to stay away from the area.

Follow key updates from the scene here.