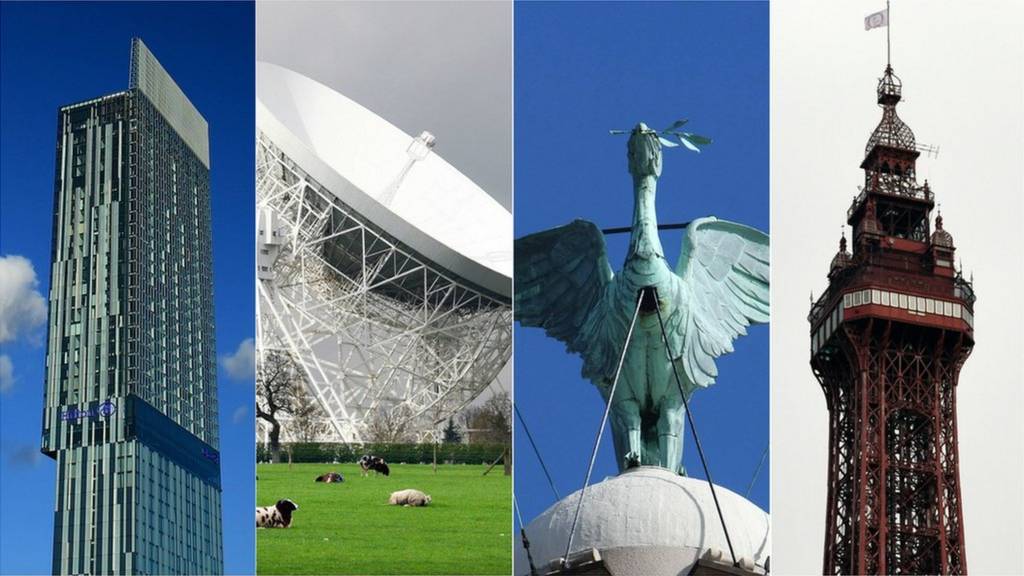 Live
BBC Local Live: North West of England
Summary
Updates on Monday 17 June
Severe accident: M60 Greater Manchester clockwise

BBC News Travel

M60 Greater Manchester clockwise severe accident, from J23 for A6140 Moss Way to J24 for M67.

M60 Greater Manchester - One lane closed on M60 clockwise from J23, A6140 (Ashton Under Lyne) to J24, M67 (Denton Island), because of an accident. Traffic is coping well.

To report traffic and travel incidents dial 0330 123 0184 at any time

Severe accident: A664 Greater Manchester eastbound

BBC News Travel

A664 Greater Manchester eastbound severe accident, from Thompson Street to Sudell Street.

A664 Greater Manchester - A664 Rochdale Road in Ancoats closed and queues eastbound from the Thompson Street junction to the Sudell Street junction, because of an accident. Diversion in operation - via A62 Oldham Road.

To report traffic and travel incidents dial 0330 123 0184 at any time

That's all from our live coverage today. We'll be back at 08:00 BST with all the news, sport, weather and travel.

In the meantime, our colleagues will update this page.

Loughnane's last chance at UFC stardom

Severe disruption: M6 Cheshire southbound

BBC News Travel

M6 Cheshire southbound severe disruption, from J18 for A54 Middlewich Road Middlewich to J17 for A534 Old Mill Road Sandbach.

M6 Cheshire - One lane closed on M6 southbound from J18, A54 (Middlewich) to J17, A534 (Sandbach), because of a break down. Traffic is coping well.

To report traffic and travel incidents dial 0330 123 0184 at any time

Ex-law lecturer denies child sex offences

An ex-university law lecturer has denied in court that he carried out a string of sex attacks on young girls.

Copyright: Suffolk Police

Julian Myerscough who is originally from Bolton is accused of abusing three girls between 2001 and 2010. He denies 11 charges, including two of raping a child under 13.

Appearing in the witness box, the defendant was asked if he had interfered sexually with the victims.

Mr Myerscough, who was a lecturer at the University of East Anglian, replied: "No, never. No."

Brexit referendum aftermath sees 'rise in extremism'

Political extremism has increased since the 2016 Brexit referendum, the head of terrorism investigations in the North West has told BBC Radio Manchester.

Det Supt Will Chatterton said dealing with far-right extremism was a real challenge, with "open hostility" towards politicians.

He said the unit's cases included "horrific sentiments" posted online.

The Home Office said it was "committed to stamping out extremism in all its forms".

'Playboy' fraudster must pay back £1k

A "playboy" financial adviser who conned friends out of £4.1m only has to forfeit the money he had on him when he was arrested, a judge has ruled.

Copyright: Merseyside Police

Neil Bartlett, 54, who was jailed in December, used bogus investment schemes to pay for gambling and prostitutes.

His only asset was the £1,015 he had in his pocket when he returned to the UK, Liverpool Crown Court was told.

Making the ruling, Judge Brian Cummings said: "I very much regret there is so little available, but there it is."

Rochdale schools 'win the treble'

Local Democracy Reporting Service

Rochdale has "won the treble", a council boss said after the government announced the borough is to get another two schools.

Councillor Kieran Heakin said he was "over the moon" to get two "desperately needed" new secondary schools in addition to a special needs school in Heywood.

The Edgar Wood Academy in Middleton is expected to be opened in Bowlee in 2021 while the new school set for the Pennines is likely to be built at Littleborough playing fields.

Quote Message: "We never expected to get two. We thought we would get one, especially as we have got the special school at Heywood opening in 2022 as well. from Councillor Kieran Heakin Portfolio holder for children's services

Quote Message: We've won the treble - it's better than Liverpool and Man City combined.

Banging in Clitheroe? It is cannon fire

If you hear bangs around Clitheroe Castle this week - don't worry it is not under attack, say police.

Ribble Valley Police said cannon fire will be heard daily at 12:00 BST and 14:30 as part of a schools event on castle life.

'Sewage' in Leeds & Liverpool canal kills more than 1,000 fish

"Sewage" or "farm run-off" may have caused the death of more than 1,000 fish during a "pollution incident" in a canal, a waterways charity has said.

Boat owners reported seeing fish in a "distressed" state on the Leeds & Liverpool Canal at Leigh on Thursday, the Canal and Rivers Trust (CRT) said.

Hydrogen peroxide has now been added to the water to increase oxygen levels.

Fisheries officer Paul Breslin said something that was not "immediately toxic" was probably to blame.

It's a fur cop: Police trap runaway rabbit in Eccles

Traffic police officers have captured a fluffy suspect who tried to hop off in Eccles.