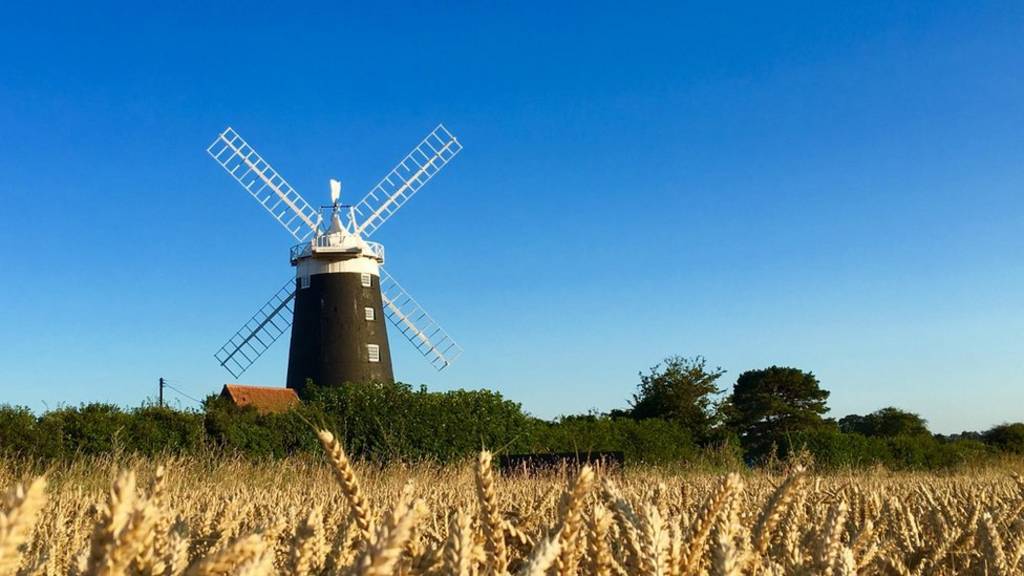 Our live coverage across the week

Our live updates for Norfolk have now come to an end for another week.

You can scroll back here to catch up with any stories you might have missed, including:

Farm installs vending machine to stop egg thefts

Rarely-spotted butterfly spotted in Norfolk
Norwich City sign German midfielder Tom Trybull

We'll be back with more news, sport, weather and travel updates at 08:00 on Monday.

Have a great weekend.

Weather: Dry tonight, but a few showers and hail possible

Julie Reinger

BBC Look East weather

The last of any showers dying away to leave a dry night across the BBC East region with clear spells and mainly light west to north-westerly winds.

Temperatures for many of us staying in double figures, but some spots could fall to around 9C (48F).

Apart from a few light showers, Saturday should begin largely fine and dry with some sunshine but eventually heavier showers will move west to east and some of these could produce hail and thunder.

The winds could become quite blustery for a time with isolated gusts of 40mph. Top temperatures around 21C (70F).

Sunday should be fine and dry with sunny spells. Cloud is expected to eventually thicken from the west and temperatures again climbing to around 21C (70F).

For a more detailed forecast for where you are, visit BBC Weather.

Norwich City sign German midfielder Tom Trybull

Jack Reeve

BBC Radio Norfolk sport

Norwich City have made another signing - German midfielder Tom Trybull, 24, is the latest to join the ranks.

Trybull signs a one-year deal with The Canaries having most recently played for FC Den Haag in The Netherlands.

The Canaries travel to Craven Cottage as they take on Fulham for their Championship opener tomorrow.

Your pictures: Some sunshine

OK, so it's not the warmest of days but our BBC Weather Watchers have captured some sunny shots of Norfolk:

Rarely-spotted butterfly... spotted in Norfolk!

One of the country's rarest butterflies has been spotted at Sheringham Park.

Your best chance of seeing a Purple Emperor in the UK is in larger woodland areas in southern England.

But the National Trust says there have been two sightings in tree tops at Sheringham in recent weeks.

Copyright: National Trust

The National Trust's butterfly specialist Matthew Oates said: "At Sheringham Park the National Trust is looking after the sallows the butterfly favours.

"Recently, people have worked out how to look for this elusive giant, which is why it's been discovered at Sheringham.

"I'm delighted that Norfolk has declared itself well and truly Purple."

The Butterfly Conservation charity's website says it is difficult to record the size of the Purple Emperor population, but they are usually only found in woodlands in south and south east England, and Norfolk is the furthest north they have been found.

A spokesman said there had been a long-term decline since the 1970s, but strong signs of recovery in the last 10 years.

Copyright: Butterfly Conservation

Image caption: Distribution map of purple emperors 2010-14

Farm installs vending machine to stop egg thefts

A family-run egg farm near Wymondham has had to install a vending machine because so many people were abusing its honesty box system.

Cavick House Farm had been relying on customers to pay the correct amount - but that was costing them about £150 a week in stolen eggs.

Copyright: Annabel Barber

Julie Barber, who runs the farm, said: "We ran the honesty box for about seven years in our little egg shed.

"We have 16,000 free range hens producing eggs for supermarkets but, to try and boost our income a little, we decided to try and sell them from a shed.

"But in the last couple of years the figures haven't been adding up.

"It is a shame, but we wanted to keep selling to our loyal customers and we thought we'd turn a negative into a positive and keep the egg sales going by installing a vending machine."

Copyright: Annabel Barber

Forecast for the day ahead: Cloudy but dry

Elizabeth Rizzini

BBC Look East weather

It'll be a largely fine day across the BBC East region, with some sunny spells, especially at first.

However some cloud is expected to bubble up through the day, and whilst this could bring one or two light showers, most places should stay day.

Here's my full forecast:

Keep up-to-date with the latest weather where you are with BBC Weather.

Stuart Webber says Norwich City want to sign another midfielder

Jack Reeve

BBC Radio Norfolk sport

Norwich City's sporting director Stuart Webber has said that the club want to sign another midfielder.

That comes after his appearance on BBC Radio Norfolk's show - The Scrimmage.

The Canaries travel to Fulham tomorrow for the first game of the Championship season with a new-look team after the shake-up at the club over the summer.

Harrison Reed and Mario Vrančić have already been recruited by Webber for midfield cover, but that doesn't seem to be enough.

Webber said: "We'd certainly like to add another midfield player. Daniel [Farke - head coach] likes to play three in there and the squad is already stretched so we need numbers."

You can listen to the interview in full by downloading the podcast or listen again on the BBC iPlayer:

Hello and welcome to Friday's live updates for Norfolk.

The weekend is just around the corner and we'll be here until 18:00 with the latest news, sport, weather and travel for the county.

First up, we'll have a full weather forecast shortly.

You can contact us at any time via email, Facebook or Twitter.

Dozens of motorcyclists rode through Norwich city centre in tribute to a fellow biker and tattooist.

Our live coverage across the day

That's it for our live updates for today, we'll be back again from 08:00 tomorrow.

Scroll down to read the stories we've been covering today.

Don't forget, if you've got a story to share with us, click "Get involved" above.

Have a great evening.

Weather: Dry with isolated showers overnight

Dan Holley

BBC Look East weather

Mostly dry tonight across the BBC East region, but breezy with a mixture of clear spells and occasional cloud, perhaps bringing an isolated shower.

Staying mild with temperatures only dropping to 13C (55F).

Friday will be quite breezy, but much of the day will be dry with sunny spells and occasional cloud and just the small risk of a shower. Feeling warm in the sun with temperatures peaking at 23C (73F).

Visit BBC Weather for a more detailed forecast where you are.

Norwich City sporting director Stuart Webber set for The Scrimmage

Rob Butler

BBC Radio Norfolk sport

The new series of the popular Norwich City fanzine show The Scrimmage begins tonight on BBC Radio Norfolk.

The Canaries' sporting director Stuart Webber will be live in the studio 18:00-19:00. Mr Webber will be answering fans' questions as well as laying out City's plans for the new season which begins at Fulham on Saturday.

Bid to stop lead thieves targeting county's churches

As we've been reporting, a new scheme has been launched to help combat the continued number of lead thefts from the Norfolk's churches.

Here are some cases when thieves have struck:

In October last year, St Nicholas Church in North Lopham was preparing to put on its knitted bible display when thieves stripped half the lead from the roof during the night
St Bartholomew Church, Sloley, near North Walsham, had its lead stolen just days after Christmas 2016
Lead was stolen from the roof and a window at St Mary's Church in Baconsthorpe in April. St Mary's Church in Northrepps was targeted in the same month
Raiders stripped lead from Little Massingham Church, near King's Lynn, in January for the third time.