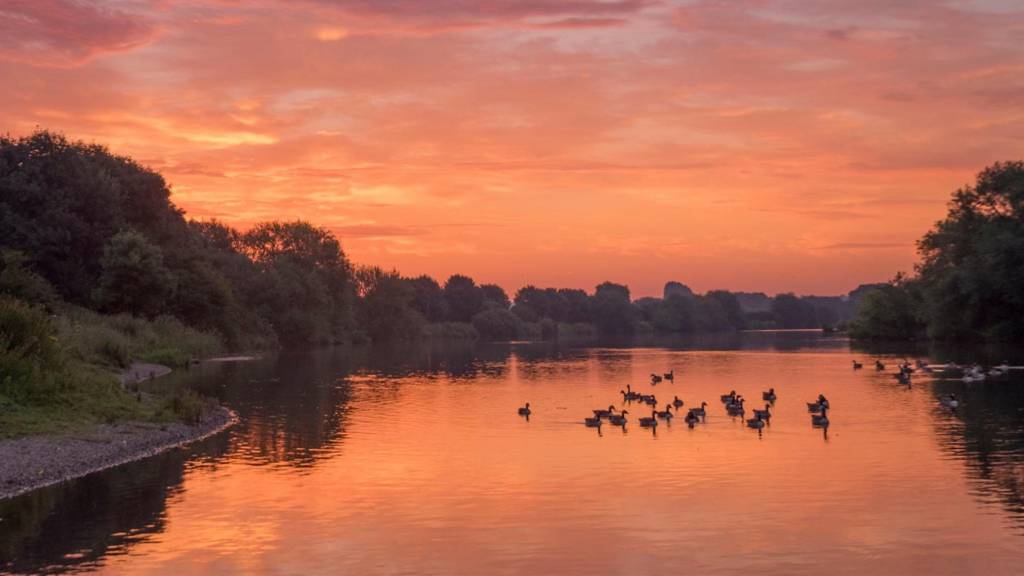 BBC Local Live: Nottinghamshire
Our live coverage across the day

That's all from Local Live today.

Join us again tomorrow.

Weather: Showery rain tonight

Kaye Forster

Weather Presenter

The cloud will continue to thicken up this afternoon and the breeze will be picking up again too. 

There will be some showery rain edging in through the evening. 

The rain will be on and off overnight giving a cloudy and damp night but it will be milder with a minimum of 11C (52F).  

Clumber Park charges 'a disgrace'

You've been having your say on our Facebook page about the new charges at Clumber Park.

Debbie Kings wrote: "These places cost huge sums of money to maintain and protect - and that's without the damage caused by thousands of people visiting - including the ones who think the signs asking them to keep off certain areas or dogs on leads etc. dont apply to them."

But Damian Hunt simply called it a "disgrace".

Olympic-style cupping available in city

So this morning, Radio Nottingham's intrepid reporter went out to the Riverside Natural Health Centre for a spot of cupping...

If you've been wondering what the big red circles on the skin of some of the Olympic athletes are - this is why.

It's an alternative therapy similar to acupuncture, whereby flammable liquid is lit in a glass cup and applied to the skin.

The likes of champion swimmer Michael Phelps swear by it.   

You've been paying tribute on Facebook to little Panda Face, the White Post Farm lamb that was killed last night.

Lisa Douglas wrote: "What a shame. That's very sad. I'm sure the staff at WPF are devastated"

And Ellen Elliott posted: "How sad. Lovely little lamb. So up setting for you all."

Copyright: Facebook / Notts TV

The lamb was Notts TV's mascot and was named by viewers.

Pair charged over shop robbery

Your pictures: Summer in Hucknall

If you look closely you can see bees clinging to the lavender in this fantastic summery scene...

Teacher was 'hardworking and friendly'

Heidi Booth

Reporter, BBC Radio Derby

I'm back at Derby Coroners Court for the inquest into the death of trainee teacher Ryan Wilkinson.

The 22-year-old, from Stapleford, has been described as hardworking and friendly.

Mr Wilkinson was hit by a train in Long Eaton last year - a day after a complaint was made to the police about him allegedly touching a young boy. 

Labour leadership debate in Nottingham

Next week, you've a chance to have your say on the Labour leadership race as Jeremy Corbyn and Owen Smith battle it out.

You can apply to take part in the official debate by emailing Victoria Derbyshire.

Attempted murder arrests after man hit by car

Two men have been arrested on suspicion of attempted murder after a man was struck by a car early on Saturday morning.

The man, in his 30s, was hit at the junction of Huntingdon Street and Alfred Street North in Nottingham.

He was taken to QMC with serious but non-life threatening injuries.

A 24-year-old and a 25-year-old are currently in police custody.

GP visits less costly for NHS

The warning has come from Clinical Commissioning Groups covering the districts of Mansfield and Ashfield, and Newark and Sherwood

They say people going to the accident and emergency department at Kingsmill when it isn't urgent, is costing too much money. 

A visit to A&E costs the NHS about £120, while it's around £46 pounds to see your GP. 

Both CCGs have to save £18.5m from their budgets this year - more than double the amount they had to save last year.

Fawaz: 'No definite deal on sale has been done'

Forest chairman Fawaz Al Hasawi has been talking about the potential sale of the club:

Quote Message: "I would like to clarify that it is true that I have been discussing potential investment with different parties, but at this moment in time I cannot confirm any definite deal has been done. I have always said I will do what is best for Nottingham Forest and if I decide to make a deal with an investor it will be in the best interests of the club's future." from Fawaz Al Hasawi Owner and chairman, Nottingham Forest

There's slow traffic on the A38 in Sutton at the Sutton Road junction because of roadworks.

Just a little further down, into South Normanton, one lane has been closed because of a broken down vehicle.

Cricket: Notts to face Nortants in T20 final

Nottinghamshire know one of the team's that'll be competing with them on T20 Blast finals day. 

Northants beat Middlesex by seven wickets last night. 

Council congrats to Downie sisters

Row over Labour Facebook page

Peter Saull

BBC Radio Nottingham Political Reporter

Ashfield MP Gloria de Piero says a Facebook page run by mainly Corbyn-backing party members shouldn't be called "Ashfield Labour".

Notts TV mascot lamb Panda Face 'killed by dog'

Poor Panda Face...

The little lamb was killed at White Post Farm last night, thought to be by a dog.

He was Notts TV's mascot and was named by viewers.

Staff from the farm, near Farnsfield, told Notts TV Panda Face was found dead this morning and another lamb is fighting for its life after the attack.

Weather: Cloud increasing

An occasional shower is possible this afternoon with a few brighter intervals remaining before the cloud increases from the northwest.

Maximum temperature: 18C (64F).

Travel: Broken down lorry in Newark

There are delays on Bar Gate in both directions between Beast Market Hill and Mill Gate because of a broken down lorry and recovery work. Congestion back to Water Lane.