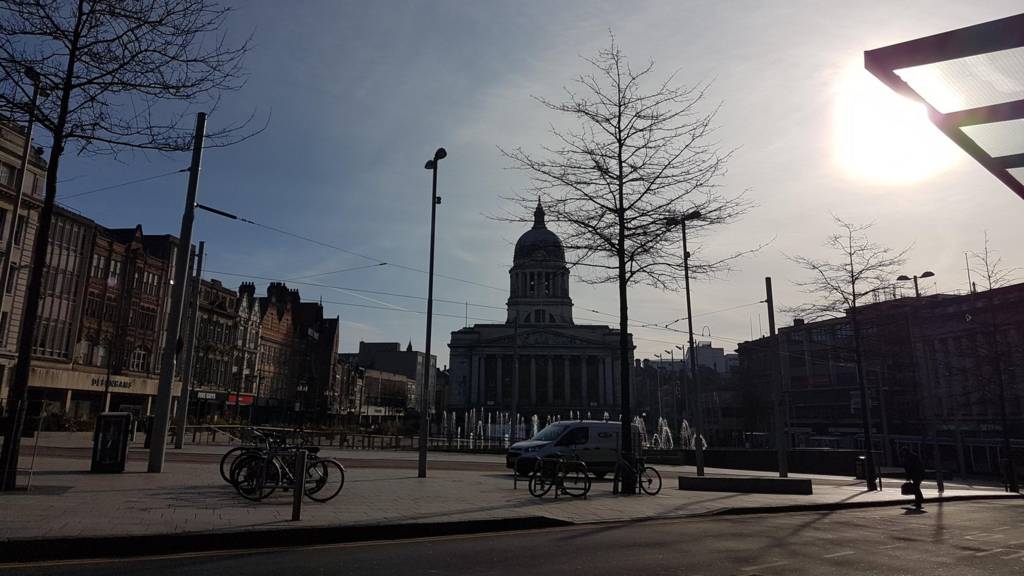 Latest updates: Nottinghamshire Live
Summary
Updates for Wednesday 29 March 2017
Police make direct appeal to mum, missing with two sons
St Ann's stabbing: Murder accused appears in court
East Leake 'fifth most normal town'
Nottingham judge defends rape and domestic abuse comments
Cricket: Notts start second day against Cambridge University
News, sport, travel and weather updates resume at 08:00 Wednesday
Our live coverage across the day

That's all from Local Live today.

Join us again tomorrow.

A mild and cloudy night with a few outbreaks of rain and drizzle, particularly through the early hours.

Minimum temperature: 11C (52F).  

Shanay Walker inquest: School has reviewed its safeguarding practices

Lewis Scrimshaw

News editor, BBC Radio Nottingham

Southglade Primary School has responded after it was criticised at the inquest into the death if seven-year-old Shanay Walker.

The acting head Alison Thomas said they have reviewed all their safeguarding practices.

Quote Message: Since Shanay's tragic death, we have worked hard to ensure that safeguarding children at Southglade Primary is at the heart of all that we do. All concerns raised regarding our pupils are dealt with according to our procedures and reported to the relevant agencies if appropriate. We understand how difficult it has been, not just for those who knew Shanay, but for everyone in our wider community. Her tragic death will stay with us all. Our thoughts continue to be with Shanay's family at this difficult time." from Alison Thomas Acting head teacher

Shanay Walker inquest: Safeguarding issues 'concerning'

The NSPCC has issued this statement after the conclusion of the inquest into Shanay Walker's death.

Quote Message: No child should have to suffer the appalling cruelty and neglect that Shanay was subjected to at the hands of her aunt and grandmother. This inquest has raised some concerning issues over safeguarding and a lack of communication between various agencies in the months before her death. But it is vital that action is now being taken to address these problems and ensure the child is at the heart of all decisions that are made. We would urge anyone concerned about a child – whether it's unusual behaviour at the school gate or noises from next door - to speak out, as it could save them from harm." from NSPCC

Copyright: Nottinghamshire Police

Travel: Latest on Nottinghamshire's roads

A46 northbound is slow approaching Newark
A453 southbound is congested heading into Clifton
A50 eastbound is slow approaching M1 J24A

Woman charged with historic sex abuse

A 60-year-old woman has been charged in connection with four sex offences at a Stapleford children's home in the 1980s.

Myriam Bamkin, of Ripley Road, Belper, is due to appear at Nottingham Magistrates' Court on 27 April, charged with three offences of indecent assault on a male under 16 years old and one offence of indecent assault on a male over 16,  police have said.

The charges, which were brought following an investigation by officers from Nottinghamshire Police's historical abuse unit Operation Equinox, are alleged to have happened at the former Amberdale children's home.

Crufts winner shows off skills

Check out these moves!

This is Millie the labradoodle and her owner Rebecca Colley, from Worksop.  

They performed at Crufts in the Young Kennel Club's medium agility ABC competition and won!

Now they've qualified to represent Team GB in the European Agility Championships in Luxembourg this summer.

HS2 engineering firm pulls out

An engineering firm that was chosen to deliver the stretch of high speed rail line HS2 to the East Midlands has pulled out.

CH2M's £170m contract was to develop Phase 2b from Crewe to Manchester and Birmingham to Leeds, via the East Midlands hub at Toton, Nottinghamshire.

But the contract signing was delayed as officials were reportedly investigating concerns from a rival bidder over alleged conflicts of interest.

CH2M blamed the exit on "protracted delays and ongoing speculation".  

Phase 1 of the £55.7bn HS2 scheme is scheduled to open in December 2026, with a second Y-shaped phase launching in two stages.  

The Leeds leg is set to run through Leicestershire and Derbyshire.

Shanay Walker child cruelty inquest: Coroner criticises school staff

Simon Ward

East Midlands Today Reporter

In the last few moments a coroner in Nottingham has given a narrative conclusion at the inquest into the death of a seven-year-old girl from Bestwood Park.

Copyright: Nottinghamshire Police

Shanay Walker died in 2014 and her aunt and grandmother were jailed for cruelty in 2015.

Coroner Mairin Casey said Southglade Primary School headteacher, Peter Smalley, and teaching assistant, Laura Shreeves  "undermined the safety of Shanay" when they "recreated" a safeguarding form after her death.

Rise in complaints about animal cruelty across East Midlands

Complaints about animal cruelty in the East Midlands have risen in the last year, according to figures published by the RSPCA.

Ralph (pictured above) was neglected by his owners in Mansfield when he was four months old and he had to have a leg amputated. 

He has fully recovered and is now living with a family in Derby. 

Dermot Murphy, of the RSPCA, said: "I believe the figures show that we're not becoming crueller, but that people are simply less willing to stand by and do nothing if they think an animal is suffering.

"People are increasingly likely to share images or footage on social media of animals they believe are not being cared for properly."

What would you like to know about Brexit?

Tonight on Facebook we'll be hosting a live Q&A about Brexit. What are your questions?

Get in touch via email.

Fire in Mansfield now out

A fire at a pub in Mansfield has now been put out. 

Fire crews said the fire was in the external electrics at the Corner House Pub on Bridge Street. 

There are no reports of any injuries and the fire service has left the scene.

East Leake 'one of most normal towns'

How average do you think your town is?

East Leake has been named as the fifth most normal town in the UK  (I'd say it's more of a big village).

Now, you might agree that average-ness seems a hard thing to quantify but scientists from ASI Data Science reckon that Didcot in Oxfordshire is the most normal place, because it closely matched UK average lifestyle, opinions and experiences.  

They took into account things like age, ethnicity, marital status, property ownership, employment, Euroscepticism, the 2015 Election vote share, income, and house prices to come up with the results.

Fire closes part of Mansfield town centre

New pound coin rolls into Nottingham

Seen one of the new pound coins yet?

Here's one (on the left) of the first of the new batch released to a bank in Nottingham yesterday...

Your pictures: Bingham birds

Nice weather for... er... geese, pigeons and coots, apparently.

Weather: Overcast afternoon

Charlie Slater

BBC Weather presenter

Plenty of cloud around throughout the afternoon with a few showers likely. 

A couple of bright spells also in the mix on an otherwise overcast day. Highs of 14C (57F).  

Breaking

Appeal to missing mum: 'Please pick up the phone'

Police have appealed directly to missing mum Samantha Baldwin to return home with her little boys.

Samantha, 42, was last seen on Monday morning in Nottingham with her two sons, Louis, 9, and Dylan Madge, 6.

Quote Message: Samantha, all we ask is that you please pick up the phone and let us know you and the children are OK and that you are safe. Overnight we have received thousands of messages of concern for you and the boys. Your loved ones are desperately worried and want to hear from you. They just want to know you and the boys are safe. For now all we need is that phone call." from Supt Richard Fretwell Nottinghamshire Police

Copyright: Nottinghamshire Police

The family, from Newark, have connections to both Lincolnshire and Manchester and may have travelled there after they were last seen.  

Council giving away free train tickets for new Ilkeston station

Calum McKenzie

BBC Local Live

You've got to be in it to win it as the saying goes... 

...although, is this one of the most underwhelming competition prizes? 

According to Trainline.com, a full price return ticket from Ilkeston to Nottingham is £5.30.

Cricket: Read 'gave his heart' to Notts

Meanwhile captain Chris Read says he wants to be remembered as someone who gave the club his heart. 

He'll retire  at the end of his upcoming 20th season at Trent Bridge.