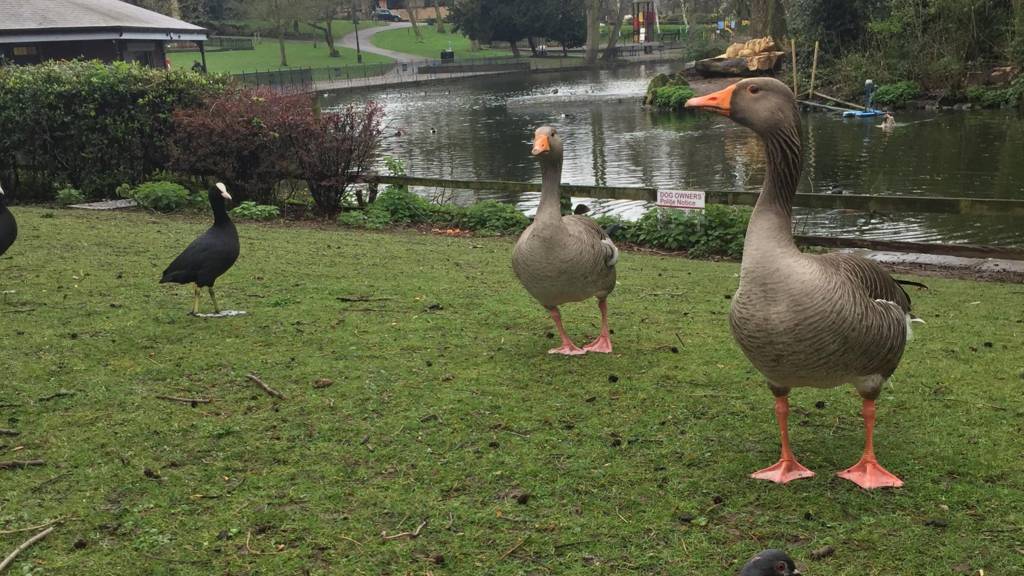 Latest updates: Nottinghamshire Live
Summary
Updates for Thursday 30 March 2017
Search for missing mum and sons widens to Europe
Nottingham Women's Centre boss steps down
M1 'smart motorway' plans criticised
Charlie the parrot gets his feathers back
Snooker: Murphy through to China Open quarter finals
News, sport, travel and weather updates resume at 08:00 Wednesday
Our live coverage across the day

That's all from Local Live this week.

Join us again tomorrow.

Weather: Patchy rain later

It'll be mild and mostly dry. Cloud will thicken through the night with the odd outbreak of patchy light rain possible.

Minimum temperature: 12C (54F)  

Missing mum and sons: CCTV images released

CCTV images showing Samantha Baldwin's last movements before she disappeared have been released by police.

The pictures were taken in the Nottingham Waterfront area, near the canal, at around 11:00 on Monday and in Cheapside in the city centre between 11:30 and 12:45 the same day.

Ms Baldwin,of Newark, is wanted on suspicion of abducting Dylan Madge, 6, and Louis Madge, 9, for whom she has no legal custody.

Copyright: Nottinghamshire Police

Police said they believe the three of them are together.

However, they've not been seen since the CCTV images were taken in Cheapside.

The images show the 42-year-old wearing a distinctive red coat, black tights and black shoes and holding a black handbag. 

Supt Rich Fretwell said: "In light of the recently released footage, I would urge people to cast their minds back to Monday 27 March.

"Did you see a woman in a red coat walking in the city? We would like to hear from you if you did."

A52 closure affecting buses

A52 closure: Quiet roads in Wollaton

Notts academy head on £260k

Mike O'Sullivan

Reporter, East Midlands Today

A teaching union has criticised top pay at some East Midlands school academy trusts as "too high".

Jane Crich, from the National Union of Teachers, made her comments after a BBC investigation found one trust leader in Nottinghamshire was paid £260,000 last year - believed to be one of the highest such salaries in England.

At the top of that scale was John Tomasevic, of the Torch Academy Gateway Trust in Bingham, who manages six schools. 

The trust has declined to comment but the Association of School and College Leaders said it's difficult to compare pay rates because of the different nature of the schools they run. 

Interim general secretary, Malcom Trobe, said: "It's a competitive market place for trusts in order to recruit those people they have to look to ensure that they're setting a salary package that is appropriate in order to attract the best people."

Expect delays to remain for some time.

M1 closure: Four miles of queues

Traffic appears to be queuing from before junction 27 after an accident closed three lanes northbound between junctions 27 and 28.

Copyright: Highways England

Magpies: 'Lots of work, not much play'

Notts County defender Carl Dickinson: "That run under Sheridan was horrible...But the gaffer has given us confidence. Now a lot more thought goes in to it.

"We are a lot more organised. We know exactly where we need to be and training is a lot higher intensity."

On summer signings, manager Kevin Nolan said: "There won't be anyone coming here for a free ride. Lots of work not much play. The best sides work hardest."

Severe accident: M1 Nottinghamshire northbound

BBC News Travel

M1 Nottinghamshire northbound severe accident, between J27 for A608 Hucknall and J28 for A38 Alfreton.

M1 Nottinghamshire - Heavy traffic on M1 northbound between J27, A608 (Hucknall) and J28, A38 (Alfreton), because of an accident earlier on.

To report traffic and travel incidents dial 0330 123 0184 at any time

Severe accident: A52 Nottinghamshire both ways

BBC News Travel

A52 Nottinghamshire both ways severe accident, between A6464 Woodside Road and A6514 Clifton Boulevard.

A52 Nottinghamshire - A52 Derby Road in Nottingham closed in both directions between Priory Island and The Qmc Island, because of an accident involving car and pedestrian. Traffic is coping well.

To report traffic and travel incidents dial 0330 123 0184 at any time

Missing mum has lived in Newark for two years

Sarah Teale

Reporter, East Midlands Today

Police have been making house-to-house enquiries in Newark today on this, the fourth day Samantha Baldwin has been missing with her sons.

Officers have said the 42-year-old has lived in the area since 2015.  

Forest: Mills and Hobbs 'not far from return'

Forest manager Mark Warburton says injured Matt Mills has trained all week and Jack Hobbs is not far away from return either.

Warburton was non-committal on links to Gillingham midfielder Josh Wright: "Prefer to do our business in private."

Women's Centre head steps down

The chief executive of Nottingham Women's Centre, Melanie Jeffs, is stepping down, the centre has announced.

Ms Jeffs, who has been at the centre for six years, said: "I'm immensely proud of what we've achieved together over the last six years and I've no doubt that the centre will continue to go from strength to strength."

She helped launch a successful campaign to record misogyny as a hate crime.

Nottinghamshire became the first force in the UK to do so last year, after Ms Jeffs led the research into hate crime in the city.

However, she received hundreds of abusive messages, including death threats.

"One person said I should get cancer, I had somebody threatening to find me and tie me up and lots of comments about my appearance," she said at the time.

HS2 firm's pull-out 'no misdemeanour'

The government's rejecting Labour's calls for an independent inquiry into the operation of the HS2 high speed-rail link after an engineering company pulled out amid allegations of "conflicts of interest". 

Yesterday it was revealed, American firm, CH2M,  won't be going ahead  with its £170m contract to develop Phase 2b of the project, part of which is due to pass through our region via the East Midlands hub at Toton. 

The Transport Secretary Chris Grayling told the House of Commons: "This was not some massive misdemeanour. 

"It was an error in process which has caused them to take a step back."

Brexit: 'Will workers' rights be protected?'

House of Commons

Parliament

Broxtowe MP Anna Soubry has expressed concern that a guarantee to protect benefits in trade and customs "has become an aim".

In the Great Repeal Bill debate earlier, she asked for an undertaking that workers' rights and consumer protections will be "in no way changed" as a result of this bill. 

The prime minister has already given that undertaking, David Davis replied.

Rise in cat ownership 'down to men'

Russell Brand has got one, so does Ed Sheeran.

Could that be the reason behind the number of pet cats rising by 500,000 last year?

A survey by the Pet Food Manufacturer's Association says a million more men got themselves a feline friend in 2016.    

Mike Brooks, from Nottingham, has three cats and loves them as pets.

"I got a cat because I have always had cats since I was a child and they're wonderful creatures," he said.

"They're cute, usually cuddly (if you respect their wishes), generally low-maintenance, and there is nothing more satisfying than the purr of a happy cat."

'Do the right thing' police urge missing mum

Here's a summary of what Supt Richard Fretwell said at the press briefing earlier over missing mum Samantha Baldwin and her two young sons.

He said police have had an "overwhelming response" from the public following last night's appeal
Lines of enquiry are being followed up "on a national scale"
House-to-house enquiries in Newark are to give a "comprehensive picture" of Samantha Baldwin's and the children's movements and to "give community reassurance"

He said officers are becoming "increasingly concerned" for their safety with every day that passes
"I would appeal directly to Samantha to do the right thing and return Louis and Dylan safe and well," he said
He encouraged people to come forward with information to provide "that little bit of a jigsaw" which could lead to the family's safe return

Travel: A38 broken down vehicle

There's a broken down vehicle blocking the A38 northbound between the A61 for Alfreton and junction 28 of the M1.