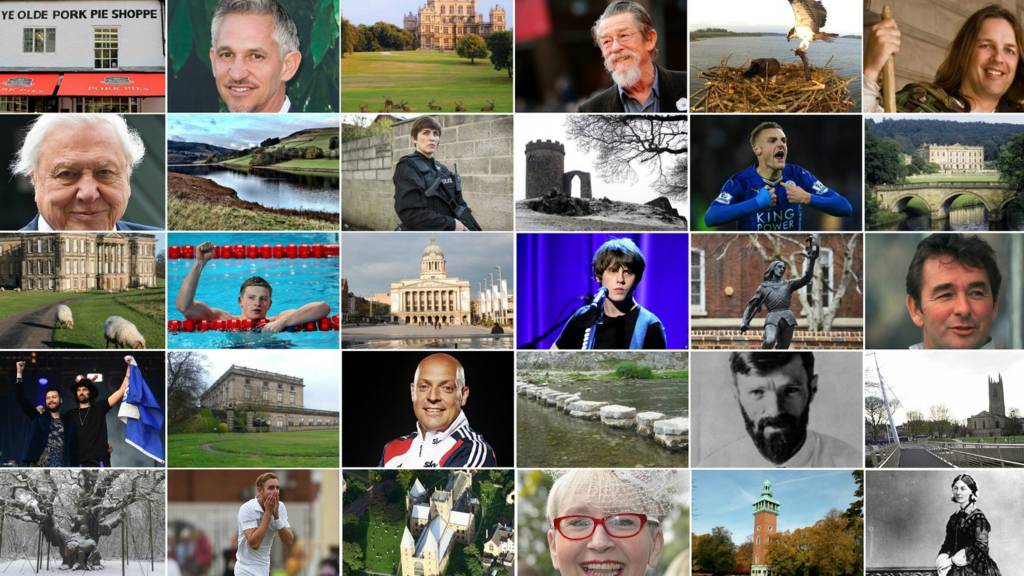 Summary
Updates for Tuesday 4 April 2017
Police appealed directly to missing mum
Dead badgers found in the Peak District
Police investigate 'fall' in Hockley
Corbyn gets council leader's name wrong
Children learn how to avoid 'garden crime'
Rugby: Tigers await arrival of O'Connor
News, sport, travel and weather updates resume at 08:00 Wednesday
Our live coverage across the day

Live updates for the East Midlands have finished for the day, but we'll be back at 08:00 tomorrow with all the latest news, sport, travel and weather.  

Weather: A cloudy but dry Wednesday

Charlie Slater

BBC Weather presenter

Some slightly brighter weather to end the daytime ahead of a mainly dry and clear night with temperatures falling to 6C (43F).

Some brightness around first thing on Wednesday but it will quickly cloud over leaving a dull and overcast day with plenty of dry weather and just a couple of spots of drizzle. 

Highs of 11C (52F).

Newcastle United v Burton Albion tomorrow

Burton Albion manager Nigel Clough told today's press conference he's expecting a bottle of something in the post from their next opponents Newcastle United.

The Brewers' win at Huddersfield allowed Newcastle and Brighton to extend their lead in the automatic promotion spots. 

Marvin Sordell also said he believed he'll be able to enjoy the trip to Newcastle United.

"The pressure on them isn't as great as in other games".

Burton get ready to play Newcastle tomorrow.  

Mystery still surrounds dog 'poisonings' at Poppy Wood Park

Khia Lewis-Todd

BBC Local Live

The Forestry Commission said it can't confirm what has been making dogs ill at Poppy Wood Park with reports a further 15 animals were sick.

The site, in Melbourne, was closed last week and searched for "poison" after one dog died and at least two others became poorly .

Alan Dowell from the commission said: "We did everything we could last week, there were no toxic chemicals in the water -  so we don't know if it's linked to the site.

"There is no cast iron guarantee as we have cleared and checked the park and it seems to be safe enough.

"A volunteer mentioned around a total of 15 dogs are ill but nothing has been confirmed that it's linked to the site."

Mr Dowell urged dog walkers to keep a close eye on their pets

Leicester v Sunderland commentator's notes

Conor McNamara

BBC MOTD commentator

Just over a month ago these clubs were both in the relegation zone with only two league places separating them.

It seems incredible, but if Craig Shakespeare's side win this game - and other results go their way - Leicester could be 11 places ahead of Sunderland by Wednesday night.

Shakespeare has been like a defibrillator for Leicester. The Foxes heartbeat is pumping again with five wins in a row in all competitions.

Sunderland - without as much as a goal in their last five games - can only dream of such a jolt, their pulse still stubbornly flat lining at the foot of the table.

Severe disruption: A1(M) South Yorkshire southbound

BBC News Travel

A1(M) South Yorkshire southbound severe disruption, between J35 for M18 and J34 for A614 Bawtry Road.

A1(M) South Yorkshire - One lane closed on A1(M) southbound between J35 M18 and J34 A614 Bawtry Road, because of a broken down lorry. Traffic is coping well.

To report traffic and travel incidents dial 0330 123 0184 at any time

Severe accident: M1 Derbyshire northbound

BBC News Travel

M1 Derbyshire northbound severe accident, between J29a for Markham Lane Markham Vale and J30 for A616.

M1 Derbyshire - Very slow traffic and one lane closed on M1 northbound between J29a, Markham (Markham Vale) and J30, A616 (Worksop), because of an accident.

To report traffic and travel incidents dial 0330 123 0184 at any time

Body-in-suitcase trial: Gambler 'murdered friend to steal identity'

An "insatiable gambler" murdered his friend to assume his identity and clear huge debts, a court has heard.

Ming Jiang spent £178,000 at 235 Casino in Manchester in the two weeks after he allegedly killed Yang Liu  (pictured), Minshull Street Crown Court was told. 

It is claimed Mr Jiang murdered the 36-year-old and dumped his body in a suitcase in a remote Derbyshire lay-by so he could use Mr Liu's funds to repay gambling debts of £273,115.

Mr Jiang, 43, denies murder and the trial continues.

Police investigating sexual assault on teen

Khia Lewis-Todd

BBC Local Live

Derbyshire police are investigating a sexual assault on a teenaged girl in Sinfin. 

The 16-year-old spoke to police yesterday.

It is believed to have happened in a wooded area off Osmaston Park Road between 15:00 and 16:00 on Sunday.  

Decomposed rat found in Coalville butchers

Amy Woodfield

BBC Local Live

A butcher's shop in Coalville has been closed by North West Leicestershire District Council after health inspectors found rat droppings and the remains of a dead rat caught in a trap.

Copyright: North West Leicestershire District Council

The Environmental Health Team inspected Summerfield Butchers on Thursday 30 March - it was closed the following day after they found there to be "unacceptable hygiene practices".

As well as evidence of vermin they found there to be cross contamination when preparing cooked and uncooked food, a failure to check that meats were adequately cooked, incorrect use of equipment and contaminated hand washing facilities.

Copyright: North West Leicestershire District Council

The council has said owner Gerald Spadaccini, of Leicester Road in Mountsorrel, has been ordered by court to pay their legal and investigative costs of £2,341.

Food seized from the premises is now being destroyed and the shop is to remain closed until the council is satisfied there is no risk to public health. 

Quote Message: The inspection revealed a number of food preparation and cleanliness practices to be at a very low standard, so the team opted to close the business for the protection of the public. We are disappointed that we have had to take this action, as we have been working with the business to improve its practices, including assisting with a deep clean of the premises in autumn last year." from Lee Mansfield Environmental health manager, North West Leicestershire District

Honesty box thief 'shamed enough'

Khia Lewis-Todd

BBC Local Live

James Burton, who had an  honesty box taken  from his farm, near Kedleston told BBC Radio Derby: "In a statement the woman said she had all intentions to pay the money back but due to the media interest she didn't think anybody would believe her.

"That's as good as it gets and due to the media interest she was shamed enough."

Children learn how to avoid 'garden crime'

Amy Woodfield

BBC Local Live

Leicestershire Police created this outdoor scene at a school in Wigston this morning as a way of teaching children about "garden crime".

The visit to Tythorn Field Primary School is one of 20 in the South Leicester Neighbourhood Policing Area.

Children learnt how to keep garden tools and equipment safe from opportunistic thieves - PC Annette Dowey said she hoped the children can use this knowledge to remind busy parents who might sometimes forget.

'Tired' Corbyn gets council leader's name wrong

Amy Woodfield

BBC Local Live

Jeremy Corbyn has been in Nottinghamshire today ahead of the local council elections - the Labour leader was caught out twice calling the leader of the county council by the wrong name.

At the start of his speech in Newark, Mr Corbyn called Alan Rhodes Alan "Rouse" as he thanked him for welcoming him to the town.

Then, in an interview with BBC Nottingham he made the same mistake.

Afterwards a spokesperson for Jeremy Corbyn said he'd been "tired" and insisted he knew Alan Rhodes well.

Leicester travel: Accident on London Road

Khia Lewis-Todd

BBC Local Live

There are reports of an accident on London Road between the Mayfield roundabout.

Leicestershire Police say nothing has yet been reported...

'It means everything to them'

#PeoplesCup

Nick Elgar is the coach of disability team Woking Wolves and dad to two of its players. 

He tells us what it means for his two disabled boys and the rest of the Wolves team to be able to play competitive football...

To see more stories from the semi-finals of the FA People's Cup , watch our highlights programme, available now on the iPlayer.

Derbyshire police speak to Lords committee over alcohol pricing

Rory Gallimore

BBC Radio Derby

Derbyshire Police has told a House of Lords committee it has concerns about the way local authority licensing committees for alcohol work.

Peers were told the system had become "too political", with councils "frightened of making a tough decision" in case of appeals by big drinks companies.