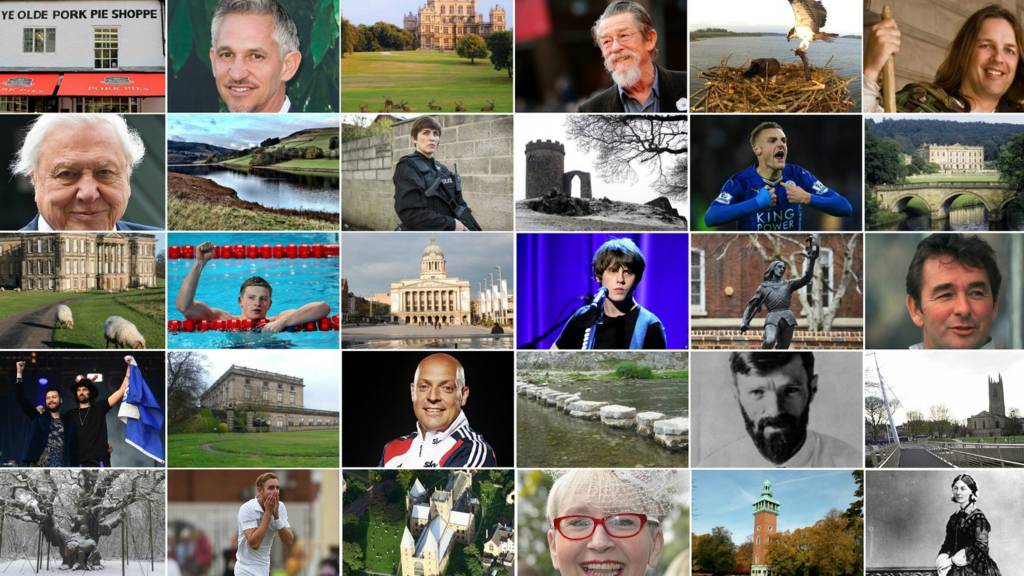 Summary
Updates for Thursday 6 April 2017
Samantha Baldwin, found with two sons today, arrested for abduction
PM launches election campaign in Notts
Trent Barton cuts bus service in Derbyshire
Cromford Mills given prestigious award
Lightning retain England trio for T20 league
Our live coverage across the day

Our live updates have now ended but will return tomorrow from 08:00. 

East Midlands weather update: Cloudy with a chance of mist patches

Overnight, it will continue to turn increasingly cloudy from the west through this evening. It will be mostly dry with variable amounts of cloud and a few clear spells at times. 

Where cloud breaks persist, it'll be chilly with the chance of a few patches of mist.

Nottingham vet students help look after horses, by royal appointment

Calum McKenzie

BBC Local Live

Vet students from the University of Nottingham have been helping to look after the Queen's iconic military ceremonial horses. 

Copyright: University of Nottingham

The students worked alongside the Household Cavalry Mounted Regiment and Kings Troop Royal Horse Artillery to help screen the horses for a potentially life-threatening equine disease called Strangles.

Copyright: University of Nottingham

Major Harriet Church, from the Household Cavalry Regiment, said: "Testing the large number of military horses based in London would have been impossible for regimental vets to tackle in a realistic time period without the students and clinicians of Nottingham's veterinary school. 

"Their drive and dedication ensured that every single horse could be tested."

The horses are used to do things like escort the royal carriage on major state occasions. 

Passengers and staff surprise favourite bus driver

Khia Lewis-Todd

BBC Local Live

Today a Derby bus driver got a surprise he wasn't expecting when he finished his round.

He was met by colleagues and his regulars to help him celebrate being crowned the winner of a customer service award.

Mick Smith was chosen as one of the winners of Trent Barton's really good service awards - but because he couldn't make the ceremony, Trent Barton rounded up a group of his regular passengers to help him celebrate in style.  

More than 250 people nominated Mick for an award. The bus service even sent mystery passengers aboard Mick's bus to ensure he was everything customers said he was.

Travel: Trains disrupted between Derby and Burton

A broken down train's causing disruption to services between Derby and Burton this evening.

Tennis: Nottingham-based Dan Evans set for Davis Cup duty

Nottingham-based tennis player Dan Evans will be second on court during Great Britain's Davis Cup quarter-final against France tomorrow.

Copyright: Getty Images for the LTA

Evans, 26, who trains at the Nottingham Tennis Centre, takes on world number 68 Jeremy Chardy at the Palais des sports de Rouen. 

Kyle Edmund will face Lucas Pouille in the first match. 

The reverse singles are on Sunday.  

Scrapping of Derbyshire bus service 'disastrous'

Khia Lewis-Todd

BBC Local Live

Earlier on we told you about Trent Barton scrapping their village bus service in Etwall and Eggington.

Miles Nesbitt has lived in Egginton for 10 years - and he says losing the service is "disastrous".

"For the village I think it's disastrous - we are a community of about 570 people. 

"A lot of people depend on the bus service... for them the decision to withdraw the V2 from the village completely is disastrous."

Pictured above is Hilton bus stop which runs though Etwall and Eggington.

PM: 'No immediate date' for Midland Mainline electrification

Peter Saull

BBC Radio Nottingham political reporter

There is no immediate start date for the electrification of the Midland Mainline, according to Prime Minister Theresa May. 

Speaking on a visit to Nottingham, she said: "That is something that we are looking at.

"I haven't got a date that I can give you immediately... we have set aside, as a government, money to put into, to invest into, infrastructure because infrastructure is very important. 

"It is part of our industrial strategy, investing in infrastructure, and doing that across the UK." 

The Midland Mainline runs from London to Sheffield through the East Midlands.

Severn Trent to begin work on Daleside Road

Khia Lewis-Todd

BBC Local Live

Expect delays on Daleside Road in Nottingham this evening, as Severn Trent begin work which will result in one lane being closed between 19:00 and 22:00 today and tomorrow.

Cromford Mills given prestigious award

Rory Gallimore

BBC Radio Derby

Cromford Mills has been given a prestigious European award for its restoration. 

Building 17 is one of two UK winners of the 2017 European Union Prize for Culture Heritage. 

More than £6.5m has been spent on bringing the building back into public use - and it looks as if it's paid off.

Copyright: Cromford Mills

Here's a picture of what the building looked like before the restoration.

Copyright: Cromford Mills

Sandish Shoker

BBC News Online

Boys 'in care of professionals'

Chief Supt Chamberlain said: "The boys are safe and in the care of childcare professionals."

Speaking to our reporter at Nottinghamshire Police HQ, she added that they had not been physically harmed.

Boys found in 'secluded holiday cabin'

Chief Supt Chamberlain said the boys were found in what has been described as a "rural setting" which was "very secluded".

The accommodation was a holiday cabin, just north of Ollerton.  

"We were contacted by a member of the public after seeing the nationwide appeal who decided to ring us up with some concerns he had," she said.  

Mum and boys were at holiday home together

Chief Supt Helen Chamberlain said police believe they have been at the same location in Ollerton since they went missing.

She said they believe it was a "pre-planned attempt to evade the authorities".

The boys were there with their mother, she said.

"All the wider family have been informed of the wider developments," she added.

Breaking

Samantha Baldwin arrested on suspicion of abduction

Samantha Baldwin, 40, has been arrested on suspicion of abduction.

She and her two sons, who were reported missing last Monday, were found in a holiday home in Ollerton, police have said.

Copyright: Nottinghamshire Police

A 62-year-old woman and a 32-year-old woman remain on bail.

The boys were found in very secluded holiday accommodation, just outside Ollerton.

Your photos: Flower power across the East Midlands

A great shot taken in Kegworth this afternoon...

The flowers are crispy white under the perfect clear skies in Codnor today...

Picture perfect taken in East Leake...

Thank you to all our Weather Watchers for sending these in across the day.  

Cyclist in hospital after crash

Sandish Shoker

BBC News Online

A cyclist remains in hospital with serious injuries after a collision near Market Overton, Leicestershire. 

Emergency services were called to Edmondthorpe Mere just before 11:00 yesterday morning.

The 69-year-old cyclist had collided with a VW Polo. No-one else was injured.