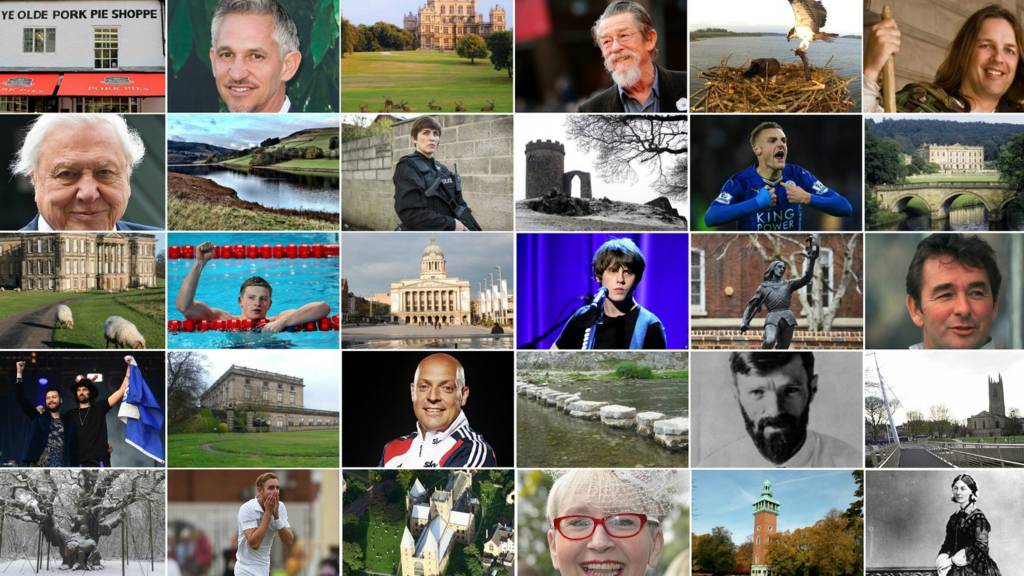 Our live coverage across the day

That's all from East Midlands Live. We'll be back on Tuesday at 08:00 with the latest news, sport, travel and weather. 

East Midlands weather update: Light showers possible

It will stay cloudy through this evening and into tonight, with a few light showers possible in the early hours. 

Lows of 7C (45F).

New Derbyshire Police chief constable appointed

Khia Lewis-Todd

BBC Local Live

Derbyshire Police has appointed a new chief constable.

Current deputy chief constable Peter Goodman (left) will take up the role from Mick Creedon in June.

Copyright: Derbyshire Police

Derbyshire's Police and Crime Commissioner Hardyal Dhindsa (right) said he was "delighted" with the appointment.

Copyright: Derbyshire Police

Quote Message: Peter has a wealth of experience in Derbyshire and across the wider East Midlands region, which will help to streamline our approach to joint working with other forces. In addition, his national portfolio encompasses some of the biggest challenges facing policing today, which can only benefit local residents." from Hardayl Dhindsa Police Crime Commissioner

Watch: Bodycam footage of bricks thrown in rooftop standoff

We told you earlier about two teenagers who were jailed yesterday for staging a 10-hour rooftop standoff in Dunkirk, Nottingham, last week. 

The 16-year-old boys threw items, including bricks and tiles, from the tops of buildings in Cloister Street last Wednesday.

Here's bodycam footage released by police showing the damage to the vehicles and debris in the street...

Bus delays due to A38 northbound closure

Khia Lewis-Todd

BBC Local Live

Your pictures: The best from today in the East Midlands

Earl Shilton, Leicestershire...

Belper, Derbyshire...

Bilsthorpe, Nottinghamshire...

Leicester City tightens up security after Dortmund explosions

Leicester City and other clubs have received updated security advice from the Premier League in the wake of the Dortmund explosions.  

Watch: Recap of the Queen's visit to Leicester

Can you believe people came from as far away as the USA to see the Queen visit Leicester today?

Loving the inflatable crowns, ladies.  

Missing man 'may have headed to Birmingham'

Khia Lewis-Todd

BBC Local Live

This is 22-year-old Peter Tidmas.

According to Derbyshire Police, he was last seen leaving his home in Thurvaston Lane, near Ashbourne, at the end of March.

Police said he sometimes visits gaming conventions and was thought to have headed to Birmingham, but has not been heard from since he left. 

Copyright: Derbyshire police

Travel: Heavy traffic on the M1

Khia Lewis-Todd

BBC Local Live

If you're heading this way, expect delays...

'Great to see family in royal visit crowd'

If you missed our Facebook Live from the Queen's arrival in Leicester, watch it here.

Sue emailed to say she spotted her mum and dad at the cathedral.

Email Message: Thrilled to see my parents in the footage of guests arriving at the cathedral! They both wave to someone in the crowd. So very proud of my dad.

from Sue Piggins

Football: Midfield check for Burton ahead of Ipswich game

As they prepare to host Ipswich this weekend, Burton will check on midfielder Lasse Vigen Christensen, who missed the draw with Aston Villa because of a tight gluteal muscle.

Should Christensen remain out, Michael Kightly is likely to keep his place, while former Ipswich striker Luke Varney will hope for a recall.

Burton have kept just one clean sheet in their last 12 home league games and are five points above the relegation places in the Championship.

Severe accident: A38 Derbyshire northbound

BBC News Travel

A38 Derbyshire northbound severe accident, at B600 affecting A61 Derby Road.

A38 Derbyshire - Queuing traffic on A38 northbound in Alfreton at the B600 junction, because of an accident involving two cars and a lorry earlier on. All lanes have been re-opened. Travel time is around 30 minute. Congestion to Watchorn Island.

To report traffic and travel incidents dial 0330 123 0184 at any time

Travel: M1 crash between junctions 23a and 22

Delays of an hour expected, according to Highways England...

Here's the view from between junctions 22 and 23

Copyright: Highways England

Cricket: Broad not in squad against Durham

No Stuart Broad in the Notts squad at Durham  but Jake Ball and Brett Hutton have been added to the team that won at Leicestershire.

Copyright: Nottinghamshire CCC

Magpies; Yeates available for Crewe game

Charlie Slater

BBC Radio Nottingham sports reporter

Notts County will have midfielder Mark Yeates available for the game at Crewe tomorrow. 

Yeates has missed the last three matches because of suspension.