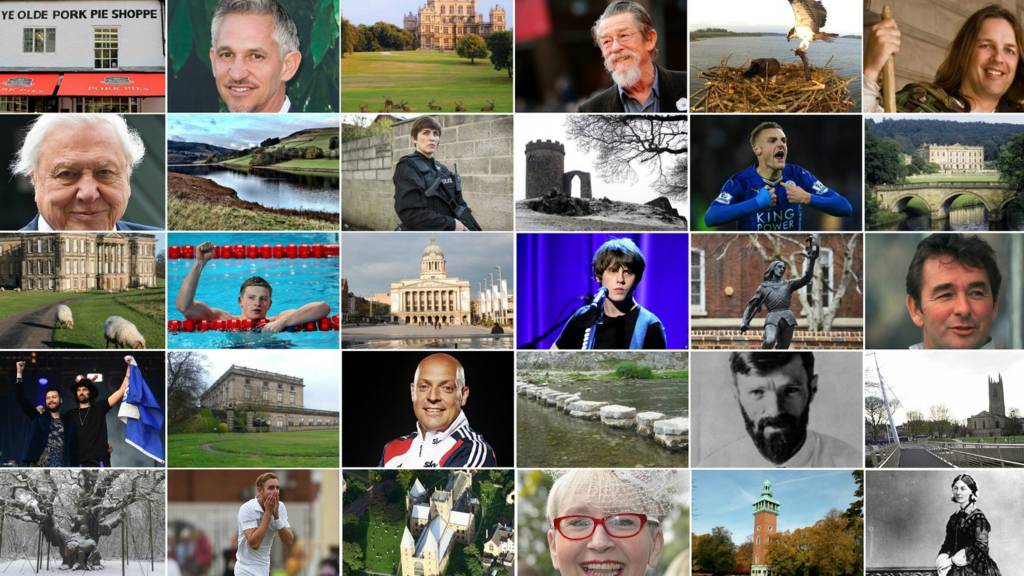 Latest updates: East Midlands Live
Summary
Updates for Wednesday 31 May 2017
Son jailed for stabbing father to death
Man stabbed in Leicester
Man appears in court over murder of Derby woman
Police hunt 'wrong way' quad bike gang
Ilkeston FC face winding up order
News, sport, travel and weather updates resume at 08:00
Our live coverage across the day

That's all from us for today. We'll be back with more news, sport, travel and weather from 08:00 on Thursday.

Modern slavery arrests in Nottingham

Two people have been arrested after a raid in Hyson Green as part of an investigation into modern slavery.

A 42-year-old man and a 39-year-old woman were arrested on suspicion of human trafficking and fraud by false representation and are being questioned.

A 57-year-old man who was found at a property in Birkin Avenue is being given support from Nottinghamshire Police, the force said.

Security at Nottingham Open reviewed after Manchester attacks

Calum McKenzie

BBC Local Live

Organisers of next month's Nottingham Open have confirmed they have reviewed security arrangements at the tournament following last Monday's attacks in Manchester.

A statement on the tournament's website said: "In light of recent events, we will again be reviewing our security measures in conjunction with the relevant authorities to ensure that they remain at an appropriate level.

"During the tournament, we would ask everyone arriving to the Nottingham Tennis Centre to allow enough time for security checks."

The Aegon Open runs between 10-18 June at the Nottingham Tennis Centre.

Your views: Boyzone to perform in Derby

Gavin Bevis

BBC Local Live

The "haters" are out in force on our Facebook page after Boyzone announced plans to perform at Derbyshire County Cricket Club in September.

Karen O'Donnell said: "Thanks for the warning .... I shall steer clear of the area."

Simon Vickers posted: "Bit ambitious, could play in a backroom of a pub and still have plenty of room I think."

Steven Edwards added: "I'm not exactly bowled over by this prospect."

Boyzone fans....head here to defend your boyz...

Exhibition charts history of 'Europe's largest railway sidings'

Calum McKenzie

BBC Local Live

An exhibition of photographs has opened at Erewash Museum looking at the history of Toton Railway Sidings in Nottinghamshire.

Copyright: Fox Photos/Hulton Archive/Getty Images

The sidings, which were at one point the largest in Europe, are set to become home for the East Midlands HS2 hub.

Copyright: Harry Todd/Fox Photos/Getty Images

The collection of images, which charts the history of the sidings between 1856-1984, is open to the public until mid July.

Severe disruption: A14 Leicestershire eastbound

BBC News Travel

A14 Leicestershire eastbound severe disruption, between M1 J19 and J1 A5199.

A14 Leicestershire - Very slow traffic and one lane closed on A14 eastbound between Catthorpe Interchange and J1, A5199 (Welford), because of a broken down vehicle.

To report traffic and travel incidents dial 0330 123 0184 at any time

Breaking

Man jailed for stabbing father to death

Gavin Bevis

BBC Local Live

A man has been jailed for a minimum of 20 years for murdering his father at their home in Derby.

Geoff Seggie was found dead at the house in Marylebone Crescent, Mackworth, on 1 December.

Police said he had suffered multiple stab wounds.

Daniel Seggie, 31, admitted murder earlier this month and was today given a life sentence at Nottingham Crown Court.

Women sought over 1996 photographer sex claims

Gavin Bevis

BBC Local Live

Police in Derbyshire are trying to re-establish contact with women who reported inappropriate behaviour by a photographer in 1996.

The force said the women would have been in their teens at the time and were possibly pupils at a school in Chaddesden.

The appeal is part of an investigation into non-recent sex offences.

Pair injured in Loughborough hit-and-run crash

Gavin Bevis

BBC Local Live

A motorcyclist and his passenger have been injured in a hit-and-run crash in Loughborough.

The pair suffered non-life threatening injuries in the collision with a car on Allan Moss Road at about 20:00 yesterday.

The car involved was found abandoned nearby shortly after the incident. Police have appealed for witnesses.

Weather: Mild night ahead

Alexandra Hamilton

BBC weather presenter

There'll be scattered cloud this afternoon with some sunny spells. Feeling warm with highs of 21C (70F).

There'll be variable amounts of cloud tonight with some clear spells. It'll be mild with lows of 12C (54F).

Leicester stabbing: Roads re-open

Roads in Leicester city centre that were shut after a man was stabbed in the early hours have now re-opened.

The victim, a man in his 50s, was found injured at around 12.50am this morning (Wednesday 31 May) at the junction of Sanvey Gate and Soar Lane by a passing police car.

He remains in a critical but stable condition.

Woman robbed at knifepoint at cash machine

A man with a knife grabbed a woman at a cash machine to steal just £20, Nottinghamshire Police have said.

Copyright: Nottinghamshire Police

It happened outside Asda in Bancroft Lane, Mansfield, at about 08:50 yesterday morning.

The man approached the woman from behind, put an arm around her while holding a knife in the other hand and demanding the cash she had just withdrawn.

Copyright: Nottinghamshire Police

The man, who then ran off onto Sutton Road, was described as white, about 5ft 7ins tall, aged early to mid-30s, with a pale complexion.

Have you seen missing teenager?

Police have appealed for information after a 16-year-old girl went missing from New Basford in Nottingham yesterday.

Copyright: Nottinghamshire Police

Natalia Bogdan was reported missing at about 12:30.

She's around 5ft 4ins tall and was last seen wearing a burgundy hoody with "New York" written on it, red skinny jeans and was carrying a large, grey handbag.

Natalia, who is Polish, is believed to have connections to the West Midlands and London area.

Your photos: Balancing bird in Ruddington

Maggie T uploaded this photo of a rather fancy-looking bird balancing on one leg in Ruddington.

Browse more Weather Watcher pics and submit your own here.

Severe disruption: M1 Derbyshire southbound

BBC News Travel

M1 Derbyshire southbound severe disruption, between J29a for Markham Lane Markham Vale and J29 for A617.

M1 Derbyshire - One lane closed and heavy traffic on M1 southbound between J29a, Markham (Markham Vale) and J29, A617 (Chesterfield), because of an incident.

To report traffic and travel incidents dial 0330 123 0184 at any time

Chesterfield one-punch killer jailed

Gavin Bevis

BBC Local Live

A man has been jailed for killing a man with a single punch during a fight in Chesterfield town centre.

Chris Henchcliffe, 26, died in hospital nine days after suffering head injuries when he was hit by Ben Edwards in Corporation Street in July.

Edwards, 22, of Fieldview Place, Chesterfield, denied manslaughter but was found guilty by a jury and sentenced to five-and-a-half years in prison.

Copyright: Derbyshire Police

Det Ch Insp Greg McGill, who led the investigation, said: "This case is a tragic example of how one flash of violence can cause such pain, loss and devastation, and should send a stark message about the serious consequences of violence.

"Chris was just on a night out with friends, and never came home because of that incident.

"No argument is worth taking a life for, and as the impact on Chris' family and the sentence that Ben Edwards has received show, the devastation caused by just one punch can be far-reaching."

Sandish Shoker

BBC Radio Nottingham

There's a huge queue of people waiting for free pizza in Nottingham's Old Market Square.

MOD Pizza has been handing out whole pizzas to mark its first birthday.