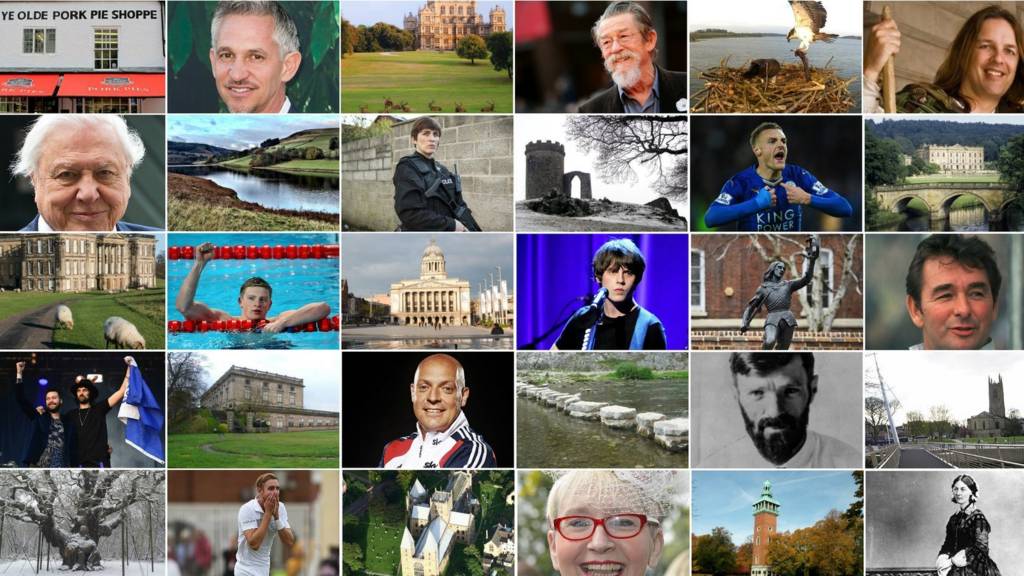 More than 11,000 volunteers will be manning the charity's helpline across Christmas and New Year.

Severe disruption: A38 Derbyshire both ways

BBC News Travel

A38 Derbyshire both ways severe disruption, between A516 and A516.

A38 Derbyshire - A38 in Derby closed in both directions between the A516 junction and the A516 junction, because of a police incident.

To report traffic and travel incidents dial 0330 123 0184 at any time

Severe accident: A6006 Leicestershire both ways

BBC News Travel

A6006 Leicestershire both ways severe accident, between B676 Six Hills Lane and Loughborough Road.

A6006 Leicestershire - A6006 in Grimston closed and slow traffic in both directions between the B676 Six Hills Lane junction and the Loughborough Road junction, because of an accident.

To report traffic and travel incidents dial 0330 123 0184 at any time

Our live coverage has ended

Regular live coverage on this page has ended for the day, but breaking news, sport and travel updates will continue to appear through the night.

East Midlands Live returns from 08:00 tomorrow morning.

East Midlands Weather: Yellow warning for ice

Anna Church

Weather Presenter, BBC East Midlands Today

The Met Office has issued a yellow weather warning for ice, which will remain in place until 11:00 tomorrow.

Icy patches are expected to develop overnight but it will be a dry evening for most with clear skies and some frost forming.

It will be a frosty but dry start to tomorrow for most with plenty of winter sunshine and temperatures reaching 4C (39F).

Prince Harry praises Nottingham project

Prince Harry has personally praised a Nottingham project he's been supporting through one of his charities.

He said Full Effect in St Ann's has enabled young people from disadvantaged backgrounds to have a voice and speak honestly.

He spoke about the charity as he guest edited BBC Radio 4's Today programme.

The community recording studio has been helping young people for 20 years.

It's now being supported by Prince Harry's Royal Foundation and he has told the BBC it's making a huge difference.

A1 lane closure following an accident

One lane is closed on the A1 northbound near Tuxford because of an accident.

In Picture: Wintry scenes from the region

There has been plenty of snow in Leicestershire.

This was taken in East Farndon near Market Harborough this morning

This was the scene in Bonsall Moor, near Matlock today...

There was even some of the white stuff in Mansfield Woodhouse this afternoon too.

And this was Bakewell in Derbyshire today.

Man charged with burglary offences

A 42-year-old man has been charged with burglary offences in Ravenshead and Kirkby-in-Ashfield.

Nottinghamshire Police said one burglary happened in Longdale Lane on 19 December and an aggravated burglary in Sutton Road two days later.

The man has been charged with one count of burglary, one count of aggravated burglary and possessing a knife in a public place.

He has been remanded in custody.

Robber absconds from Sudbury Prison

A 29-year-old man convicted of robbery and theft has absconded from HMP Sudbury in Derbyshire.

Navarone Dominic McIntosh was sentenced to four years in prison at Birmingham Crown Court in February 2016.

McIntosh has family in Birmingham and the West Midlands.

Police have asked anyone with information about McIntosh's whereabouts to contact them.

Copyright: Derbyshire Constabulary

Severe accident: M1 Derbyshire southbound

BBC News Travel

M1 Derbyshire southbound severe accident, between J29 for A617 and J28 for A38 Alfreton.

M1 Derbyshire - Very slow traffic and one lane closed on M1 southbound between J29, A617 (Chesterfield) and J28, A38 (Alfreton), because of an accident.

To report traffic and travel incidents dial 0330 123 0184 at any time

Sponsor sought for new school

Nottinghamshire County Council is looking for sponsors to run a new primary school.

As part of plans to build new homes on the former Rolls-Royce site in Hucknall, developers are also building a new free school.

Copyright: Ashfield District Council

County councillor Phillip Owen said: "This new school is now essential to meet projected demand from the new housing development. It will grow in size from the bottom up and mean that convenient school places will be available to families as they move in, which will in turn make the housing development more attractive."

Interested sponsors will need to be Department for Education approved and can come in the form of a single academy, a multi-academy trust or a diocese, he said.

Potential sponsors have until 5 February to submit their application.

Copyright: Nottinghamshire County Council

Severe disruption: M1 Derbyshire southbound

BBC News Travel

M1 Derbyshire southbound severe disruption, between J25 for A52 Brian Clough Way Nottingham and J24 for A6 affecting J26 for A610 Nottingham.

M1 Derbyshire - One lane closed and queuing traffic on M1 southbound between J25, A52 (Nottingham) and J24, A6 (Kegworth), because of a broken down vehicle. Congestion to J26, A610 (Nottingham).

To report traffic and travel incidents dial 0330 123 0184 at any time

'Man suffers facial injuries during assault'

A 51-year-old man suffered injuries to his nose and mouth during an assault in Derby.

Derbyshire police said the man "staggered from Abbotts Barn Close to Gerard Street leaving a trail of blood" after the attack on 19 December.

The man was taken to Royal Derby Hospital for treatment.

A 62-year-old man was arrested over the assault and has since been released while inquiries continue.

Vehicle fire causes M1 delays

One lane is closed on the M1 northbound between junctions 28 for Alfreton and 29 for Chesterfield because of a vehicle fire.

This is causing traffic to back up to junction 27 for Hucknall.

Copyright: Highways England

University loans award-winning art work from library

People in Leicester will have the chance to display award-winning art work in their own homes as part of a new scheme by De Montfort University.

The university has a new art-lending library where members of the public can borrow works of art.

The library has been opened by Glasgow-based artists Neil Bromwich and Zoe Walker.

Copyright: De Montfort University

There are 57 pieces of art for loan including work by two Turner Prize-nominated artists, Ciara Phillips and Marvin Gaye Chetwynd.

Mr Bromwich, who was born in Leicester, said: "To actually have the one-to-one relationship living with the contemporary piece of art in your own home is a really different experience of enjoying and appreciating art."