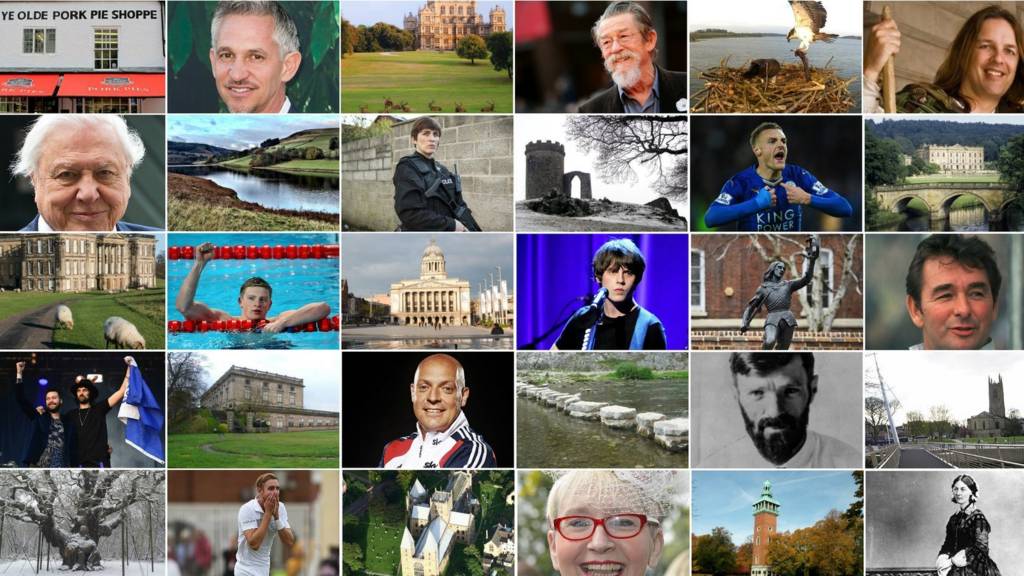 Notts to be gritted ahead of expected snow

The gritters are being sent out again.

Shopkeeper 'uses karate skills' to stop gunman

A shopkeeper in Leicester has been telling me how he fought off a man with a gun who was trying to steal money from his store.

On Christmas Eve, Sibu Kuruvilla was working at Premier Leo's Supersaver in Evington when a man came in with what appeared to be a gun.

Mr Kuruvilla gave the man £170 from the till but before he had chance to escape, the 43-year-old knocked the weapon from his hand and wrestled him to the ground.

He then held him on the floor for 15 minutes until the police arrived.

Mr Kuruvilla is a black belt in Seibukan karate - he told me that might have been where he got his courage from to fight the robber.

Despite his courageous reaction he said it was "terrifying".

Mr Kuruvilla's two daughters had been in the shop at the time - the girls aged seven and nine saw everything on the CCTV camera from the office.

He said they have both been affected by what they saw and for the last few nights they've woken up in the night to cuddle him.

Leicestershire Police said a 17-year-old male was arrested in connection with the incident and has been bailed pending police inquiries.

Hospitals make millions from car parking

University Hospitals of Leicester NHS Trust took £4.2m last year from car parking fees.

Just over two thirds of that came from patients and visitors, the rest was staff.

Over the same period Derby Teaching Hospitals NHS Foundation Trust took £3.9m and Nottingham University Hospitals NHS Trust took £3.6m.

The 2016/17 figures have come from the Press Association who made a Freedom of Information request.

Google car travelling around East Midlands

You might spot Google's Street View car in our area over the coming weeks - if you haven't already seen it.

The web giant is midway through a four-month programme to update its street level shots of Derbyshire - including the Peak District - Nottinghamshire and Leicestershire.

Driver had unsafe toddler and no insurance

Police stopped this driver in Heath earlier and found not only was the car uninsured, there was also a two-year-old in the front with no child seat.

The car was confiscated and two fines were handed to the driver.

Copyright: Derbyshire Roads Policing Unit

Your photos: Winter in Leicestershire

Thanks to Pete for a splendid photo of Melton Mowbray on this crisp winter's afternoon.

Gritters deployed in Derbyshire as more snow forecast

Be careful if you have to drive anywhere tonight.

McClure met future husband on movie set

Vicky McClure chose Wollaton Hall as the backdrop to her engagement announcement - although she gave no indication whether the proposal took place there.

She met film-maker and actor Jonny Owen when they appeared together in British film Svengali in 2013.

He said in 2014: "Not only is she [McClure] fantastic as Michelle, but in the course of making the film we've also grown close and ended up in a relationship together."

Read more here.

Your photos: Snow in Rutland

There's still plenty of snow on the ground in Oakham but the sun's out so that should help it thaw.

Littleemmaduck sent us this photo of her back garden.

Copyright: Emmalittleduck

Driver thrown from car in M1 crash

More details have emerged about a two-car crash which closed the M1 southbound for several hours last night.

Derbyshire Police said a 31-year-old male driver was seriously injured when he was thrown from his Honda Civic after it hit a barrier and landed on its roof.

A 33-year-old woman and two children inside the car were treated for minor injuries.

Copyright: Derbyshire Roads Policing Unit

Police added that the driver of a Ford Fiesta also involved in the crash escaped serious injury.

The force has appealed for witnesses and dashcam footage of the collision, which happened near junction 29 for Matlock and Mansfield at about 19:40.

Study: House values soaring in Ashbourne

Homes in Ashbourne are gaining value at a faster rate than almost anywhere else in Britain, according to a new survey.

The figures, by Zoopla, found property values in the Derbyshire town had risen by 11.59% between 1 January and 12 December, reaching an average of £354,815.

It was second only to the seaside resort of Clevedon in Somerset, where property values had risen by 11.6%.

Nationally property values had risen by 3.5%, Zoopla said.

Vicky McClure shares good news on Twitter

Looks like Nottingham's finest has signed up for her next major role.

Car removed from Nottingham tram tracks

No M&S staff hurt in Leicester fire

We've had a brief statement from M&S following the fire at its Leicester store last night.

It said: "All our colleagues are safe and our Leicester store opened at 9am this morning."

Stolen puppies still missing

Police are still looking for 17 puppies that were stolen from a house in Selston more than six weeks ago.

The young dogs were only a week old when they were taken from an address in Station Road but police said they would now be at an age where they are ready to be sold.

Three adult dogs who were taken in the same theft also remain missing.

Copyright: Nottinghamshire Police

Car on tracks leads to tram delays

Driver injured in M1 smash

A driver was taken to hospital following a two-car crash that closed the M1 for several hours last night.

The collision happened on the southbound carriageway near junction 29 - for Mansfield and Chesterfield - at about 19:45.

Derbyshire Police said the driver of a Honda was taken to the Queen's Medical Centre with serious but not life-threatening injuries.

Copyright: Derbyshire Roads Policing Unit

Copyright: Derbyshire Roads Policing Unit

Watery Gate by name... "watery" by nature.

Flooding is affecting a few more roads in Leicestershire this morning.

Your photos: Icy Hathersage

It's an icy day in Derbyshire - David E took this pic in Hathersage.

Derby-Matlock line back to normal after breakdown disruption

Some good news for train travellers.