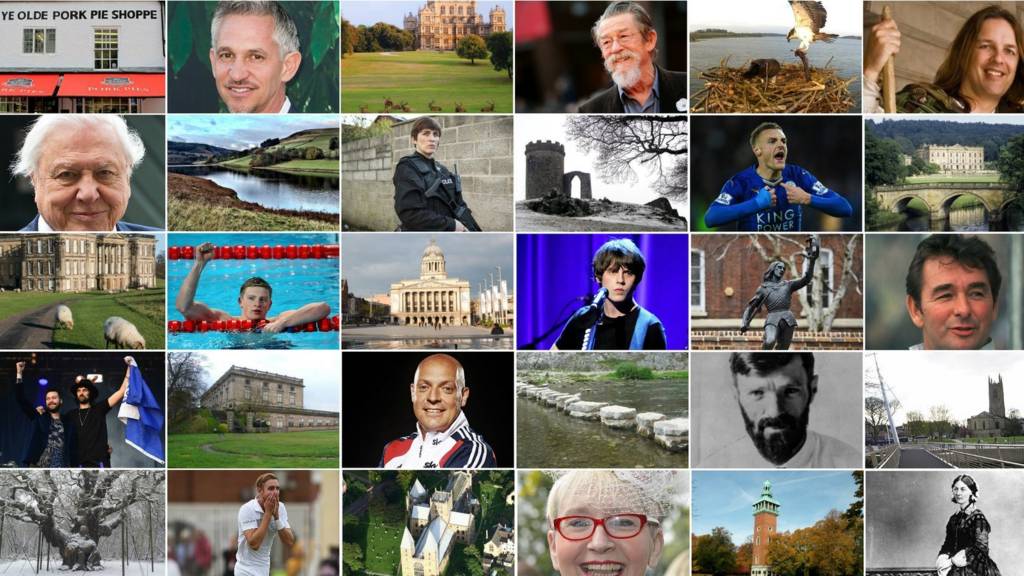 Severe disruption: A1(M) Nottinghamshire northbound

BBC News Travel

A1(M) Nottinghamshire northbound severe disruption, between J34 for A614 Bawtry Road and J35 for M18.

A1(M) Nottinghamshire - One lane closed and queuing traffic on A1(M) northbound between J34 A614 Bawtry Road and J35 M18, because of flooding.

To report traffic and travel incidents dial 0330 123 0184 at any time

Severe disruption: A50 Derbyshire eastbound

BBC News Travel

A50 Derbyshire eastbound severe disruption, between J4 A38 and J3 A514 Swarkestone Road Swadlincote.

A50 Derbyshire - A50 closed and heavy traffic eastbound between J4, A38 (Toyota Island) in Willington and J3, A514 (Swadlincote) in Swarkestone, because of a police incident.

To report traffic and travel incidents dial 0330 123 0184 at any time

Our live coverage across the day

Dedicated live coverage on this page has now ended for Monday, but some news, sport and travel will continue to be posted automatically overnight.

East Midlands Live returns from 08:00 tomorrow morning.

Infection closes dog re-homing centre

Dogs Trust in Loughborough has been closed today while there was an investigation into a dog with an infection.

The site will partially reopen tomorrow with staff being able to meet and talk to people with an interest in adopting a dog however none of the dogs will be available to be seen.

The charity has said the dogs on site are being closely monitored by staff and that there are no other suspected cases of infection at this time.

Cannabis factory found in Leicester

Police in Leicester unexpectedly came across a cannabis factory early this morning.

The officers were responding to a report of a burglary on Glenfield Road when they found the Category B drug growing inside a property.

"Lots of cannabis" was seized as officers cleared the factory.

Crossfit star sets sight on world title

Hayden Pott

BBC Radio Leicester Producer

Leicester's Zack George is aiming to become the 'Fittest Man On Earth' after qualifying for the regionals competition in Germany.Currently ranked 18th in Europe, Zack saw off competition from 20,000 rivals to book a place in the Crossfit event in Berlin next month.

The top five competitors from the regional competition progress to 'The Games' in June to compete for the prestigious world title.

Quote Message: I've been trying to achieve this for two and a half years, training four hours a day." from Zack George Crossfit athlete

Calls for link road between the A47 and M69

A link road should be built to connect the M69 and A47, a council leader has said.

The busy roads run parallel between Leicester and Hinckley, but with no direct link between them.

Watch: 'Bionic woman' marathon challenge

The Manchester Marathon might have started yesterday but for Claire Lomas it's still going on.

The "bionic woman" from Melton Mowbray has so far complected five miles of the course.

Increased patrols after Derby child sex raids

Sarah Teale

Reporter, East Midlands Today

More police officers have been deployed to a Derby suburb where nine men were arrested on suspicion of conspiracy to commit sexual activity with a child.

The arrests were made during a series of raids in Pear Tree over the weekend. All the men - aged between 20 and 47 - have now been released on police bail.

Det Insp Graham Prince said: "The arrests were made as part of an ongoing investigation into allegations of child sexual exploitation.

"That operation is in its very early stages and police have acted swiftly on information in order to safeguard any alleged victims involved."

Derby charity Safe and Sound is holding drop-in sessions alongside the police for anyone with concerns.

Teenage cyclist 'critical' after crash

A 17-year-old cyclist remains in a "critical condition" after a crash in Leicester.

Police have said the teenager was wearing a bright, multi-coloured jacket when she was involved in a crash with a grey Ford Focus on Hallam Crescent East.

It happened on Friday at about 16:00. Police are appealing for any witnesses to the crash to contact them.

Your comments: Trent Bridge barriers

Lots of you on Facebook have been suggesting ways to make the barriers on Trent Bridge in Nottingham look more attractive.

They were put there on the advice of the police after terror attacks in London. Now the city council is looking to replace them with something "more befitting".

Marilyn Comery said: "Get someone to paint pictures of Nottingham on them".

Tracey J Sixsmith said: "Let local businesses advertise on them and put the money towards filling the pot holes."

Carly Armstrong said: "Close the road for a few hours and let some local school children paint them, would look lovely."

Hospital star returns to school

Do you remember Keilan? He recently featured on BBC Two documentary Hospital which was filmed in Nottingham.

The 12-year-old from Leicester suffers from scoliosis, a severe curvature of the spine. In Episode One we saw him undergo surgery after a 47 week wait.

His mum announced on Twitter that he's now well enough to return to school.

Heavily pregnant prisoner sparks manhunt

A heavily-pregnant prisoner sparked a manhunt when she slipped away from the Royal Derby Hospital after telling the prison guards she needed the toilet.

Derby Crown Court heard how seven months pregnant Sefora Tanase fled from the hospital when she was taken there from HMP Foston Hall just days before Christmas.