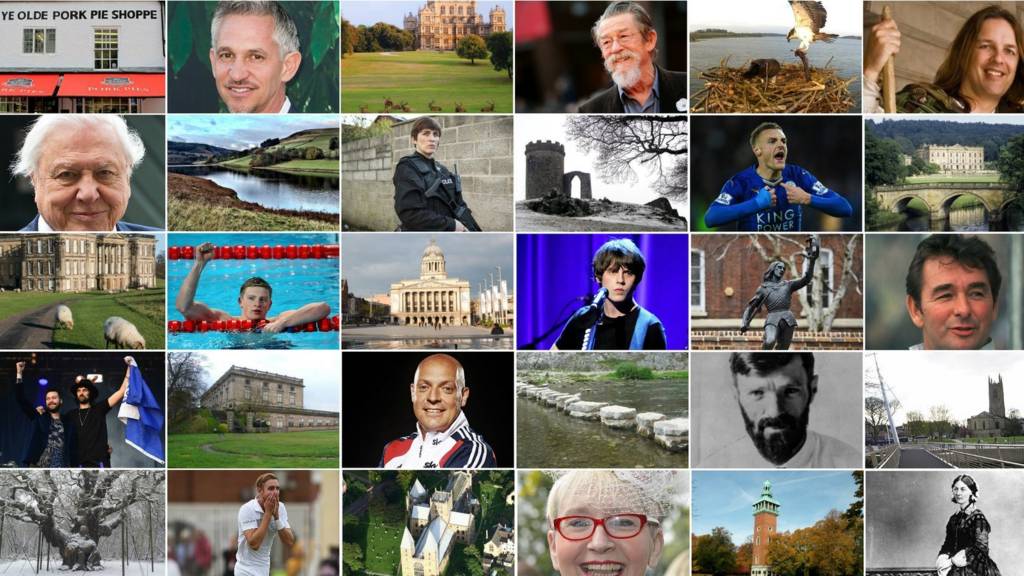 Severe disruption: M1 Derbyshire northbound

BBC News Travel

M1 Derbyshire northbound severe disruption, between J28 for A38 Alfreton and J29 for A617.

M1 Derbyshire - One lane closed on M1 northbound between J28, A38 (Alfreton) and J29, A617 (Chesterfield), because of a vehicle fire. Traffic is coping well.

To report traffic and travel incidents dial 0330 123 0184 at any time

The blaze spread to an area equivalent to 53 football pitches, the fire service says.

Our live coverage across the day

That's it for dedicated live coverage today but some news, sport and travel will continue to update throughout the evening.

We'll be back with the full East Midlands Live service from 8:00 on Wednesday.

Armed police sent to Leicester house

Armed officers have been deployed to a residential street in a suburb of Leicester.

Leicestershire Police said officers were sent to a property on Vyners Close, in Thorpe Astley, to carry out an arrest.

However, in the "interest of officer and public safety" armed units had also been sent, the force added.

No arrests have been made.

Police link Leicester shop robberies

Staff at a Kirby Muxloe shop were threatened with a knife and forced to hand over cash to three masked men at the weekend, which police think could be linked to a second robbery in Leicester.

It happened shortly before 23.00 on Sunday at the store in Main Street and the suspects ushered staff into the back of the shop before taking the money and running off on foot.

Det Con Xanthe Fisher said no-one was injured but staff were left shaken.

He said officers were not ruling out the possibility the robbery was linked to another similar one at 07.00 on Sunday at a convenience store on Aylestone Road near to the junction of Middleton Street.

He added: "Slightly earlier at 06.30 an attempt was made to gain access to a shop on Watergate Lane in Braunstone Town.

"These robberies have happened either early in the morning or late at night potentially when members of staff would be accessing the safe."

Travel: Congestion near Fosse Park

Motorists fined for parking near beauty spot

Several motorists have been handed fines for parking illegally on a road near to the Padley Gorge beauty spot at the weekend.

Derbyshire police said they were called by concerned motorists trying to pass by the vehicles parking on the B6521 at Nether Padley, between Longshaw and Grindleford, on Sunday.

A force spokeswoman said it is illegal to park where there is a solid white line running down the centre of the road as it forces traffic onto the other side of the road.

Copyright: Derbyshire Constabulary

PCSO Anthony Boswell, said: "Despite reminders and warnings, signs at the roadside to advise drivers and officers issuing traffic offence reports frequently, we continue to see motorists parking illegally at this spot."

He advised motorists to use a nearby pay and display car park.

Helicopter tackles moorland fire

Here's how a pilot from the Pennine Helicopters dropped water on the fire that saw almost 106 acres of moorland destroyed.

In a statement the National Trust said fire crews had now left the site and the site team are now keeping an eye on any smoulder and putting it out where they find it.

CCTV car to ease bad parking outside schools

A second CCTV car is in use across Nottinghamshire from today to catch people parking dangerously and inconsiderately outside schools and at bus stops.

County councillors brought in the car because of a high demand for the first one, which they've been using for more than two years and has lead to 1,000 fines being issued near schools and 500 at bus stops.

At Holgate Primary School in Hucknall a team of young road safety ambassadors have been handing out "thank you" notes to motorists parking safely.

Headteacher Emma Severn said they were working with residents and parents to ease the problem and the school has also created drop off and pick up zones.

She said the parents had been "quite moved" by the friendly notes from pupils.

Council spends millions buying buildings for lease

Amy Orton

Local Democracy Reporter

More than £23m has been spent by Leicestershire County Council on buying office buildings to rent out, as it faces making £50m worth of cuts.

The council has bought Embankment House in Nottingham and adjourning development land and three office buildings on a Lichfield business park.

Deputy leader, Councillor Byron Rhodes, said the properties should earn the council £5m a year and give it a regular income, as well as help them "build up cash" for the future.

However, Councillor Terri Eynon, leader of the Labour group, criticised the spending and said: "If we've got finance, why are we financing buildings when we could be supporting services?

"One of the biggest costs social care providers face is buildings, why don't we buy buildings for the care to be provided in?"

Dog tied up and dumped in a bin bag

A poor dog had been left to die and dumped among this rubbish at the side of the A50 near Shardlow when he was rescued by an unsuspecting passer-by.

The terrier, who is not microchipped, had been left inside one of the bags, with his legs tied together and part of his tail cut off.

Copyright: Chris Withington

He was found after Chris Withington (below) pulled into the lay-by to take a call and noticed movement coming from one of the bin bags.

Mr Withington took the dog home for a good wash and a shave and is now hoping to give it a new name and a home.

However he has to wait 24 days to allow the owner to come forward and claim the dog before he can legally take ownership.

Copyright: Rebecca Humphrey

Council's electric fleet to become country's biggest

Hugh Casswell

Reporter BBC Radio Nottingham

Nottingham City Council is set to have the biggest fleet of local authority electric vehicles in the country.

The council's executive board today agreed to convert or replace more of its fleet with ultra low emission vehicles, known as ULEVs, as part of a £2.8m scheme.

The money for the replacements includes a £1.5m grant from the Department for Transport and will see more specialist vehicles such as sweepers, bin lorries and caged tippers either replaced or converted.

Copyright: Nottingham City Council

Moorland fire 'a disastrous day' for wildlife

We've had more photos of the destruction on the Eastern Moors after the fire.

The area which is run in partnership with the National Trust and the RSPB caught fire yesterday afternoon and as of this morning the Eastern Moors reported there are still four hot spots.

On Facebook they thanked everyone who had come out to help put out the fire and added: "We are devastated that approximately 50 hectares of moorland has been burnt especially in nesting time.

"A dangerous and highly unpleasant day for many people and a disastrous day for a great deal of unseen wildlife."

The team also thanked a pilot from Pennine Helicopters who came out to drop water on the fire yesterday and reminded people that BBQs, campfires or any other fires are forbidden in the Peak District countryside other than in designated areas.

Golf: Westwood lands Ryder Cup role

Lee Westwood has been named as a European vice-captain for this year's Ryder Cup in Paris.

Worksop-born Westwood, who has played in the last 10 contests, will work alongside Padraig Harrington, Graeme McDowell, Luke Donald and Robert Karlsson.

Thomas Bjorn will lead Europe in the three-day event at Le Golf National in Paris in September.

Man tied up and robbed in home

A pensioner was left unconscious in his own home by robbers that forced their way inside and stole money and a mobile phone.

Police said the robbery happened on Chantrey Avenue in Chesterfield on 8 May sometime between 23:00 and 23:30.

The 68-year-old victim was assaulted, and then woke to find his hands had been bound and that a gas ring had been switched on in his kitchen. He was treated in hospital for his injuries, which are not believed to be serious.

Children 'forced to fast' over Ramadan

A significant member of the Muslim community in Leicester has said there is "deep concern" about young children fasting during Ramadan.

Suleman Nagdi, from the Federation of Muslim Organisations (FMO), has posted a public statement claiming to have been contacted by local schools where children as young as seven are being "forced to fast".

Children do not typically begin fasting until they enter puberty.

He said: "In some instances these children are complaining to teachers about experiencing hunger and extreme thirst. When asked by the teachers about it they respond saying that they are expected to fast.

"We all know at what age fasting becomes obligatory, please, brothers and sisters, take into account the current hot weather and long fasts and don't force our young ones to fast when it's not expected of them."