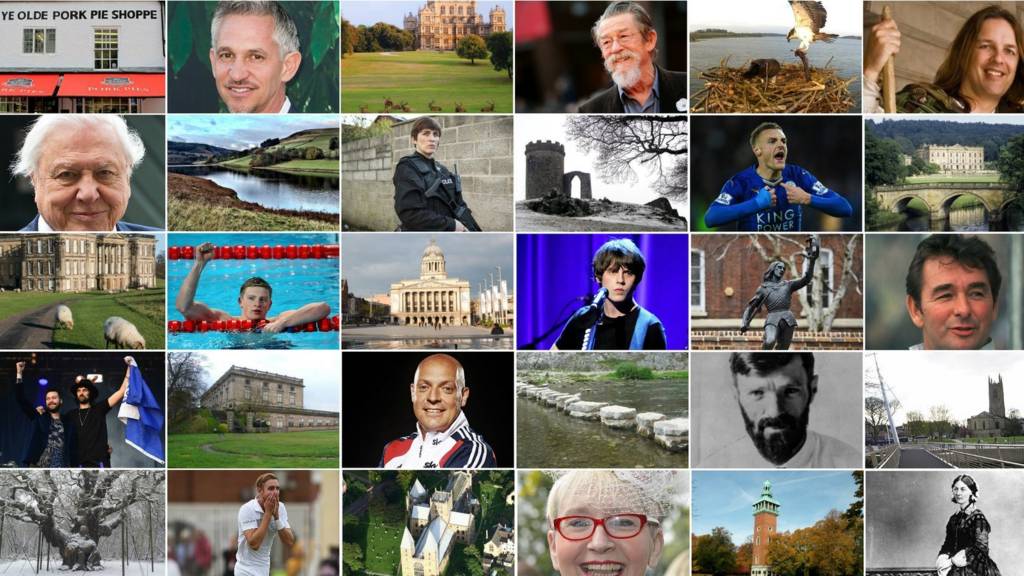 Severe disruption: M1 Derbyshire northbound

BBC News Travel

M1 Derbyshire northbound severe disruption, between J30 for A616 and J31 for A57 Sheffield.

M1 Derbyshire - One lane closed on M1 northbound between J30, A616 (Worksop) and J31, A57 (Sheffield), because of a broken down vehicle. Traffic is coping well.

To report traffic and travel incidents dial 0330 123 0184 at any time

Our live coverage across the day

Tuesday's live updates have now finished.

Our coverage will start again at 08:00 on Thursday.

Imam told to expect prison sentence

Nottingham imam Mohammed Rabani, who was found guilty earlier today of three counts of indecent assault against a boy, has been told a prison sentence is "inevitable".

Rabani, 61, was the iman at the Jamia Masjid Sultania mosque for 25 years, which is now based at Sneinton Dale.

He carried out the assaults between 1990 and 92 when the boy was 12 or 13. At the time the mosque was based at Thurgaton Street in Sneinton.

Copyright: Nottinghamshire Police

After the verdict at Nottingham Crown Court today, Judge Gregory Dickinson, said: The jury found you guilty of repeated sexual abuse of a young boy who was entrusted to your care. This abuse took place in a mosque, a place of holiness, of which you were the imam."

Rabani has been granted bail and will be sentenced next Thursday.

Player returns to Nottingham Open

Two-time champion Dudi Sela will return to the Nottingham Open next month to defend his title.

After his success in Nottingham last year he went on to reach the third round at Wimbledon, upsetting 23rd seed John Isner along the way.

He'll be joined by 24-year-old Liam Broady who made his Davis Cup debut for Great Britain earlier this year.

The women's line-up includes British No.1 Johanna Konta, defending champion Donna Vekic and Indian Wells winner Naomi Osaka.

The tournament starts at Nottingham Tennis Centre on 9 June.

Properties evacuated after caravan fire

Severe accident: M1 Leicestershire northbound

BBC News Travel

M1 Leicestershire northbound severe accident, between J24A for A50 Derby and J25 for A52 Brian Clough Way Nottingham.

M1 Leicestershire - Heavy traffic on M1 northbound between J24a, A50 (Derby) and J25, A52 (Nottingham), because of an accident involving a lorry and a car earlier on. All lanes have been re-opened.

To report traffic and travel incidents dial 0330 123 0184 at any time

Armed police arrest man over Worksop burglary

A man has been arrested by armed police on the University of Lincoln campus this afternoon in connection with a burglary in Worksop last week.

Students in the university's library were asked to stay where they were during the arrest.

The 25-year-old was arrested on behalf of Nottinghamshire Police in connection with a burglary at a house in Norfolk Street, Worksop last week in which a man was hit around the head with a pickaxe.

A 37-year-old man from London and a 21-year-old woman from Lincoln have already been charged in connection with the burglary and appeared in court on Monday.

They've been remanded into custody to appear at Nottingham Crown Court next month.

Car fire closes lane on M1

Oh dear - traffic is building on the M1 heading north near Loughborough. One lane is closed because of a car fire between junctions 23 and 23A.

Copyright: Highways England

Caravan fire causing delays

The fire is causing traffic delays on Alfreton Road and motorists have been warned to allow extra time for their journeys.

European anti-poverty campaign comes to Leicester

Tim Parker

BBC Radio Leicester reporter

A European-wide campaign to tackle poverty has hit the streets of Leicester - with a big bus.

The European Minimum Income Campaign has chosen the city to highlight the problems of poverty and how the benefits system can be improved here and across the continent.

And today they were gathering signatures for a petition calling for a minimum incomes scheme across Europe.

Katherine Duffy, who is leading the campaign in this country, said: "We want cities to get together, there's examples of things happening in Scotland we can do here.

"But cities need to take a stronger voice nationally and say we're picking up the pieces and let government see that's not sustainable. So it's the work together thing that we're trying to get people together here today."

Conviction 'wake up call' to forced marriage

A Derby woman who set up a forced marriage helpline said she hopes a landmark conviction will act as a wake up call.

A mother has been jailed for four-and-a-half years for forcing her daughter to marry a relative almost twice her age. The court heard the girl was forced to sleep with the man at the age of 13.

Jasvinder Sanghera has lobbied for a change in the law on forced marriage after her parents locked her in a room for refusing to marry the man they had chosen for her.

She said: "I'm pleased with the sentencing first and foremost. We need to sit up and wake up and listen to what this case is telling us.

"This is happening to children and young people across Britain. We have a role and responsibility to recognise the government's forced marriage statistics of 2017. They received 1,196 cases whereby 186 of those cases were under 16- years old."

Imam convicted of sex assault on boy

A Nottingham imam has been found guilty of three counts of indecent assault against a boy in the 1990s.

Mohammed Rabani, 61, from St Stephens Road in Sneinton, was an imam in the area for more than 25 years.

He carried out the assaults in the attic of the mosque between 1990 and 92 when the boy was 12 or 13.

At the time the mosque was known as the Sneinton Mosque and based in Thurgaton Street, and has since moved to a bigger site in Sneinton Dale.

The judge at Nottingham Crown Court is yet to decide whether to release Rabani on bail.

Severe disruption: M1 Leicestershire northbound

BBC News Travel

M1 Leicestershire northbound severe disruption, between J23 for A512 and J23A for A42.

M1 Leicestershire - One lane closed and slow traffic on M1 northbound between J23, A512 (Loughborough) and J23a A42, because of a vehicle fire.

To report traffic and travel incidents dial 0330 123 0184 at any time

CCTV released of armed street robbery

This shocking CCTV footage shows the moment a woman had her handbag stolen at knifepoint in Leicester city centre.

The 33-year-old woman was threatened by a man with a knife while walking along Clarence Street at about 5:20 on Tuesday 8 May. The victim ran away and wasn't hurt.

Copyright: Leicestershire Police

Police investigating the robbery are asking for the public to help them identify these two men.

'Fitbit for cows' helping predict disease

A new £6m dairy centre facility has opened in Sutton Bonington to allow researchers to study the health and well being of dairy cows.

Copyright: University of Nottingham

Professor Martin Green from the University of Nottingham said the technology they use is a bit like a Fitbit for cows.

The animals activity, location, movement and digestion is monitored throughout the day and used to help improve the health of animals by predicting disease.

Copyright: University of Nottingham

The facility also has a very high-tech milking robot where cows can go to when they decided they are ready to be milked.

Professor Green said they learn how to do this quite quickly and actually like having the ability to chose for themselves.