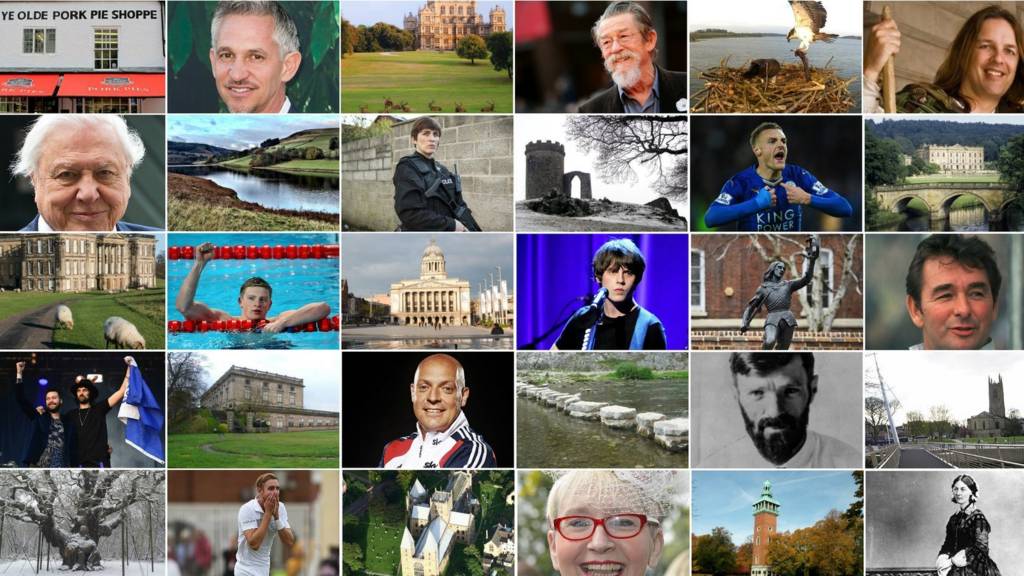 Latest updates: East Midlands Live
Listen live to your BBC local radio station in Nottinghamshire, Derbyshire and Leicestershire.
Summary
Struck-off doctor wins appeal
Guards accused of assaults at prison
Alice Cooper signs 'lost' legends guitar
Burst water main shuts main road in Oadby
Theme park 'may face charges' over death
Live updates on Monday 13 August
Struck-off Dr Hadiza Bawa-Garba, reacts to winning her appeal to work again.
Our live coverage across the day
Today's updates have now finished but we'll have more news, sport, travel and weather coverage for you from 08:00 on Tuesday.
A doctor struck off for honest mistakes

The inside story of the death of a six-year-old boy in hospital - and the trainee doctor who took the blame.
Here's an in-depth look into the story of Jack Adcock's death at Leicester Royal Infirmary.
Weather: Dry evening ahead

A few showers are likely to linger for a time tonight, but these should die away to leave it dry.
Minimum temperature of 13C (55F).
Tomorrow is going to be a dry day with sunshine and temperatures of 23C.
Tobacco factory plans could bring jobs boost

Teens arrested over drug offences

Nick Smith
BBC News Online
Two teenagers have been arrested on suspicion of possession with intent to supply Class A drugs in Buxton.
At about 13:00 on Wednesday, an Audi Q3 was stopped by officers on patrol on Bridge Street.
A 19-year-old and a 17-year-old, both from Manchester, were arrested after police found what is believed to be heroin and crack cocaine.
PC Dave Harrison, from Derbyshire police, said: "We are working hard to investigate and disrupt the supply of drugs in the High Peak area, and would encourage the community to continue to report any suspicious activity or information about the misuse of drugs."
The men have been questioned and released pending further investigations.
Investigation into river foaming

Severn Trent has confirmed it's working with the Environment Agency to investigate foaming on the River Wye between Buxton and Bakewell.
It said "we don't believe the foam is having any impact on the environment" but they are working to identify the cause.
Bats roost in former station building

Nick Smith
BBC News Online
The former ticket office at Millers Dale Station will be given a new lease of life as a cafe…complete with bat habitat.
The station, part of the Monsal Trail, was a stop on the old Midland Railway line and is between Buxton and Bakewell.
The building was most recently used as a ranger base, but long-eared bats and house martins moved in when they left and will have to be incorporated into the new use because they're protected.
Emma Stone, from the Peak District National Park Authority, said: "We have to be very sensitive to how we use the site so over the next week or two we'll be carrying out a more detailed ecological survey.
"The bats will still be able to carry on using the site when we've opened as a café."
Struck off doctor hopes to return to training soon

Speaking from Nigeria today where she is on holiday Dr Hadiza Bawa-Garba said she was "very pleased with the outcome" but wanted to "pay tribute and remember Jack Adcock."
Dr Bawa-Garba had been working as a junior doctor at the Leicester Royal Infirmary in 2011 when Jack died. She was struck off last year.
She added: "I've dedicated my life to medicine. It is my purpose.
"My hope is that lessons learnt from this case will translate into better working conditions for junior doctors, better recognition of sepsis and factors in place that will improve patient safety."
She apologised to Jack's parents for what had happened and thanked people who had supported her throughout the legal process.
She said on her return to the UK she would speak with the GMC about returning to her training.
She added: "I hope I will be given the opportunity to prove that what has happened can only make me a better doctor and use that to become better at serving the community."
In Nottinghamshire there's an estate where the farmers still do things the same way they were done in the Middle Ages, before enclosures created the farmed landscape we're familiar with today. Historian Eleanor Rosamund Barraclough travels to Laxton to meet the people who work the land using the Mediaeval strip farming system. There's even still an ancient court system with legal powers to enforce the rules which govern how the strip farming is carried out, with its own jury - a forerunner of the current English legal system. Eleanor finds out about this remarkable survival from Mediaeval times, and asks whether it can endure into centuries still to come.

Produced by Emma Campbell.
Watch: Parents talk of moment they heard Jack had died

Jack Adcock's parents Nicki and Victor Adcock spoke to BBC's Panorama ahead of today's decision about the moment their son died.
Six-year-old Jack had gone into hospital in 2011 with sickness and diarrhoea, but died hours later of sepsis which had gone undiagnosed.
GMC: Case has been 'lightning rod for profession'

The General Medical Council has said it will carry out an internal review following today's hearing of Dr Bawa-Garba and see what lessons can be learnt.
Charlie Massey, chief executive of the GMC, said: "Although gross negligence manslaughter cases in medicine are extremely rare, this case has exposed a raft of concerns, particularly around the role of criminal law in medicine.
"Which is why we have commissioned an independent review to look at how it is applied in situations where the risk of death is a constant, and in the context of systemic pressure."
Mr Massey added that the case had been a "lightning rod for the profession, highlighting issues that have gone unaddressed for far too long" and as a result, they would be looking at what more they can do to support doctors.
Dr Bawa-Garba: 'Sometimes we get it wrong'

Dr Hadiza Bawa-Garba spoke exclusively to BBC Panorama before the verdict in an episode to be aired tonight.
She said doctors are "not above the law" but sometimes they make mistakes and clinical errors, which are "not criminal".
I think the nature of our job is unfortunately sometimes we get it wrong and the way it's designed is that the system should have safety nets."
Picture appeal in search for missing man with dementia

Nick Smith
BBC News Online
Police have released new images of a 70-year-old man recently diagnosed with dementia who was last seen 11 days ago.
Anthony Ward went missing on August 2. CCTV images have emerged showing him in Stretton Road, Morton, walking towards the A61 at 23:10 that evening.
Derbyshire Police said Mr Ward, who has links to Belper where he previously lived, is a keen walker and was last seen wearing a dark coloured T-shirt, dark trousers and light coloured shoes.
He is described as 5ft 11ins tall, of slim build with greying hair.
Det Sgt Adam Gascoigne said: "We are very concerned about Tony and would urge anyone who thinks they have any information, no matter how trivial it may seem, to get in contact."
Health leaders react to Dr Hadiza Bawa-Garba verdict

Dr Bawa-Garba had been suspended from the medical register for a year in June 2017.
However, the General Medical Council (GMC) appealed the decision claiming it was "not sufficient to protect the public" and she was struck off in January 2018.
Dr Rob Hendry, medical director at the Medical Protection Society (MPS), said MPS was "very pleased" Dr Bawa-Garba's appeal succeeded.
He said: "MPS supported Dr Bawa-Garba for seven years. We know how much this will mean to her, and to the profession.
"It is vital that lessons are now learned to avoid other doctors having to go through the same ordeal."
Charlie Massey, chief executive of the GMC, said the council fully accepted the Court of Appeal's judgement.
"We are sorry for the anguish and uncertainty these proceedings have had on Jack's family, Dr Bawa-Garba and the wider profession," he said.
"This was a complex and unusual case. While the decisions we took were in good faith, we know that investigations and hearings are difficult for everyone involved."
Doctor's actions 'neither deliberate nor reckless'

Three senior judges quashed the High Court's decision and restored the lesser sanction of a one-year suspension.
Announcing the ruling, Master of the Rolls Sir Terence Etherton said: "No concerns have ever been raised about the clinical competence of Dr Bawa-Garba, other than in relation to Jack's death.
"The tribunal was satisfied that her deficient actions in relation to Jack were neither deliberate nor reckless."
He added that she is a "competent and useful doctor, who presents no material continuing danger to the public, and can provide considerable useful future service to society".
Breaking
Struck-off doctor wins appeal

A doctor who was struck off over the death of a six-year-old has won her appeal to practise medicine again.
Jack Adcock died of sepsis at Leicester Royal Infirmary in 2011.
Dr Hadiza Bawa-Garba was removed from the register in January after she was convicted of manslaughter by gross negligence in 2015 because of mistakes in Jack's care.
Thousands of doctors funded her appeal because they said the ruling would discourage practitioners from being open when reviewing mistakes.
Powercut in parts of Nottingham

Western Power Distribution has confirmed there is a powercut in the NG16 area of Nottinghamshire.
Areas include Langley Mill, Babbington, Greasley and Condor Park.
The electricity company said it hopes to restore all supplies by 16:00.
Burst water main fixed but road remains closed

Engineers from Severn Trent have now fixed a burst water pipe which flooded a busy shopping street in Leicestershire this morning.
Police closed The Parade in Oadby just after 06.00 this morning and the borough council said it would be shut "until further notice".
A spokesman for Severn Trent apologised for the disruption to customers and said they were working to return water supply in the area "to normal".
Report highlights areas for care improvement

A report into the deaths of patients being cared for by the NHS in Leicester, Leicestershire and Rutland has revealed 16% of people received 'poor' or 'very poor' care in a four week period.
The report released on Friday found the overall quality of care for patients was rated as 'adequate', 'good' or 'excellent' in 148 (84%) of cases but for 29 patients organisations needed to make improvements.
The Local Democracy Reporting Service reports that auditors also found the care of frail elderly people and those at the end of their lives needed improvement.
They looked into deaths at hospitals across the county and in the community within 30 days of being discharged between 20 June and 21 July last year.
Professor Mayur Lakhani, GP and chair of the area's clinical taskforce, said: "As a practising GP I welcome the fact this report recognises improvements in care, but am concerned some patients and their loved ones have received poor care."
A similar report in 2014 found local health providers were failing in their care of frail, older people and particularly those patients at the end of life. The UHL Trust said it recognises it as something that still requires improvement and will use the latest report "as a driver to increase the scale and pace of change".
£1m lottery prize remains unclaimed

Nick Smith
BBC News Online
The clock is ticking for a Leicester resident who has just one week left to claim a £1m National Lottery prize.
The owner of the winning ticket, bought for a draw on 21 February, has until 20 August to take home the money.
The ticket has the winning Millionaire Raffle code TEAL 7501 2587.
Andy Carter, Senior Winners' Advisor at The National Lottery, said: "We're urging everyone to check their old tickets one final time or look anywhere a missing Lotto ticket could be hiding."
Man charged over town stabbing

A man has been charged after a stabbing in Stapleford over the weekend.
Police were called to Pasture Road at around 01.00 on Saturday to a man with stab wounds to his leg.
A 22-year-old man from the town has been charged with suspicion of grievous bodily harm and will appear before Nottingham Magistrates' Court today.
Four other men who were arrested on Saturday have since been released on bail.
Petition over change to fracking rules

Amy Orton
Local Democracy Reporter
Anti-fracking campaigners have written to Leicestershire County Council asking to support their petition against "outrageous" proposals to change fracking rig planning rules.
The plans, currently being looked at by the government, could see preliminary drilling and fracking rigs classified as "permitted development" - a law used to let people set up a shed in their garden without asking permission.
MPs will decide whether planning applications for fracking in England should be classed as national infrastructure and decided by a government minister, rather than local councils.
Melanie Wakley, of Leicester Friends of the Earth, said: "There are areas of land licensed for fracking in the north-west of Leicestershire but at the moment, local people have a say about whether it will go ahead or not.
"There is the very real possibility that a fracking rig could be built near to people's homes without them having any say in the process at all, it's trampling on local democracy."
A consultation on the planning guidance for hydraulic fracturing or shale gas extraction will end on 25 October.
Severe disruption: M1 Derbyshire southbound
BBC News Travel
M1 Derbyshire southbound severe disruption, between J25 for A52 Brian Clough Way Nottingham and J24 for A453.
M1 Derbyshire - Slow traffic on M1 southbound between J25, A52 (Nottingham) and J24, A453 (East Midlands Airport), because of an earlier broken down vehicle. All lanes have been re-opened.
To report traffic and travel incidents dial 0330 123 0184 at any time
Former Derbyshire council leader dies

Chris Doidge
BBC Radio Derby, political reporter
Former leader of South Derbyshire District Council, and husband of South Derbyshire MP Heather Wheeler, councillor Bob Wheeler, has died.
He represented the Linton ward on the district council for 10 years on behalf of the Conservative Party and in January he stepped down as the council leader after seven years.
Mr Wheeler's family said he was diagnosed with cancer four months ago.
Paying tribute to her husband, Mrs Wheeler said it had "been a roller coaster ride" since Bob's diagnosis and added: "To my daughter, Harriet, and I, Bob was everything.
"He worked hard to provide for us and it was wonderful that only a few weeks ago he managed to walk Harriet down the aisle and make his father of the bride speech."
Residents with dementia in Derbyshire have been enjoying reading about people's adventures.
Read more
'Drunk' wrong way M69 driver released

Police have confirmed that a 25-year-old man was arrested after a car was driven on the wrong side of the M69 before crashing.
They said officers were called at 04:10 on Saturday and followed the vehicle which ended up in an embankment on the motorway about a mile from the M1.
The man, who was held for drink driving and dangerous driving, has been released under investigation.
Man robbed at knife point inside nightclub toilets

Two men have been charged after a man was threatened with a knife inside a Nottingham nightclub and robbed of his money.
Police said it happened inside the toilets at Stealth nightclub in Goldsmith Street shortly after midnight on Saturday.
They said door staff were "quickly alerted" and detained the culprits until officers arrived.
Two men, aged 28 and 22, have been charged with robbery, while one is also charged with possession of a bladed weapon and the other of supplying cannabis.
They are due before the city's crown court today.
Groups reject plans for new Derby apartments

Opposition is growing for plans to build a 17-storey apartment block on Phoneix Street in Derby.
The new high rise has been called The Landmark and, if given the go-ahead, will house 200 flats and could be the city's tallest apartment block.
Those who have objected to the plans include the Victorian Society which says it would "cause an unjustified degree of harm to the settings of numerous heritage assets".
Anna Shelley from the society said: "It's not that we're opposed to tall buildings in Derby, it's that we are opposed to this development in the setting of such an important city and opposed to unmanaged development of tall buildings more broadly."
Historic England has also voiced "serious concerns" and the Derwent Valley Mills World Heritage Site said the building would threaten the Silk Mill and more work needs to be done on the plans.
Various council departments and Marketing Derby have shown their support for the application and developers Godwin Developments said it will be a "great addition to the Derby skyline".
£1.6 million deal for victims of crime across Leicestershire

Christian Hill
BBC Radio Leicester Reporter
Leicestershire's Police and Crime Commissioner Lord Willy Bach has announced a new contract for the Victim First service, supporting victims of crime.
The social business Catch 22 will run the service, which provides specialist staff at police stations to give face-to-face support.
There'll also be a web-chat facility, and young victims will get a dedicated caseworker, as well as group support.
The new contract is worth £1,638,741 and will initially run until the end of July 2021.
Announcing the new contract, Lord Willy Bach said: "Helping victims of crime to recover is one of my top priorities, and this new-look Victim First service will ensure support is available how, where and when people would like to access it."
Leicester 'will cope' in event of 'no deal' Brexit

Nick Smith
BBC News Online
Sir Peter Soulsby has said Leicester City Council 'will cope' if Britain leaves the European Union without a deal.
This comes after the authority confirmed it has no plan in place for a 'no deal' Brexit, the Local Democracy Reporting Service said.
City Mayor, Sir Peter, said: "It's looking frighteningly like we'll just crash out.
"Like the rest of the country we haven't got a clue what we're planning for and we can't plan if we don't know what we're planning for.
"There are so many exit strategies being discussed. Where would we start?
"Somehow or another as a council we will cope."
Leicestershire County Council confirmed that, as yet, it also doesn't have a 'no deal' plan.
Three arrests after officers interrupt burglary

Three people are being questioned by police after officers attended a burglary in progress at a house in Hucknall.
Nottinghamshire Police were called to the home on Arden Close at about 18:40 on Sunday.
A 16-year old boy, an 18-year-old man and a 39-year-old woman were arrested at the scene.
Nottinghamshire Police said a hammer was recovered.
Motorcyclist in hospital after A47 crash

A motorbike and lorry were involved in a crash on the A47 in Peckleton, near Desford, this morning, Leicestershire Police said.
Officers said the motorcyclist was taken to hospital with non-life-threatening or life-changing injuries.
Police added that the fire and ambulance service were in attendance and roads have re-opened.
Posties' parcel postbox pilot

Nick Smith
BBC News Online
The Royal Mail has launched a trial of its first ever parcel postboxes.
Small businesses and marketplace sellers will be able to post pre-paid parcels through the boxes, in the same way they would post a letter.
There will be 13 parcel postboxes in Leicester and 17 in Northampton as part of the trial which runs until 5 November.
The Royal Mail said it will be the first major change of use for the postbox in the last 160 years .
A spokesman for Royal Mail Parcels said: "The trial is aimed at giving more flexibility to online sellers who might be running a business in their spare time and not keeping regular office hours."
Council investigates damage to flooded bridge

A part of Alfreton Road in Derby still remains closed while the council investigates the damage done to a bridge over the Midland Mainline.
A 15-inch water main under the road burst on Thursday, flooding the area and leaving a large hole in the road surface.
Crews will use cameras to check inside the bridge structure to see how much damage has been done.
'Drunk' driver went up M69 the wrong way

A driver has been arrested after a car was driven on the wrong side of the M69 for 15 miles before crashing into the embankment.
It went up the motorway from Coventry to Leicester, before crashing about a mile before the roundabout with the M1.
Officers who tweeted about the crash said there were "thankfully no injuries".
The driver was arrested for drink driving and dangerous driving.
Man in 80s assaulted at home by intruders

An elderly man was assaulted during an attempted burglary at a Leicestershire house last weekend.
The man, who is in his 80s, was inside his house in Groby Road, Ratby on Saturday, 4 August with a woman when two men got into the house at about 18.10 and went upstairs.
He followed them up and approached them but was pushed to the ground as the intruders fled.
Police said he only suffered minor injuries and nothing was stolen but the couple have "been left very shaken" by what happened.
Officers asked for help to identify the two men who are described as being in their mid 20s and wearing dark clothing.