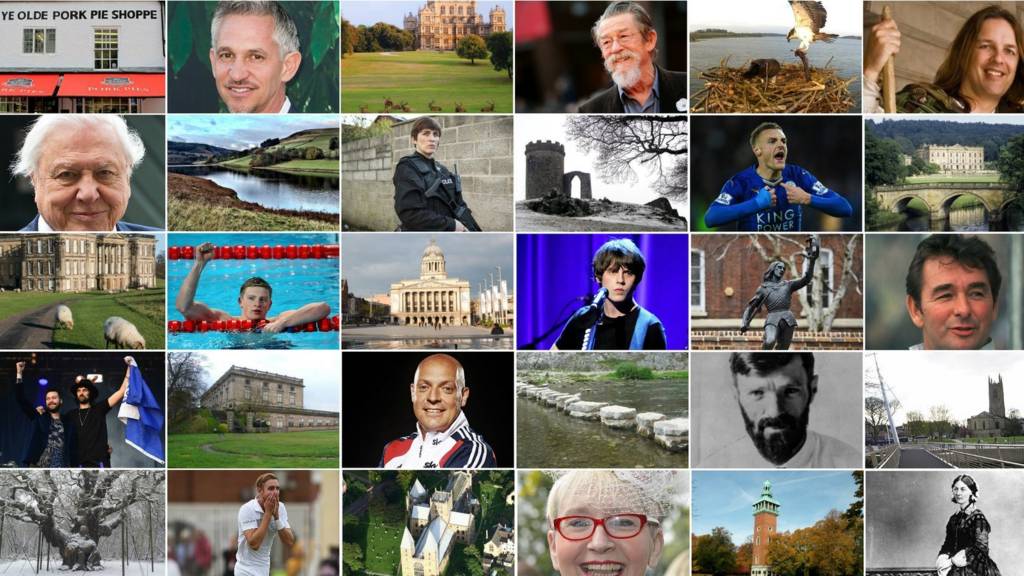 Our live coverage across the day

David Pittam

BBC News Online

The East Midlands Live page has now finished for the day however some posts linking to BBC articles may continue to appear.

Full live coverage will continue at 08:00 on Wednesday.

Weather outlook for East Midlands

It's set to be a mild evening but with a chance of some showers from 20:00 into tomorrow morning.

Council tax going up across Nottingham

Kit Sandeman

Local Democracy Reporter

From April, all council tax-payers in Nottingham and Nottinghamshire will see an increase in the amount they pay.

Some councils are freezing their part of the tax, while others are increasing it by the maximum amount possible.

Here's how it looks across the county and city:

Nottingham City Council is expected to increase its share of council tax by the maximum amount possible - 2.99%
Nottinghamshire County Council plans to increase its council tax by the most it can - 3.99% overall
Nottinghamshire Police - payable by everyone in and outside the city - will increase by 12%
Nottinghamshire Fire and Rescue Service - also payable by everyone in and outside the city - will increase by 2.95%
Ashfield District Council is set to freeze council tax
Bassetlaw District Council will see a 2.96% rise.
Gedling Borough Council will freeze council tax
Mansfield District Council is due to freeze council tax.
Rushcliffe Borough Council will have a 3.81% increase
Newark and Sherwood District Council have not yet declared what they will do

Council leader calls for MP to stand down

Kit Sandeman

Local Democracy Reporter

The leader of Nottingham City Council has called for the former Labour MP Chris Leslie to stand down.

It comes after the Nottingham East MP and six others resigned from the Labour Party yesterday, citing differences over Brexit and differences with the leadership of the party.

Labour leader Jon Collins (pictured) said categorically he did not want the job but argued there had been long-standing concern in Nottingham East about Mr Leslie.

Woman's skull 'shattered' in sex attack

A man shattered a woman's skull in a "savage sexual and physical assault" and left her for dead near a children's play park in Leicester, a court has heard.

A jury was told Zakarya Etarghi brutally attacked a woman in her 50s and just hours later pleaded with friends to get him on a truck that would take him out of the country.

The woman was left with life-threatening injuries near the park off Cedar Road, Evington, just after 04:45am on August 3 last year, a trial at Leicester Crown Court heard today.

Prosecutor William Harbage QC called it a "brutal attack".

DNA profiles obtained from blood from pieces of paper and cigarette packets in the defendant's flat matched that of the woman, the prosecution said.

Jurors heard the 24-year-old had admitted he was present in the park that night but denies both charges of attempted murder and rape, saying someone else must have been responsible.

The court was told Etarghi, of no fixed address, sent "incriminating" messages to his friends after the alleged attack - including one which said: "I can just see it, today is the day I get nicked".

He had fled 60 miles away to Stoke-on-Trent and "laid low" for a fortnight until his arrest, the court heard.

The court heard Etarghi had said in a police interview that both he and his alleged victim had taken cocaine before the incident.

The trial continues.

Nottinghamshire and Derbyshire fire control rooms to merge

Eddie Bisknell

Local Democracy Reporter

Nottinghamshire will be left without a fire control room to handle emergency calls following a new merger with its counterpart in Derbyshire.

A new joint fire control is to be set up this year and would see staff working in a purpose-built centre in a bid to save vital funds.

The joint control scheme is one of the flagship money-savers in Derbyshire fire service's budget, approved at a meeting on 14 February.

Both services are expecting to run a deficit of hundreds of thousands next year so it is hoped this move will save them each £350,000 a year. But it could cost £430,000 to set up at the Ascot Drive site in Derby, pictured above.

It is understood to be too early to say if the move will result in job losses.

Man, 21, stabbed on a busy street in broad daylight

David Pittam

BBC News Online

A 21-year-old was stabbed outside a Nottingham takeaway in broad daylight on Saturday.

He was stabbed in the collarbone and the arm at 15:15 outside Papa's Grill in Ilkeston Road.

He was taken to hospital and treated for non-life-threatening injuries and has since been discharged, police said.

Police are appealing for witnesses, particularly from anyone who may have been on a passing bus at the time.

Two boys, aged 16 and 17, were arrested in Bestwood on Sunday on suspicion of Section 18 GBH and were subsequently released on conditional bail until 15 March 2019.

MP apologises for 'ill-thought out' Facebook comment

Chris Doidge

BBC Radio Derby, political reporter

A Labour MP has apologised "unreservedly" for a Facebook comment about The Independent Group, saying said she had no intention of "invoking a conspiracy theory".

Ruth George, who represents High Peak, had written it was "possible" the group of MPs, which broke away from Labour yesterday, is supported by Israel.

But she appears to have since deleted the comment and published an apology which reads: "I unreservedly and wholeheartedly apologise for my comment.

"I had no intention of invoking a conspiracy theory and I am deeply sorry that my ill-thought out and poorly worded comment did this. I withdraw it completely."

M1 closure: 'Call for help from lorry full of people'

David Pittam

BBC News Online

A police operation which forced the partial closure of the M1 was prompted by someone making an emergency call from the back of a lorry carrying suspected illegal immigrants.

Leicestershire Police said they had to force the lorry doors open to reach those inside.

Two lanes of the M1 northbound near J20 were shut and an air ambulance was called, though no-one was seriously injured.

The 59-year-old Hungarian lorry driver has been arrested on suspicion of immigration offences.

Copyright: Leicestershire Police

One lane of A38 still closed after Mercedes fire

David Pittam

BBC News Online

A lane of the A38 in Derbyshire remains closed while it is repaired after a Mercedes caught fire.

No-one was injured in the blaze which shut both lanes between Toyota and Clay Mills this morning.