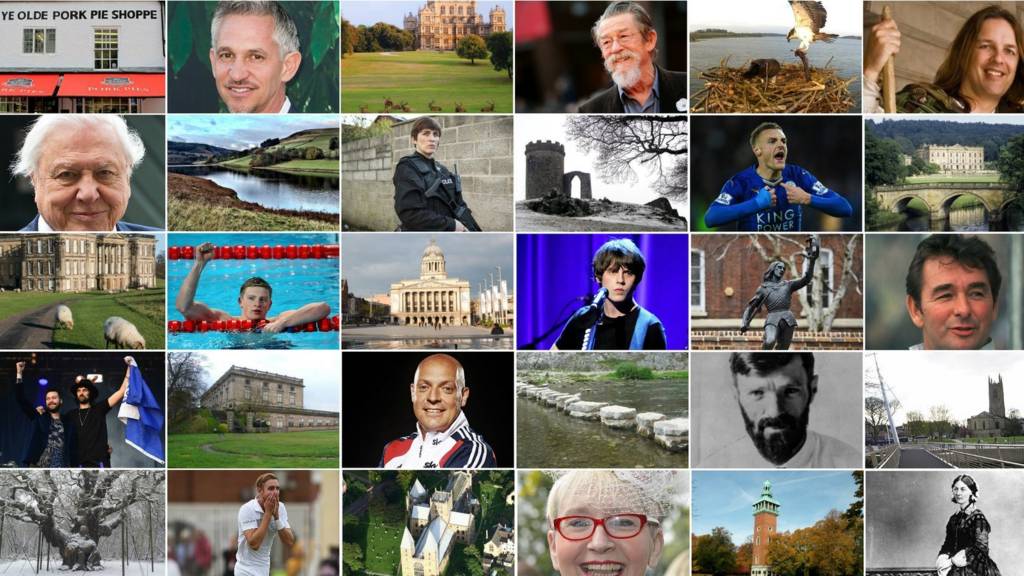 Our live coverage across the day

Today's news, sport, travel and weather updates have finished. We'll be back at 08:00 on Wednesday.

Tonight's weather: Starry skies before mist descends

Tonight will remain dry with predominantly clear starry skies. However, some patchy mist and fog is likely to develop during the early hours. Turning chilly again.

Walking and cycling game set to launch

If you're around the Blaby district of Leicestershire you might have seen these Beat the Street boxes cropping up.

They're part of a new exercise campaign starting tomorrow. The challenge is to score as many points as possible for you and your team by walking and cycling around your area for six weeks.

There are even prizes up for grabs - schools can win vouchers for sports equipment, books or crafts. Communities can win vouchers for sports and fitness equipment and workplaces can win £100 to donate to a chosen charity.

The scheme is being funded by The National Lottery through Sport England, Blaby District Council and DEFRA.

Beat the Street will also start in Leicester next month.

Lennon to take charge at Celtic if Foxes appoint Rodgers

Neil Lennon has agreed to return to Celtic as interim manager, assuming Brendan Rodgers completes his move to Leicester City.

Lennon - himself a former Foxes player - will take charge until the end of the season, but is a strong candidate to take the role permanently.

He could be in the dugout for Wednesday's Scottish Premiership game against Hearts at Tynecastle.

"We're still waiting on hearing back from Leicester," Celtic chief executive Peter Lawwell told reporters.

Shopper's lucky escape after car hits supermarket

A man has been recalling how he was "clipped" by a car that crashed into a supermarket in Carlton earlier.

Reuben Mayall, 41, said he felt lucky not to have been seriously injured or killed when the vehicle smashed into the front of Tesco in Carlton Hill at about 12:30.

He said: "I'm still shaking now. I heard this revving, turned round and a car was heading towards the building.

"I jumped out of the way and got clipped on the legs. I've got a few cuts and bruises and it's exacerbated a back injury I already had but otherwise I'm OK.

"The driver was a woman in her forties and she seemed absolutely fine. I don't know what could have made the car speed forward like that."

East Midlands Ambulance Service said a woman was treated at the scene but did not require hospital treatment.

Weapons found in car search

Police made quite a discovery when they searched a car in Leicester after the driver failed to stop.

A large bladed knife was found along with a police-style baton, drugs, cash and two mobile phones.

Copyright: Leicestershire Police

The driver was arrested on suspicion of failing to stop, possession of two offensive weapons and possession with intent to supply Class B drugs.

He has been released while the investigation continues.

Stand-off over car dumping site

There's been a tense stand-off in Nottingham as council workers tried to remove abandoned cars from a site in the Bobber's Mill area.

There are about 20 vehicles on the land off Darley Road, which has been used as a dumping ground for two years.

Fines and warnings have been issued by the city council but the area deteriorated and the tenant was evicted.

The new land owner wanted the site clearing but the authority's community protection team was stopped by the previous tenant who returned and blocked the entrance.

The council workers were forced to go leaving the land owner and the evicted tenant to discuss a way forward.

Forest boss 'delighted' with players' efforts

Martin O'Neill said he felt the pressure of yesterday's derby match against Derby County but said "it's great to win".

Man arrested over attack on elderly woman

Police investigating a "vicious attack" on an elderly woman in Ibstock have arrested a 28-year-old man on suspicion of theft and burglary.

The woman was at her home on Ashby Road on Sunday evening when three men broke in. She was punched causing "multiple fractures to her face" and remains in hospital.

It's not known if anything was stolen.

The arrested man is in police custody and is due to be questioned by detectives.

Man jailed for hammer attack and shotgun threat

Nick Smith

BBC News Online

A man has been jailed for attacking a man with a hammer and threatening another man with an imitation firearm.

Copyright: Nottinghamshire Police

Police said Matthew Harverye threatened the occupant of a house in Newark with the shotgun on 18 March 2018 and in a separate incident on 26 August 2018, attacked a man with a hammer in the Sneinton Dale area.

Harverye, 28, of Halifax Place, Nottingham, was found guilty of possession of an imitation firearm with intent to cause fear of violence, assault causing actual bodily harm and possession of an offensive weapon.

He was jailed for seven years and 10 months at Nottingham Crown Court on Friday.

Leona Bailey, 24, of Byron Court, Newark, was also convicted of possession of an imitation firearm with intent to cause fear of violence relating to the Newark incident and received a two year suspended sentence.

Rugby: Achilles injury forces Tait retirement

Leicester Tigers Mathew Tait has announced his retirement after 15 years in professional rugby.

The 33-year-old has made the decision on medical advice due to an Achilles injury.

He said: "It isn't how I planned to finish up but ultimately, this ongoing problem has caught up with me.

"I've thoroughly enjoyed my time at Tigers over the past eight years. Having played against Leicester before arriving at the club, it was a dream to be able to call Welford Road home and I leave having enjoyed many special memories with a lot of special people over my time here."

Woman knocked to floor by handbag robber

A woman in her 60s was allegedly hit on the head and knocked to the floor during a handbag robbery in Mapperley Park.

Police said the woman suffered minor injuries when she was targeted in Tavistock Drive at about 19:15 on Sunday.

Her attacker, described as an Asian man in his mid-20s, ran off in the direction of Lucknow Avenue.

'Serious collision' on A14/M6 link road

There are big problems around the Catthorpe Interchange that might affect some of you in the far south of the region.