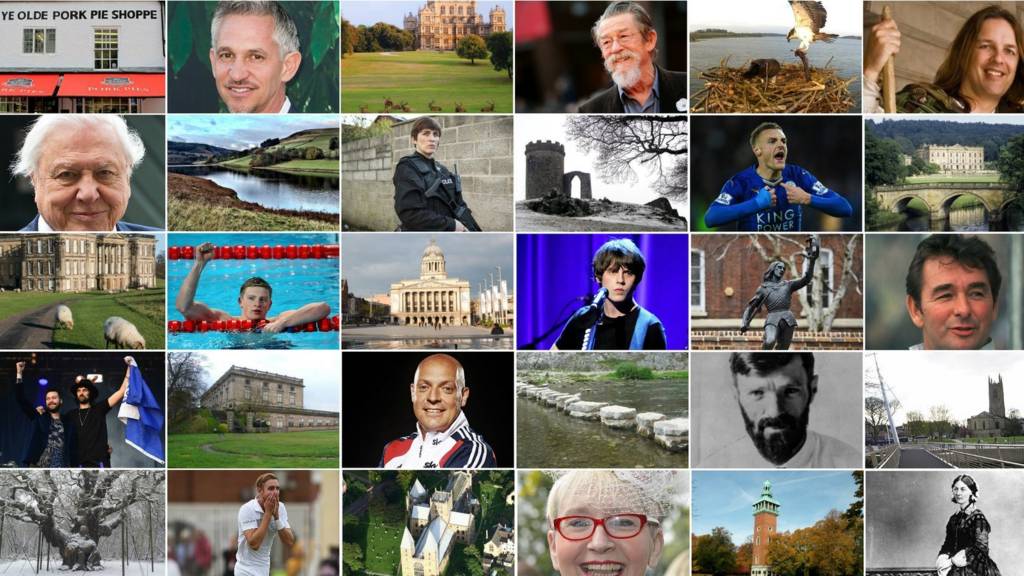 Latest updates: East Midlands Live
Listen live to your BBC local station in Derbyshire, Nottinghamshire and Leicestershire.
Kimberley Leech, 15, has appeared in Vogue magazine.

Our live coverage across the day

The East Midlands Live page has now finished for today. However some posts linking to BBC articles may continue to appear overnight.

Full live coverage will continue at 08:00 on Wednesday.

Weather: Staying mild tonight with a breeze

Tonight will be a relatively mild night, staying dry with clear spells and and a moderate easterly breeze.

Minimum temperature: 6 to 9°C (43 to 48°F)

Crash closes Nottingham road

A minor car accident closed Castle Boulevard in Nottingham during this evening's rush hour.

The road was closed from the Lenton Boulevard/Abbey Bridge junction shortly after 17:15.

A spokesman from Nottinghamshire Police said one person suffered minor injuries.

MP raises prison attack in Parliament

MP for Nottingham North Alex Norris has raised the issue of violence in prisons after an officer at Nottingham Prison was attacked earlier this month.

The prisoner has been charged with grievous bodily harm with intent after the prison officer had his throat slashed with a razor.

Speaking in the House of Commons Mr Norris said the incident could have been much worse.

Approval for plans to extract gas near country park

Kit Sandeman

Local Democracy Reporter

A plan which could see gas extracted from the ground for the next 25 years has been approved today.

The scheme, which does not involve fracking, aims to harness methane gas left behind during coal mining.

Once a new access road is built to the site on rural land near Rufford Country Park, drilling will happen around the clock for three weeks, and any escaping gas will be set on fire.

Experts will then assess whether there is enough gas to make the scheme profitable, and if it is, generators will be installed to turn the gas into electricity.

Copyright: Nottinghamshire County Counil

Nottinghamshire County Council's planning committee approved the decision today by two votes, however all Labour councillors abstained from voting, over concerns at the location of the drilling.

The committee heard if the methane began to escape, before it was harnessed, it could be a "potent" greenhouse gas.

Neil Baker, a consultant for the applicant Infinis, said he was proud of the company's record, and the way it operates several other sites throughout the country and said planning permission would "help secure the future" of the company.

Family tribute to woman killed in crash

Nick Smith

BBC News Online

The family of a woman who was killed in a five-vehicle crash have paid tribute to her "compassionate and kind heart".

Suzanne Sheil, 70, from Simmondley, was driving a Vauxhall Corsa which was involved in a crash with a lorry, a Vauxhall Insignia, a Mitsubishi L200 and a Lexus IS200 on the A624 near Glossop on 16 April.

She was prounounced dead at the scene.

In a statement, her family said: "Suzanne was the kindest, most creative person you could know.

"A wife, a mum, a nannie, a dear friend - she touched the hearts of many people.

"She was a passionate seamstress and an expert crafter, with unrelenting enthusiasm and devotion."

The driver of the Mitsubishi, a 41-year-old man, remains in hospital with serious injuries.

Copyright: Derbyshire Police

Armed police called after 'threat' against pupil

Nick Smith

BBC News Online

Two boys have been arrested after armed police were called to a school following reports of a threat against a pupil.

Police were called to the South Wolds Academy and Sixth Form in Keyworth at about 14:30 today.

Inquiries are ongoing.

Motorcyclist who died in crash named

Nick Smith

BBC News Online

A motorcyclist who died in a crash with a car in Chesterfield has been named by police.

Wayne Turton, 33, from Eckington, was riding his Yamaha YZF-R6 motorbike on the B6052 when he was involved in a crash with a black BMW just after 11:00 on Saturday.

He died at the scene.

The road was closed between Handley Road and Springwell Hill following the crash and police are investigating.

Man arrested on suspicion of supplying drugs

Nick Smith

BBC News Online

A man has been arrested on suspicion of supplying controlled drugs.

The 26-year-old was arrested in Oak Tree Close, West Bridgford, and remains in police custody.

This follows the arrest of another man, 19, on suspicion of possession of criminal property and drugs in South Avenue, Radcliffe-on-Trent, on 27 March, who has been released under investigation.

A52 Derby to shut in the evenings

Just a reminder the A52 Brian Clough Way eastbound carriageway in Derby will be closed every evening this week for work on street lights.

The road will be shut between the Pentagon Island and Raynesway junctions (including the Wyvern Way eastbound slip road) from 20:00 until 06:00.

The city council said diversions will in place along Derby Road and Nottingham Road, Chaddesden.

Pair running to London Marathon start from Nottingham

Thousands of runners are gearing up to take part in the London marathon on Sunday but two of them have already set off.

Rob Jackson and Nick Steele, from Nottingham, are running more than 170 miles to the capital, covering the distance of more than six marathons.

Both men have family who have been affected by blood cancers and are raising money for charity Bloodwise.

They were joined this morning by supporters as they set off from Nottingham City Hospital and started the first leg of their journey.

"I'm totally confident it's going to hurt. I'm totally confident it's going to be very uncomfortable at times, but I'm also confident we will get there and get round the London Marathon," said Nick.

Rob said his inspiration for the challenge was his wife who has been through treatment for non-Hodgkin lymphoma twice.