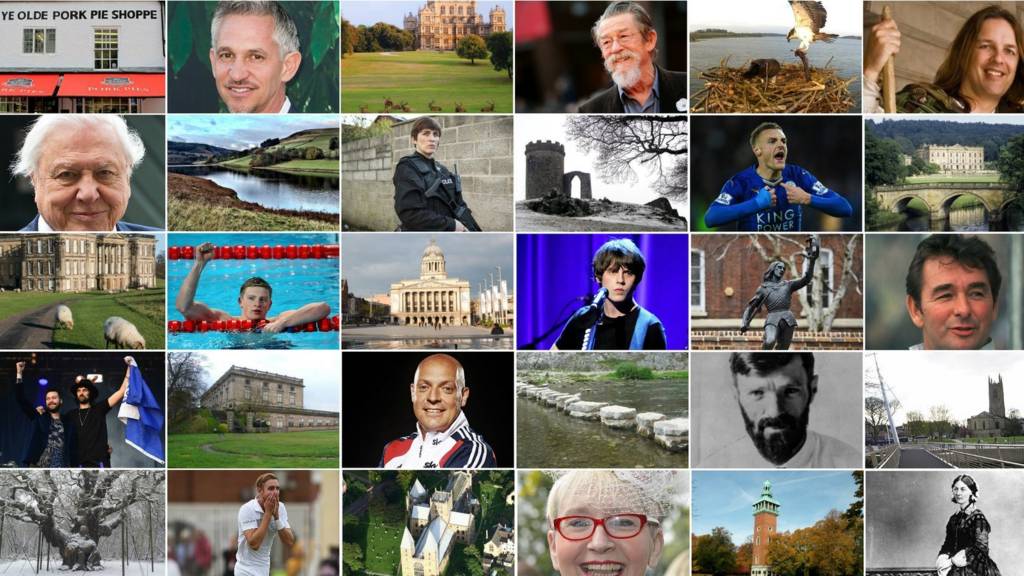 Latest updates: East Midlands Live
Listen live to your BBC local station in Derbyshire, Nottinghamshire and Leicestershire.
By Jonathan Morris

BBC News Online

Our live coverage across the day

That's it for our live updates today but you may see some articles appear on this page overnight.

The live updates will return at 08:00 on Friday.

Weather: Rain easing off tonight

The showers will ease tonight leaving us with a fair amount of dry weather overnight.

The rain will return tomorrow with some clear spells too. Minimum temperature: 4 to 7C (39 to 45F)

Weather: Hailstorms across the region

We saw some crazy thunderstorms earlier and there was hail as well, as demonstrated in this video taken in Derby.

Jury discharged in crash 'fight death' trial

Heather Burman

Journalist, BBC News Online

The trial of a man, who denies causing the death of a driver who police say was assaulted after a crash in Nottingham, has been halted.

Copyright: Nottinghamshire Police

Father-of-two Stephen Walsh, 37, died at his home on Blenheim Avenue in Mapperley in July.

Oliver Brown, of Golden Sands Caravan Park, Ingoldmells, Lincolnshire, pleaded not guilty to manslaughter.

The jury was discharged at Nottingham Crown Court and a new trial is due to begin on 1 May.

His girlfriend, Rosann Newton, 21, of Findern Green, Nottingham, pleaded not guilty to assisting an offender by giving false statements to police and deleting text messages from her mobile.

Chettle leaves Magpies for Basford

Nick Smith

BBC News Online

Former Forest defender Steve Chettle has left his role as a coach at Notts County to take over as Basford United manager.

Travel: Lorry blocks A42 slip road

Weather: Moody skies above Nottingham

Were we really enjoying blue skies and summer temperatures just a few days ago?!

Road flooded by heavy rainfall

The thunderstorms and heavy rain have been causing some problems around the East Midlands this afternoon.

Here's Main Road in Wilford, Nottingham, which was flooded.

The trams are now running again in Nottingham after an earlier power failure.

Rams boss says Championship needs video ref system

Derby manager Frank Lampard has called for the video assistant referee (VAR) system to be used in the Championship after he was charged with improper conduct following a clash with a referee.

Lampard says he was disappointed to be charged by the FA for comments to referee Simon Hooper following Friday's 2-2 draw at Birmingham.

The Rams boss says VAR, which will be used in the Premier League next season, should be added in the second tier.

"It will come, it's just a matter of when," Lampard told BBC Radio Derby.

"VAR is coming to the Premier League and it has to come to the Championship because it's very difficult for referees."

Severe disruption: M1 Nottinghamshire southbound

BBC News Travel

M1 Nottinghamshire southbound severe disruption, between J26 for A610 Nottingham and J25 for A52 Brian Clough Way Nottingham.

M1 Nottinghamshire - One lane closed and slow traffic on M1 southbound between J26, A610 (Nottingham) and J25, A52 (Nottingham), because of Abandoned Vehicle.

To report traffic and travel incidents dial 0330 123 0184 at any time

Travel: Trams not running

The tram operator in Nottingham said the earlier thunderstorm caused a points failure.

Trams are currently being held while power is restored.

Factory fire investigation continues

Officials have said a fire at a Derby factory, involving tonnes of rubber material and gas cylinders, was not started deliberately.

The building in Enterprise Way went up in flames on Monday afternoon with blasts heard across the city, accompanied by plumes of thick black smoke.

Station manager Lee Smith from Derbyshire Fire and Rescue Service said their investigation into the cause is continuing.

Severe disruption: A6008 Nottinghamshire northbound

BBC News Travel

A6008 Nottinghamshire northbound severe disruption, near Friar Lane.

A6008 Nottinghamshire - One lane closed and slow traffic on A6008 Maid Marian Way northbound in Nottingham near the Friar Lane junction, because of a broken down bus.

To report traffic and travel incidents dial 0330 123 0184 at any time

Muller: Dairy review 'not related to Brexit'

Muller UK said its dairy review was not related to Brexit uncertainty, but formed part of an ongoing long-term project to transform the business.

Union USDAW has said the firm's Foston site - which has 228 staff - is the most vulnerable of the UK sites under review.

A Muller spokesman said: "We operate within a fresh milk industry in Britain that is at a tipping point, it is no longer sustainable, and we aim to address this.

"The UK is an important market for Müller. We will make sure that consumers have the opportunity to buy a growing range of great products made in Britain, with milk produced by British dairy farmers, after Brexit."