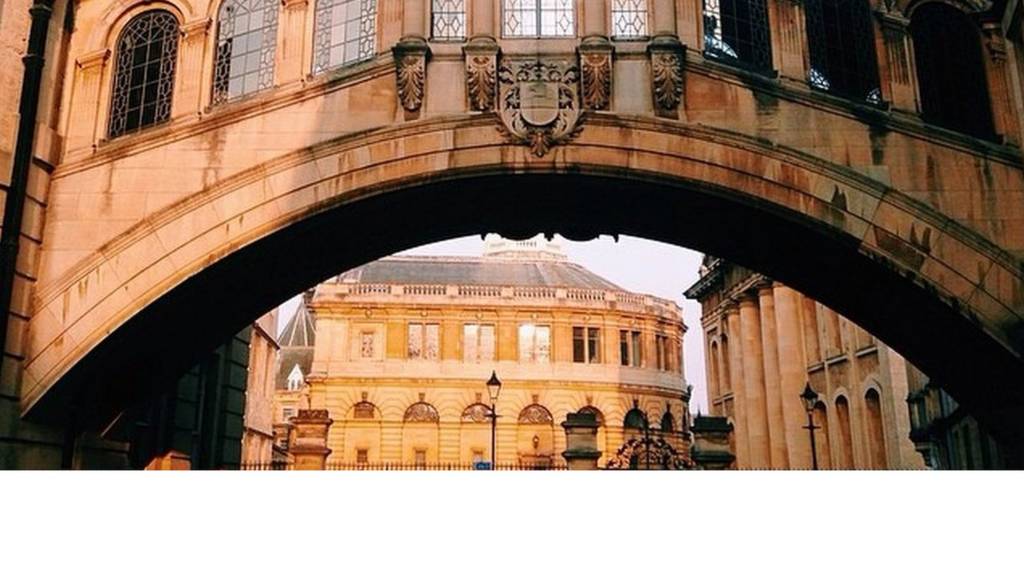 BBC Local Live: Oxfordshire
Summary
More news, sport, travel and weather from 08:00 on Wednesday
Updates from Tuesday 6 January 2015
That's it for Local Live for today, the service will return at 08:00 on Wednesday.

It will be fine and dry with mostly clear skies allowing a frost to form overnight.

A few shallow mist or fog patches may develop in rural parts. Lows of 3C (37F).

In tonight's programme: There is too much pressure on accident and emergency departments as all the main hospitals in our region have missed the four-hour waiting time target.

That and more, on BBC One at 18:30.

Car in ditch in Shillingford

The A4074 Henley Road in Shillingford is partially blocked in both directions because of a car in a ditch.

For more, see the BBC Travel news site.

Ross Heaton

Sports reporter, BBC Radio Oxford

Oxford United striker Will Hoskins scored in a 4-0 win for the U's development squad against Barnet this afternoon.

It was Hoskins' first game since picking up an injury against Southend in September.

John Campbell netted twice and defender Sam Long was also on the scoresheet against the Bees.

Pacemaker man to do marathon

A man from Henley is hoping to become the first person to complete the North Pole Marathon with a pacemaker.

Mike Shepherd plans to run 26.2 miles (42km) in temperatures as low as -60C (-76F) at a Russian science station in April.

Clare Woodling

Newsreader, BBC Radio Oxford

The case of the footballer Ched Evans has shown change is needed in the way we view sex abusers.

That's according to a Thames Valley charity which works with sex offenders. I'll have all the details at 17:00.

Recycling your Christmas tree

If you want to recycle your Christmas tree Oxford City Council says it has set up 17 sites across the city.

The collection points are listed here and are open until Thursday 15 January.

Children exploited in guesthouse

Barnett return 'unlikely'

The chances of former loan striker Tyrone Barnett's returning to Oxford United from Peterborough during the January transfer window are remote, according to U's head coach Michael Appleton.

Support for MP's campaign

We tweeted about Ann Coffey MP's campaign to stop the term "child prostitute" being used in laws, and you've taken to Twitter to support her:

M Curtis tweets: @BBCOxford And she is right!

Graham Belton tweets: @BBCOxford i totally agree. We shouldnt label the children as that

Stephen Stafford

BBC News Online

The additional pressures of cold weather, norovirus and flu have an impact on all A&E departments across the UK.

This tracker by BBC Health allows you to find out how the NHS is doing in Oxfordshire.

Clare Woodling

Newsreader, BBC Radio Oxford

The universal condemnation of convicted sex offenders has to stop if victims are to be better protected.

That's from a Thames Valley charity which supports sex offenders. I'll have all the details at 16:00.

Cash leaves 'homes at risk'

Campaign against 'child prostitute' term

Following high-profile cases of child sexual exploitation in Rochdale, Rotherham, Oxford and Telford, an MP is campaigning to have the term "child prostitute" removed from legislation as it "protects abusers".

Ann Coffey, Labour MP for Stockport, wants amendments to the Serious Crime Bill, being discussed in Parliament, as the phrase "belongs to another age".

There are currently 16 pieces of legislation that use the term.

Take That star Howard Donald was joined by bandmates Gary Barlow, Mark Owen and former member Jason Orange for his marriage to long-term girlfriend Katie Halil at Aynhoe Park in Banbury, a band spokesman confirms.

Thames Valley Police is appealing for witnesses after an assault on New Years Day in Dry Sandford, Oxfordshire.

The 47-year-old victim was cycling along the Honeybottom Lane when he got into an altercation with a motorist, who was driving a silver Mercedes E Class.

The motorist then punched the victim in the head, causing bruising to the cheek and a split ear.

The offender is described as white, 6ft, medium build, with a dark scruffy beard.

Kat Orman

Afternoon presenter, BBC Radio Oxford

On this afternoon's show we're discussing child horror stories after I had a nightmare start to the day when I locked my daughter inside the car.

It seems a lot of people have accidently mislaid a child - remember when the Prime Minister left his daughter at the pub?

Graham from Bloxham phoned in to tell us about taking a crowd of 14 kids for a day out at a wildlife park for his daughter's 11th birthday, only to later discover he had left one at home, happily reading.

Add there are more tales on the BBC Oxford Facebook Page.

Clare Woodling

Newsreader, BBC Radio Oxford

More than 20 bicycles have been stolen in Henley on Thames in the past three months.

Investigating officers say the thefts are all linked. I'll have all the details at 14:00.

Howard Bentham

Presenter, BBC Radio Oxford

Oxford doctor Tom Boyles has been telling me about his time in Sierra Leone helping tackle the Ebola outbreak.

Following a six week deployment in Freetown, he was on the same flight back to the UK as nurse Pauline Cafferkey who is currently being treated for the disease in London.

He said the screening process of the health volunteers was "very thorough, but not absolutely foolproof" and said it was "extremely rewarding and very hard work". Listen online now.

UK agriculture has been focussing on the wrong priorities and now needs wholesale reform, according to a report from the New Economics Foundation.

Redefining Success in Food and Agriculture will be presented at the Oxford Real Farming Conference, which starts today.

It claims that UK farming is unsustainable, too energy-intensive, and socially unjust in its use of land.

Anna Hill talks to the report's author, Stephen Devlin, for BBC Radio 4.

Grand Prix weekend drive for Wolff

Ross Heaton

Sports reporter, BBC Radio Oxford

The Grove-based Williams Formula 1 team has confirmed test driver Susie Wolff will be given the drive on the first day of the pre-season test at Barcelona next month.

It's the latest Formula 1 track-time for the Scot who become the first women in 20 years to take part in a Grand Prix weekend when she drove in Friday practice at Silverstone and Hockenheim last season.

Paul Jenner

Newsreader, BBC Radio Oxford

More than 5,000 children in Oxford are living in poverty, according to figures from Public Health England.

The figures put Oxford lower than the national average, although the numbers show a fall year-on-year.

I'll have reaction on BBC Radio Oxford at 13:00.

Charles Nove

Presenter, BBC Radio Oxford

There's been a series of burglaries across Oxfordshire.

Homes in Chinnor, Faringdon and Little Milton were targeted between last Monday and Saturday. In one, thieves stole keys to vehicles parked on the driveway, making off in one of them - a grey BMW M3.

There's was an attempted burglary at a property in Winterbrook near Wallingford, in which a person smashed a window to get in, and then damaged the victim's stair lift.

A constant feature in the Banbury Guardian dating back to its years as a broadsheet publication, our weekly Big Picture remains as popular as ever.

Testing safety of vaccine

Dr Matthew Snape, from the Oxford Vaccine Group, part of the University of Oxford Department of Paediatrics, said: "The main aim is to understand the safety profile of the vaccines."

The trial involves volunteers receiving an additional booster dose one or two months after the initial injection.

Similar small trials will also get under way in the US and three African countries unaffected by Ebola.

First humans to get Ebola vaccines

Scientists at Oxford University have begun immunising healthy volunteers with a new Ebola vaccine.

Initial tests in monkeys showed the vaccine, developed by Janssen Pharmaceutical Companies of Johnson and Johnson, gave complete protection against Ebola.

The volunteers in Oxford are the first humans to receive the vaccine.

Paul Jenner

Newsreader, BBC Radio Oxford

Oxfordshire's major hospitals have missed the four-hour waiting time target for patients in Accident and Emergency.

And volunteers from Oxfordshire are wanted to take part in a trial for a new Ebola vaccine.

I'll have more on that story at 12:00.

Phil Gayle

Breakfast presenter, BBC Radio Oxford

This morning I spoke to Shadow Children's Minister Alison McGovern about poverty in Oxford and she said it's something the council needs to work on.

"It's a challenging thing - we have to look at wages and make sure we're focussed on the minimum wage. As well as that, people in Oxford have rightly campaigned for the living wage," she said.

More on Waterstock fatal crash

Police have released more details about the crash that killed a pensioner in Oxfordshire.

A lorry pulled out of a nearside lay-by on the A418 Oxford Road in Waterstock and was invovled in a collision with a Ford Focus travelling to Thame.

The crash happened at about 18:10 on Monday on the Thame-bound carriageway.

The driver of the car, an 81-year-old man from Thame, was taken to the John Radcliffe Hospital in Oxford where he died.

Sir Adrian Carton de Wiart was a one-eyed, one-handed war hero who fought in three major conflicts across six decades, surviving plane crashes and PoW camps. His story is like something out of a Boy's Own comic.

Read more about the story of the former Oxford student who went on to serve in the Boer War, World War One and World War Two and in the process was shot in the face, lost his left eye, and was also shot through the skull, hip, leg, ankle and ear.

Paul Jenner

Newsreader, BBC Radio Oxford

Oxfordshire's major hospitals have missed the four-hour waiting time target for patients in Accident and Emergency.

From October to December 87.5% of patients were seen in four hours - below the 95% target.

The rest of the UK is also missing the target. I'll have more on that story at 11:00.

Congestion near temporary lights

BBC Oxford Travel tweets: Traffic congestion around #Headington due to #A420 temp lights nr Wharton Rd easing.

More on BBC Travel News for Oxfordshire.

We've introduced BBC Local Live to bring you the latest news, sport, travel and weather all in one place. Tell us what you think.

Oxford's Town Hall is hosting the 2015 Oxford Real Farming Conference today.

The two-day conference, made up of talks and debates, is the sixth such event organised by The Campaign For Real Farming, an organisation that aims to encourage ethical farming methods.

Paul Jenner

Newsreader, BBC Radio Oxford

A new Ebola vaccine is being trialled in Oxford.

The Oxford Vaccine Group, part of the University of Oxford Department of Paediatrics, aims to vaccinate 72 healthy adult volunteers by the end of January.

I'll have more on that story and at 10:00.

Today's banner image was taken by Alex Krook. Showing the lovely Bridge of Sighs.

She has taken lots of photos from around the city, and you can view more of her pictures on her flickr page.

BBC Oxford Travel tweets: #A420 #Headington roadworks causing congestion on the Ox Ring Rd. #A40 q's #Marston to Headington, Eastern Bypass q's #Cowley to Headington.

Living in poverty in Oxford

Daisy, from east Oxford, is a single mum with two small children and she says budgeting for things like Christmas is very hard, but she just wants them to be happy.

She said: "We budget very carefully. I have to look at everything that's going out and make sure we have enough money before I can even think about buying presents. We can't get very expensive things, but we can still get nice things.

"If I was to go back to work, I think we could make ends meet but we would have to budget even more carefully. That's why I'm back in education, I want to be a plant biologist which will bring in enough money I think to support us when we're working again."

Charles Nove

Presenter, BBC Radio Oxford

A man's been left unconscious by an assault in Wantage.

He was punched in the jaw near the King Alfred's Head pub at about midnight on 21 December.

Get that story and more with me at 09:00.

Viaduct passes rush hour test

The new rail viaduct at Reading Station has passed its first rush hour test meaning trains from Oxford and Didcot to London should now be faster and more reliable.

Work on the £45m instalment was completed on Sunday, within budget and ahead of schedule.

The managing director of First Great Western, Mark Hopwood, says passengers should reap the benefits of the money spent.

More than one in five children in Oxford are living in poverty, according to figures from Public Health England.

The statistic makes Oxford worse than the national average, although it is falling year on year.

There is heavy traffic on the A40 London Road westbound in Oxford.

Get the latest on the BBC Travel site.

Generally cloudy and breezy with outbreaks of rain at times through the day.

Brighter spells are possible during the late morning. Cloud and rain clearing east through the late afternoon and early evening with clear skies developing. Highs of 9C (48F).