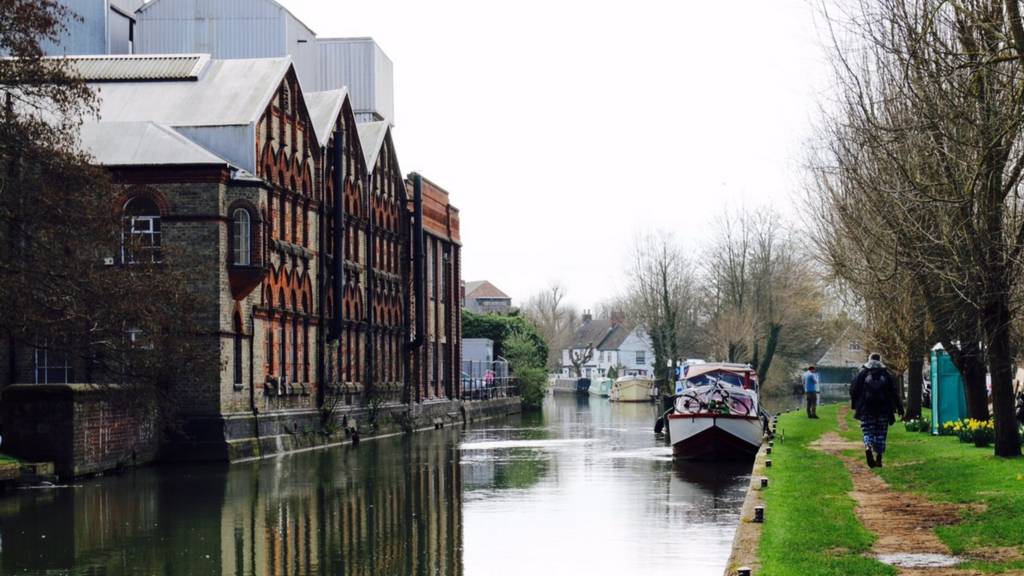 Summary
Post-mortem tests find Faringdon boy was stabbed
Woman arrested after boy found dead in house is bailed
Formal identification still to take place
Murder investigation continues; next-of-kin informed
Floral tributes left at scene
Thanks for joining BBC Local Live for Oxfordshire today.

The service returns tomorrow at 08:00.

Seven drug arrests in Banbury

Seven people were arrested in raids across Banbury today, under suspicion of supplying class A drugs.

Thames Valley Police said Operation Reacher was in response to reports from the public concerned about drug use near where they live, and discarded needles.

Neighbourhood policing inspector John Batty, said: "We will not accept this criminal activity in Banbury, specifically the actions of drug dealers in targeting vulnerable individuals and properties through which they seek to operate. 

"There has been visible police presence across a number of locations in Banbury this morning, reassurance patrols will be in the area and should any member of the public have concerns we would ask them to speak to one of the officers. 

"As a result of this operation we also have a number of closure order notices in place."

Weather: 'Largely clear skies'

It will be cloudy through this evening with a spell of rain during the first part of the night. 

This will clear through to give a drier and colder end to the night, with largely clear skies. 

Minimum temperature: 3C (37F).

Men charged after man threatened with a gun at his home

School Report Day at Oxford Spires Academy

BBC South Today's Adina Campbell and Jonathan Eden have been giving pupils at Oxford Spires Academy a taste of what it's like to be a journalist on School Report Day.

Deer Park Medical Centre closure approved by health secretary

Oxfordshire Clinical Commissioning Group said it has been notified by Health Secretary Jeremy Hunt that the closure of Deer Park Medical Centre in Witney should go ahead as planned on 24 March.

The decision to close the practice has been referred for an initial assessment to the Independent Referral Panel, which will report back by 11 April.

Oxford finalist in 2017 Wellcome Image Awards

This picture of unravelled DNA in a human lung cell submitted by Ezequiel Miron from the University of Oxford is a finalist in the 20th annual Wellcome Image Awards , which celebrates colourful and captivating scientific images.

Copyright: Ezequiel Miron

Judge Alice Roberts said: "This jewel-like image shows a rare moment in time - chromosomes being tugged apart in a dividing cell. I love the dynamism in the image as well as the choice of colours."

Breaking

Southern Health: All non-executive directors resign

The four remaining non-executive directors at the heavily-criticised Southern Health NHS Foundation Trust have resigned, the interim chairman has announced.

Alan Yates said the trust has completed a review of its mental health and learning disability services and details of its findings will be published next week.

Copyright: Southern Health

He added: "My colleague non-executive directors have offered me their full support in the development of the future strategy of Southern Health over the last few months. 

"It is clear to us all that the Trust leadership will need to look quite different if it is to meet the needs of patients and service users, as well as its stakeholders in the future.

"As a consequence, four non-executive directors have this week jointly offered their resignation from their posts so that the governors can, with my help, recruit to the need for all five new non-executive directors."

Oxford and Cambridge 'demystified' for Welsh pupils

Students are being encouraged to apply for the top universities - including Oxford and Cambridge - at a two-day conference in Newtown, Powys.

The Seren network brings together pupils to give them extra learning opportunities as well as helping them prepare their applications.

Fancy a career in the media?

It's School Report Day and pupils at Burford School are asking BBC Radio Oxford producers Serena Martin and Paul Jenner all about their jobs. 

If you've got a question send it to us in the comments section.

Faringdon boy was stabbed, post-mortem finds

A boy found dead at a house in Faringdon was stabbed, a post-mortem examination has found.

Police launched a murder investigation after the unnamed boy was found on Tuesday.

A 40-year-old woman arrested on suspicion of murder has been released on bail until 12 April. 

Senior investigating officer, Det Ch Insp Ailsa Kent of Thames Valley Police major crime unit, said: "We continue to investigate the circumstances surrounding the child's death.

"At this time no formal identification has taken place, so I am not able to name the child.

"You will appreciate that this is a difficult time for his family and we continue to work with them and offer support as the investigation continues."

Radio Oxford at the Spires for School Report

Radio Oxford's Lilley Mitchell has been at the Oxford Spires Academy for the BBC's School Report Day where she was interviewing budding journalists.

Later two of our top notch producers will be taking questions at Burford School. Join them around midday. 

And for a taste of what's going on up and down the country have a look at the School Report live page.

Today's weather with Dan Downs

Faringdon murder probe: Police 'need to speak to residents'

Thames Valley Police has sent a letter saying officers need to speak in person to all residents "within the area of the crime scene".

It reads: "As part of the investigation we need to speak in person with all residents within the area of the crime scene as to anything they may have seen or heard. 

"In the first instance one member of the household will suffice."

Flowers left outside house in Faringdon

This is the scene this morning outside a house in Faringdon where a young boy was found dead on Tuesday.

Suspected murder scene in Faringdon 'virtually unchanged'

BBC Oxford's Alison Dawes is again reporting from the scene in Faringdon where a young boy was found dead on Tuesday.

She said: "The scene is virtually unchanged from Tuesday when the cottages were cordoned off and the tent was put up. 

"The obvious difference is the growing number of floral tributes, messages of sympathy and soft toys which have been placed on the grass nearly as local people try to come to terms with what had happened.

"In the light drizzle this morning a single candle is burning in memory of the boy who died."     

Murder investigation continues in Faringdon

A 40-year-old woman remains in police custody after a boy was found dead at a house in Oxfordshire on Tuesday.

Police found the child after being called to at a home at Bromsgrove Cottages in Faringdon at about 13:20.

The boy was said to be of primary school age. Police said post-mortem tests would take place on Wednesday.

Morning and welcome to Oxfordshire live on Thursday 16 March.

Throughout the day we'll be bringing you news, sport, weather and travel from across Oxfordshire.

You can get in touch with us using  email , on  Twitter  or using our  Facebook page .