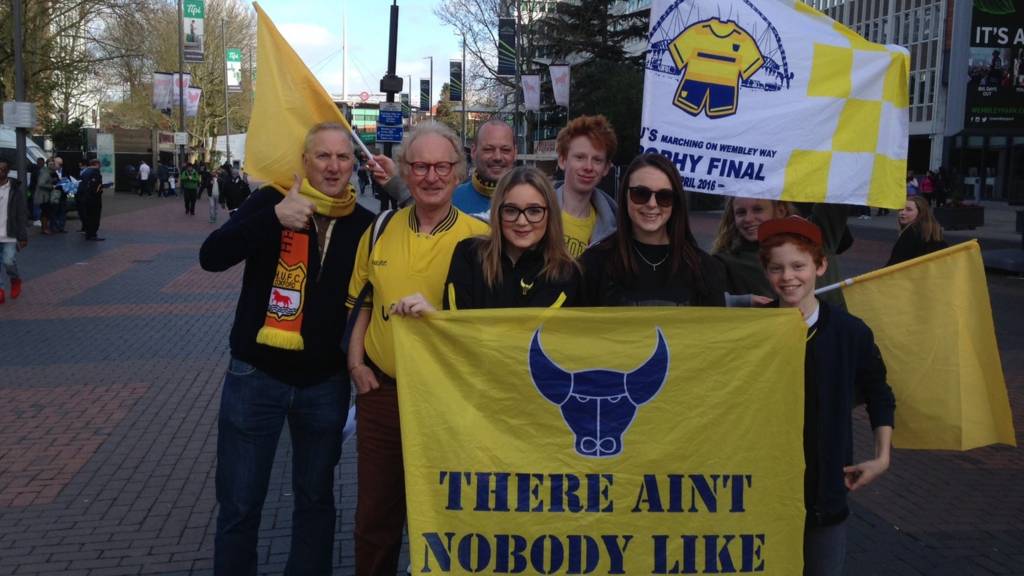 Summary
Oxford United lose to Coventry City in Checkatrade final at Wembley
Coventry 2-1 Oxford
Well, we've won the men's Boat Race, so we are going to end it here on a high.

Thank you for your company today, it's been fun but a little disappointing.

Look forward to seeing you again tomorrow at 08:00 BST. Until then.

Oxford United FC match report

'We didn't taken chances'

Goal scorer Liam Sercombe was sounding very dejected when he spoke us. 

Quote Message: I've got obviously my goal, which was nice for me, but we still had a few chances after that to get the equaliser, but we just didn't take the chances.

We're slightly in the lead. Come on Blues!

Although she really should be wary of sharing hot dogs with strange men. 

(Oh no, scrub that, we may have seen him in the office once or twice.)

The thing about Radio Oxford's Lilley Mitchell is she really does always see the bright side.

Head coach Michael Appleton has put today's defeat down to Coventry's defence.

"For whatever reason, they had a little bit more hunger to keep the ball out of the goal than we did today," he told Radio Oxford. 

"The last minute probably summed it up. People putting their bodies on the line and the goalkeeper making a good save as well.

Quote Message: But it's frustrating. It's going to take a good 24 hours of so for this one to get out of my system. from Michael Appleton Head coach

Players 'didn't do themselves justice'

Oxford United owner Darryl Eales spoke to us after the match and said the biggest disappointment for him were the players.

Quote Message: Because a lot of them just didn't do themselves justice and they have to take that with them. from Darryl Eales

The now had a six-game (or hopefully nine) season left he continued, adding: "We dust ourselves down and go again Wednesday."

Boat Race: Cambridge capitalise on Oxford error

Cambridge took advantage of a dreadful start by Oxford to claim a first win in the Women's Boat Race since 2012.

Oxford's Rebecca Esselstein made an error with her oar, known as catching a crab, and her crew never recovered.

It allowed the Light Blues, featuring four members of last year's crew who almost sank on the river, to quickly get into their rhythm. They dominated to win by over 30 seconds in a course record of 18 minutes and 34 seconds.

Oxford fans 'gutted' after being outplayed by Coventry

Oxford United lost the EFL Trophy because they "took too long to get going" fans have said.

Coventry City took the lead early on with a goal in the first 10 minutes and fans, like Thomas, said they should have been given a penalty in the first half.

He added: "Oxford didn't perform, Coventry were the better team on the day. But Oxford can get back in the play-offs in May." 

Roger Westlake told us: "I think they were just a bit flat, we had good possession in the first half but didn't break them down." 

EFL Trophy final: Coventry 2-1 Oxford

George Thomas's stunning strike helps Coventry put their relegation fears to one side to beat Oxford in the EFL Trophy final.

Oxford losses continue - women lose boat race to Cambridge

For those making the long journey home...

...some advice from Chiltern Railways.

Ok, so we're down in the dumps, but we like to find a silver lining in every cloud.

So here's the moment substitute Liam Sercombe scored.

Fans: Occasion 'probably got the better of us'

Oxford fans David and Daniel were among 30,000 who made the journey from Oxford to Wembley and told BBC Radio Oxford they felt really "deflated."

David said: "Going one nil down in the first 10 minutes doesn't help, but it's the way it is, we can't do anything about it. 

Daniel agreed adding: "This year I really felt it was ours to take. The first 10 minutes were horrible."

Coventry lift the trophy

FT: Coventry 2-1 Oxford

Coventry's players make their way up the famous Wembley steps, with Jordan Willis first up.

The Sky Blues skipper lifts the trophy, to huge cheers from the 43,000 or so Coventry fans who have made the trip to North London today.

Match reaction

FT: Coventry 2-1 Oxford

Coventry winger Kyel Reid tells Sky Sports: "This means a lot to me. It's not been the best season in the league, but to come here with 43,000 fans is great and I'm so happy for everyone involved with the club."

Striker Stuart Beavon: "I'm absolutely delighted to come here and win. We dug in, showed great determination and deserved the win in the end."

Oxford and Cambridge women square up on Thames

There's no time to get too down...

Match reaction

FT: Coventry 2-1 Oxford

Coventry goalscorer Gael Bigirimana tells Sky Sports: "I've got a beautiful baby girl, which is amazing, and this is the icing on the cake. It's just amazing. Hopefully this will be a game changer for this club.

Goalscorer George Thomas: "Words can't explain this. You couldn't write it. The season's been full of ups and downs, and to more or less end it on this - I don't have the words."