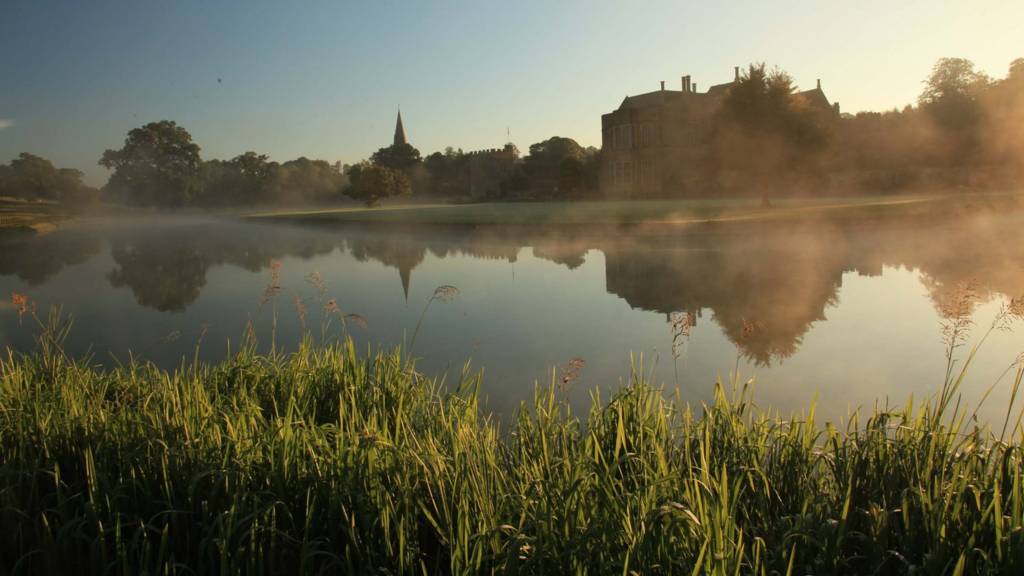 Oxfordshire Live: Thursday 27 April
Follow all the latest updates from the BBC Oxford team on Twitter, Facebook and Instagram.
BBC Local Live for Oxfordshire returns tomorrow at 08:00.

Weather: 'Cloudy, with showers'

It will be rather cloudy this evening, with further showers which may be occasionally heavy. 

Towards dawn it will become mostly dry, and clear spells will lead to a chilly night, especially in prone spots around the Cotswolds. 

Minimum Temperature 5C (41F).

Mindfulness classes for primary school children

Children as young as four are being given mindfulness classes to reduce anxiety...  

Breaking

Police officer's behaviour 'wasn't racist', disciplinary panel finds

Adina Campbell

BBC South Today

A hearing in Oxford has found no evidence of gross misconduct involving Det Sgt Andrew Mottau, a special investigator from Thames Valley Police. 

He was accused of racist behaviour for introducing a black toy monkey for tea-making duties within his team. 

One of his colleagues, a black civilian special investigator, claimed this was offensive and said she was offended by the monkey. 

The hearing did make a finding of misconduct on the lowest scale which means DS Mottau will now receive management advice.  

The hearing also found the tea monkey wasn't considered to be racist and was an innocent prop for the tea round.

Bicester man arrested on suspicion of sexual assault

A 28-year-old man from Bicester has been arrested today on suspicion of sexual assault.  

It's in connection to an incident in the town on 27 March, when a 24-year-old woman walking from Sheep Street onto London Road was touched inappropriately by a man who then walked away towards the town centre.

The man has been released on bail. Thames Valley Police is appealling for witnesses to come forward.

City council to auction off vehicles

More than 100 vehicles are being auctioned by Oxford City Council on Saturday 13 May.

It will include cars, vans and tippers, as well as mowers, trailers, tools, workshop equipment and mobility scooters.

Copyright: Oxford City Council

It will be held at the Marsh Road Depot, Cowley.

Ian Bourton, fleet manager at the council, said: "This is a great opportunity for residents to come along and grab a bargain."

Mel C to play Henley Festival

It has been announced that former Spice Girl Mel C is to play at this year's Henley Festival.

Joining her at the event, which runs from 5 to 9 July, are Jess Glynne, Pet Shop Boys, Chaka Khan, Goldie and All Saints.

Poundland stabbing: Appeal against life sentence dismissed

Today the Court of Appeal dismissed an appeal against the life sentence of a man who was convicted of a fatal stabbing in an Abingdon Poundland store.

Trevor Joyce, 36, attacked Justin Skrebowski with a knife from the store in Abingdon, Oxfordshire, in December 2015.

Joyce had been charged with murder, but admitted manslaughter on the grounds of diminished responsibility.

His appeal was dismissed and the judges will give reasons in writing at a later date.

Question Time comes to Oxford

Closing statements toy monkey misconduct case

Closing statements have now finished in the misconduct hearing of a counter-terrorism police officer accused of leaving a toy monkey on a black colleague's desk.

Copyright: Low Carbon Oxford

Det Sgt Andrew Mottau has denied gross misconduct while working as a South East Counter Terrorism Unit supervisor.

The woman, who has not been named, said he used a key-ring sized black monkey to signal whose turn it was to make tea and coffee.

She told a misconduct hearing at the force's Kidlington headquarters the toy was put on her desk in August when she came back from leave.

A decision is expected later today.

Families affected by NHS blood contamination scandal call for fresh inquiry

Travel update: Delays on A420 after three-car and bus crash

Al Ryan

BBC Oxford travel presenter

Severe accident: A420 Oxfordshire both ways

BBC News Travel

A420 Oxfordshire both ways severe accident, at Barcote Lane.

A420 Oxfordshire - A420 in Littleworth blocked and very slow traffic in both directions at the Barcote Lane junction, because of an accident involving three cars and a bus.

To report traffic and travel incidents dial 0330 123 0184 at any time

Police hunt theft suspect

A man who was due to attend court with regards to theft offences is being hunted by police after he failed to attend a hearing. 

Adrian Fannon, 38, of Banbury, was supposed to attend Banbury Magistrates' Court on 5 April, and as a result has breached his court order. 

Anyone with information on his whereabouts is advised to call 101. 

Travel update: Delays on A34 northbound

Al Ryan

BBC Oxford travel presenter

We're getting reports there's been a collision on the A34 northbound before Beedon, which is causing congestion up to junction 13 for the M4 and Chieveley. 

And in Burford there are reports of a broken-down lorry before the bridge on the A361. This is causing delays of 20 minutes or more. 

Steve Bearns from Wallingford has spent more than a year away from his wife Mary, who's been stuck in China

Plain packs 'may cut smokers by 300,000'

Oxford and London-based researchers claim plain cigarette packaging could lead to 300,000 fewer smokers in the UK over the next year. 

Standardised packs could also reduce the appeal of tobacco and increase calls to quit helplines, experts behind the Cochrane Review said. 

UK law, which comes into full effect in May, states that all cigarette packs must feature health warnings and have a standard colour, shape and font. 

But a smokers' group said it was "wishful thinking".

Travel latest: Usual delays and issues at Peartree

Al Ryan

BBC Oxford travel presenter

In Oxford city centre Marsh Lane is very busy from the A40 northern bypass to Cherwell Drive. 
On Boars Hill the A4183 is very slow to the A34 Hinksey HIll interchange and the A423 southern bypass. Travel time is currently up-to 10 minutes. 
On the A44 Woodstock Road the traffic lights are out of action at the Peartree park and ride, causing some issues. 
In better news for the roads the temporary three-way traffic lights on Headley Way at the junction of Bowness Avenue will not be on today. 

Today's weather: Cold start and turning grey

Good morning, it's a cold start today with many areas of the region getting below 0C. 

It will turn a bit cloudy later with temperatures just creeping into double figures. 

Wow it's chilly out there

Good morning and welcome to today's Oxfordshire Live page. 

By jove it was chilly out there this morning, my hands were practically frozen to my handlebars on the cycle in to BBC Oxford towers. 

Copyright: Anthony Morris

It might be cold outside but don't forget that it is spring, and your nature photos have come flooding in. 

Here is a gorgeous example of bluebells in Badbury Clump by Anthony Morris. 

Don't forget to send your snaps from across the county to us by email.