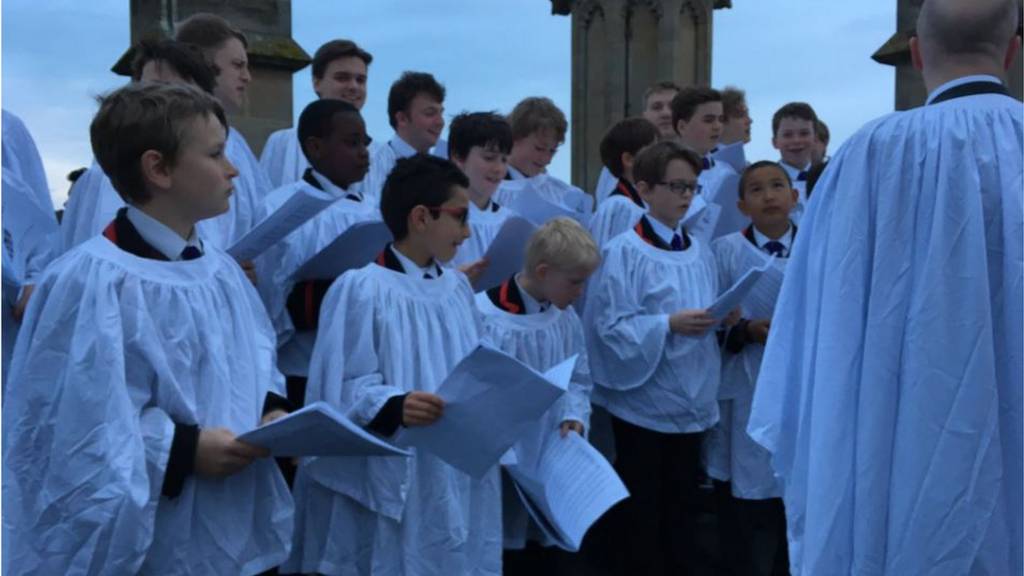 Summary
Tradition of May Morning in Oxford dates back 500 years
Choristers of Magdalen College choir sang Hymnus Eucharisticus from college's Great Tower
Lots of Morris dancing
So with that we say goodbye...

and cheers. Happy May Morning!

And here's a final thought

Our people on the ground tell us May Morning is winding down.

So here are a few final words from our very own Lilley Mitchell.

Quote Message: I love May Morning. I've been joining in folk dancing and I've even interviewed a man dressed as a tree who was being fed water through three straws by a kind person passing by. It's been absolutely fabulous.

I am bowled over by this sartorial splendour. 

BBC Radio Oxford's Lilley Mitchell told us her highlight of this morning's shenanigans. 

Quote Message: Joining in the dancing in front of the steps of the Bodleian, this beautiful old building, with Groovy Sue and the Hurly Burley My God It's Early Band, singing the Cuckoo song and just dancing with someone I've never met before in a floral headdress. from Lilley Mitchell BBC Radio Oxford

Who doesn't look this fresh and fragrant at breakfast time?

South London district remains oblivious

Why the decision to leave London and move to Oxford will ALWAYS be the right one.

Speeded-up Morris dancing

If you ever wanted to know what Morris Dancers on performance-enhancing drugs looked like...

(Legal note: There is absolutely no evidence any substances were taken in the making of this film. Well, maybe a leetl real ale...)

Man does two things at same time

Smoke a pipe AND play the accordion?

He makes it look so easy.

Just feel the crowd's appreciation.

These fine dancers are from Eynsham and, to quote their website, have some of the most exciting and flamboyant dances in the morris tradition.

The things they can do with a pair of hankies...

BBC South Today's Sinead Carroll is also a fan of cheese... on head.

Breaking

Spelling mistake spotted in Oxford

It's home to one of the world's toppest universities, so if there's ever a place to get your signs spell-checked...

Thanks to Simon Bond for showing us behind the scenes at the bell ringing earlier.

Because who doesn't love a bit of Emmental... on their head...

Any avid followers of our May Morning coverage will know interviewing Jack the Tree is a career high for the BBC's finest on the ground.

This year, Lilley Mitchell had the honour of grilling our tree of few words.

Now he might not say much, but he always cuts to the chase...

Quote Message: It's a good job it's not raining as predicted. from Jack the Tree Professional May Morning tree

I love him. 

And the crazy keeps going

Oxford how we love thee...