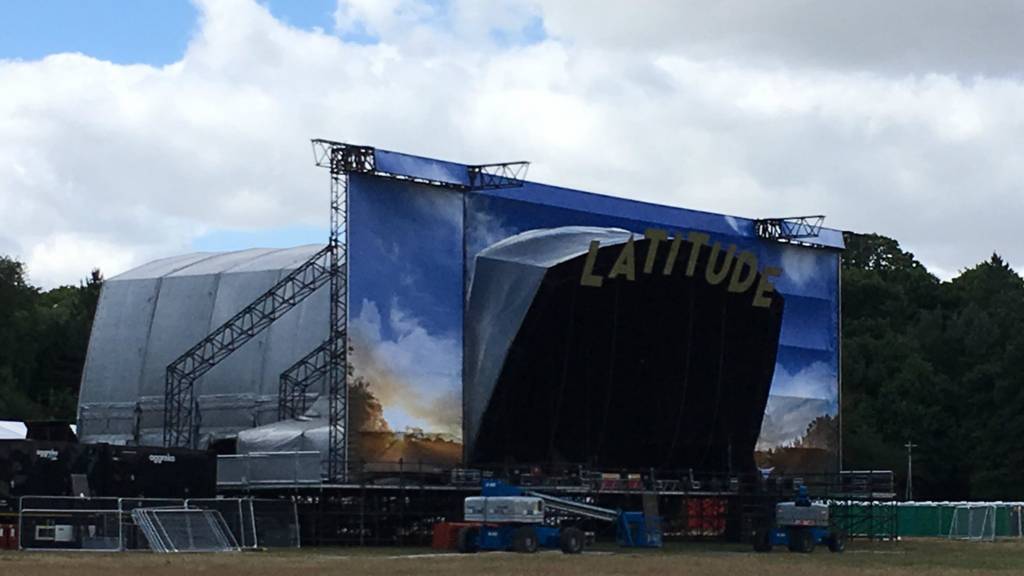 Summary
Updates for Friday, 14 July 2017
Simon Dobbin football hooliganism trial: 13 men convicted
Mr Dobbin is due to attend sentencing on Monday
More than 130 jobs lost at Ipswich insurance call centre
Man released from police custody after woman dies in Felixstowe
Armed police deployed at Latitude as security raised
Our live coverage across the day

Our BBC Local Live service is closing down for Suffolk for the week.

Our coverage today has been dominated by the conviction of 13 men who attacked a football fan from Mildenhall and left him brain-damaged.

Scroll down for this and more on the loss of 134 call centre jobs in Ipswich and photos from the Latitude Festival.

Have a great weekend.

Hadleigh factory emerges phoenix-like from the ashes

In 2014, the Challs cleaning products factory in Hadleigh went up in smoke, destroying two of its warehouses.

Even though 70 firefighters had to deal with the blaze, manufacturing continued at the site on the Lady Lane industrial estate.

The parts of the plant affected and now part of the plant has been rebuilt at a cost of £3.7m.

Company spokesman Edel Tobin-Schultz said: "This new building is a great step forward for a thriving Suffolk manufacturer who not only rallied from the catastrophic fire, but went on to thrive and now exports to five continents globally.

"The building is packed with impressive and in some cases ground-breaking features from a technology and environmental perspective and it's given Hadleigh a real boost."

Simon Dobbin: 'Heartbreaking' CCTV released

The wife of a man who was left with permanent brain damage following an attack by Southend United fans said it has been "devastating" watching CCTV footage played to the court.

Thirteen men have been convicted over the attack on Cambridge United supporter Simon Dobbin who has been unable to walk or talk since the incident in Southend in March 2015.

Nicole Dobbin, who lives with her husband in Mildenhall, Suffolk, said: "It's heartbreaking, especially just recently going through the court and seeing the CCTV footage of Simon dancing and singing in the background, that's something we will never have.

"Simon was always the life and soul of a party, he was very family orientated, we did everything together, the only times we didn't socialise is when he was at a football match or we were at work, otherwise we were always together. We don't have that anymore and we will never get that back."

Heated arguments were heard outside a court after 13 men were convicted over an attack on a football fan.

Ipswich Town sign Wolves defender

Ipswich Town have completed the signing of Wolves defender Dominic Iorfa on a season long loan deal.

The 22-year old can play right-back or centre-half but struggled for game time at Molineux last season only making 18 league appearances.

Fancy getting into motorsport?

#GetInspired

Here's Red Bull team principal Christian Horner giving you five reasons why motorsport could suit you....

And if you want to look into it further, take a look at the Get Inspired guide.

Man arrested after shots fired in Ipswich

A 22-year-old man has been arrested in Kesgrave, on suspicion of possession of a firearm with intent to cause fear of violence.

Shots were fired at Cardinal Park in Ipswich at about 03:00 this morning.

Police were told that shots had been heard in the Grafton Way area of the town and several shell cases, thought to be blanks, were found.

A cordon was in place, but was lifted at about 12:50.

A 21-year-old man, arrested on suspicion of criminal damage after a vehicle was found with its windows smashed, has been released under investigation.

Roly Poly wins the Falmouth Stakes at Newmarket

Ben Parker

BBC Suffolk sport

The Aiden O'Brian trained favourite Roly Poly has won the Falmouth Stakes at Newmarket. Wuheida came second with Arabian Hope third.

Cycling community cafe closing today

A cycling and community cafe in Ipswich town centre is closing today ahead of a move to the town's waterfront in the autumn.

La Tour, opposite St Mary-le-Tower church, opened in 2015.

Anna Matthews, founder, said: "It's been a cafe-cum-community hub serving young families and we've offered a pay-it-forward service for customers who want to buy a drink for homeless people who come in.

"We need a bigger space to grow and develop."

The team has been offered a unit under The Mill tower block on the waterfront which they hope to have ready before Christmas.

Train enthusiasts, who are hoping to reopen an old seaside railway line, have been given a 1913 engine.

Simon Dobbin attack: Photos of attackers released

Police have released photos of the thirteen men who attacked football fan Simon Dobbin, 44, leaving him with permanent brain damage.

The men were all found guilty of various offences in relation to the attack in March 2015 and will be sentenced on Monday.

The jury at Basildon Crown Court heard Mr Dobbin and his friends had gone to the afternoon's football game and then spent the evening at the Blue Boar pub, where they watched the England vs France rugby match.

But when a group of Southend fans entered the pub, the U's fans decided to head home, fearing they would be targeted.

When they reached Prittlewell train station, Mr Dobbin and some of his friends became separated from the rest of the group when they took a wrong turning.

As they passed The Railway Tavern around 19:15, a large group of around 25 men came out of the pub and set upon them in East Street.

Mr Dobbin was knocked unconscious and suffered swelling on the brain.

He was put in an induced coma and spent four months in Addenbrooke's Hospital, Cambridge, followed by and eight months in rehabilitation.

He returned home to Mildenhall, Suffolk, in March 2016 but needs 24-hour care.

Thirteen men have been convicted over an attack on Simon Dobbin, a Cambridge United fan.

Latitude: A new Prince tribute act

Jon Wright

BBC Radio Suffolk

Comedian Marcus Brigstock put in a Prince-themed show at Latitude on Thursday night.

And the famous coloured Latitude sheep are feeling in the pink this year...

Latitude: View from the big wheel

Richard Haugh

BBC Introducing in Suffolk

Here's a bit more flavour from the Latitude Festival.

This was the view from the top of the big wheel last night...

And the whole site is looking great this year:

Latitude: Lightshow on the lake

While things don't really get up and running at the Latitude Festival until Friday, on Thursday night there is always a handful of poets and the water and lightshow on the lake at Henham Park and yesterday evening was no exception:

Latitude: Now in its 12th year

At the first Latitude in 2006, I wrote a review for the BBC website, and I said "The promoters will certainly have generated enough positive word-of-mouth praise to merit bringing the whole show back next year".

The size of the first audience was about 10,000-12,000 across the weekend.

And they're still here 11 years later for the 12th edition... when about 40,000 are expected at Henham Park.

Adult weekend tickets were around the £100 mark in 2006. They're now closer to £200.

Image caption: Estate owner Hektor Rous announces plans for the first Latitude Festival in 2006

Simon Dobbin attack: CPS statement

The Crown Prosecution Service (CPS) has released a statement after thirteen men were convicted of various offences in relation to an attack after a football match that left Cambridge United fan Simon Dobbin with brain damage.

The men were part of a gang which set out to ambush U's supporters following a match in Southend in March 2015.

Douglas Mackay, from the CPS said: "These men set out on that Saturday with the intention of getting involved in the most horrific violence.

"Their victims were chosen at random and were entirely innocent," he said.

"The jury agreed with the prosecution that each of these men played an active part in planning or carrying out this shocking attack.

"Mr Dobbin and his family have been through an unimaginable ordeal. I can only hope these verdicts bring some sense of justice for them."

During the trial at Basildon Crown Court, the jury heard that the attackers scouted out locations as they planned the attack in revenge for a fight earlier in the day in which Mr Dobbin, 44, had no involvement.

They ambushed a small group of Cambridge United supporters and during the violence Mr Dobbin was kicked and stamped on repeatedly.

All of the men have been remanded in custody to face sentencing on Monday.