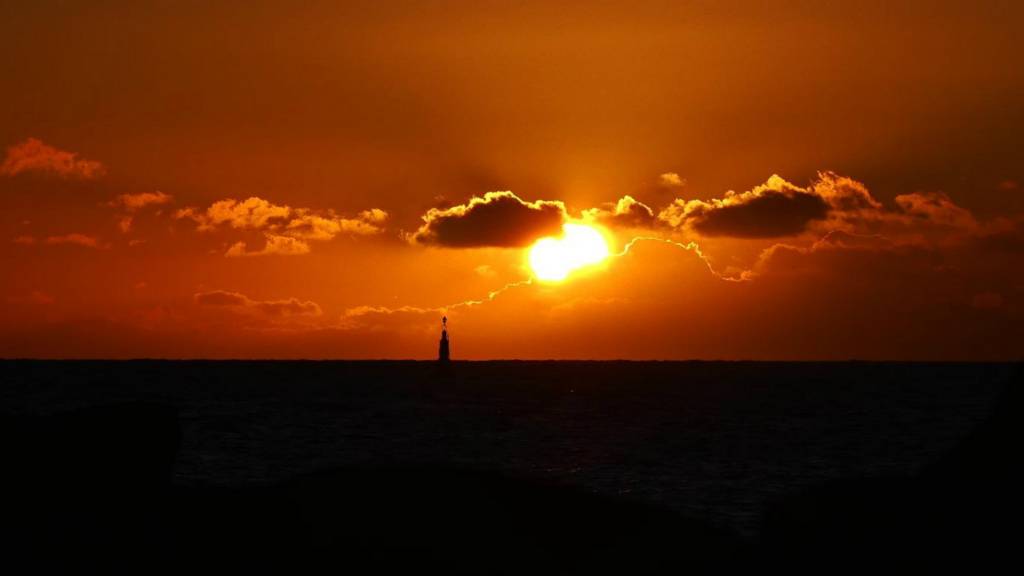 Our live coverage across the week

Our live updates for Suffolk have now come to an end for another week.

You can scroll back here to catch up with any stories you might have missed, including:

500 job losses confirmed for Sudbury
Passers-by tried to rescue man who jumped from bridge
Ipswich Town legend says fans may have to settle for top 10 finish

We'll be back with more news, sport, weather and travel updates at 08:00 on Monday.

Have a great weekend.

Arrest after educational hut destroyed by fire

Suffolk Police say they have arrested a 13-year-old boy on suspicion of setting fire to the thatched hut in Christchurch Park in Ipswich.

The hut, near the children's playground, was built two years ago as an educational resource aiming to show how our ancestors lived.

It was completely destroyed on the evening of Monday, 24 July.

The boy has been released under investigation.

Weather: Dry tonight, but a few showers and hail possible

Julie Reinger

BBC Look East weather

The last of any showers dying away to leave a dry night across the BBC East region with clear spells and mainly light west to north-westerly winds.

Temperatures for many of us staying in double figures, but some spots could fall to around 9C (48F).

Apart from a few light showers, Saturday should begin largely fine and dry with some sunshine but eventually heavier showers will move west to east and some of these could produce hail and thunder.

The winds could become quite blustery for a time with isolated gusts of 40mph. Top temperatures around 21C (70F).

Sunday should be fine and dry with sunny spells. Cloud is expected to eventually thicken from the west and temperatures again climbing to around 21C (70F).

For a more detailed forecast for where you are, visit BBC Weather.

Harry Bunn will not be joining Ipswich Town

Graeme Mac

BBC Radio Suffolk sport

Ipswich Town manager Mick McCarthy has given his first pre-match press conference of the new football season, and has told us that he is "hopeful" of making a new signing in the coming days.

However, Huddersfield winger Harry Bunn (pictured) will not be joining the ranks at Portman Road.

"I'm not going to make too much of it, but we're hoping to get somebody," McCarthy said.

"We've been spinning plates all summer and lots have been falling on my head. Hopefully this one doesn't.

"We've been linked with hundreds of players of every nationality and creed and colour. Harry Bunn was one of them.

"He's available, and I like Harry Bunn, but it's not him."

There will be full FM, AM and DAB commentary of Ipswich Town's opening match with Birmingham City on BBC Radio Suffolk tomorrow, with Matchday getting under way from 14:00.

'500 job losses' in Sudbury

Ipswich Town: Hopefully we'll forget last season's drudgery

Brenner Woolley

BBC Radio Suffolk sport

While owner Marcus Evans has loosened the purse strings ever so slightly this summer, further wise investment is still required if Town are going to be markedly different to last year, when they finished in their worst league position for over half a century.

Image caption: Mick McCarthy with his right-hand man Terry Connor

The club's failure to adequately replace striker Daryl Murphy continues to hold them back almost 12 months on from his departure to Newcastle United, while the exit of defender Christophe Berra this summer will be felt more than many predict.

New midfield signings Emyr Huws and Tom Adeyemi look good bits of business, although neither has kicked a ball in pre-season and won't be at their best for some time.

A less cautious approach from boss Mick McCarthy would be very welcome, trusting in the undoubted talent of England youth international Andre Dozzell and allowing others the luxury of playing with a bit more freedom.

If that happens we'll hopefully start to forget the drudgery of 2016/17....

Join me for commentary from Portman Road this Saturday as Birmingham City visit for the season opener.

As usual, the BBC does not have the rights to webstream commentary, but you can of course listen live on FM, AM and DAB radio.

Your pictures: Some sunshine

OK, so it's not the warmest of days but our BBC Weather Watchers have captured some sunny shots of Suffolk:

Passers-by tried to rescue man who jumped from bridge

Two men who saw a man jumping from the Bascule Bridge in Lowestoft this morning jumped into the water themselves to try to save him.

Police were called at 08:40 when a driver saw a man jump into the water.

The coastguard said two men jumped in shortly afterwards to try to rescue him.

A lifeboat was sent to the scene and helped bring the men to safety.

All three were taken to hospital as a precaution and police say the response was a "team effort".

Copyright: Geograph/Adrian S Pye

Ipswich Town: Live interview with Mick McCarthy

BBC Suffolk's Brenner Woolley chats to the Ipswich Town boss ahead of tomorrow's season opener at home to Birmingham City.

Mick McCarthy has also been taking questions from representatives of other media.

'Celebration day' held for amputees in Suffolk

A charity that supports amputees and their families is holding a "celebration day" at RAF Mildenhall.

Steel Bones was set up by Emma and Leigh Joy-Staines after Leigh lost his leg in 2008 in an operation that went wrong.

Emma said: "Since the amputation and having children we have found it very difficult to find support groups or other friends in such situations.

"It is quite a lonesome disability, there is a lack of understanding in the general public and government as to what amputation means for an individual and a family."

They hope to bring together amputees and offer advice on health, inclusive sports and career opportunities.

There'll be prosthetic experts, amputee organisations and inspirational speakers at Mildenhall until 16:00.

Bartosz Bialkowski: McCarthy still the man to lead Ipswich

Graeme Mac

BBC Radio Suffolk sport

Ahead of tomorrow's season opener against Birmingham City, goalkeeper Bartosz Bialkowski has been telling us that Mick McCarthy is still the right man to get Ipswich Town back on track.

The Blues finished a disappointing 16th last time around and lost 6-1 away at League One side Charlton in their final pre-season friendly of the summer last weekend.

The players will be keen to make amends, and a good start is undoubtedly crucial in terms of improving the atmosphere and morale around Portman Road.

McCarthy has indicated that had last week's match at the Valley been a league game, there would have been suggestions at full time that he had lost the dressing room.

Bialkowski says that any claims the squad have already turned their back on the Yorkshireman are wide of the mark.

"That is not the case at all. He is a top manager and probably the best I have worked with," the 30-year-old confirmed.

"He's proved it in the past. He has taken teams into the Premier League, and we are not going to get a better manager at this time.

"I guess in a way we are not playing for him, because we are playing for ourselves and our families, along with the club and the badge. But we are not playing against him at all."

Town kick-off at home to Birmingham City at 15:00 tomorrow.

Bialkoswki in plea to Ipswich supporters

Graeme Mac

BBC Radio Suffolk sport

Ipswich Town are "ready for business" ahead of tomorrow's opening match of the new Championship season, according to goalkeeper Bartosz Bialkoswki.

A disappointing campaign last time around, coupled with an embarrassing friendly defeat at Charlton last Saturday, has left many supporters more disillusioned than in previous summers.

But the 30-year-old from Poland, who gets his fourth campaign under way as Birmingham City visit Portman Road this weekend, is urging them to stick with the team and manager Mick McCarthy.

"There are always question marks before the season starts," Bialkowski told us. "But as a fan you just need to get behind the team and the lads and show them support.

"Obviously we played some football last season that was not entertaining, but we are trying to change that.

"Take the Charlton game away and all the other pre-season games have been good. We have played some good football and scored some good goals."

Ipswich Town legend says fans may have to settle for top 10 finish

Brenner Woolley

BBC Radio Suffolk sport

Birthday boy John Wark believes the play-offs will be beyond his former club Ipswich Town this season.

The ex-Scotland international, who turns 60 today, has been assessing the Blues' chances ahead of tomorrow's Championship opener at home to Birmingham City.

"If we get in the top 10, it's a great season. I can't see us getting further than that.

"Top 10 is a good season because of the teams that have spent big money in the Championship.

"People might think that's not good enough, but it's a lot better than it was last year."

The Suffolk side will play their first ever game in the competition on Saturday.

Speedway: Witches bounce back in style

Brenner Woolley

BBC Radio Suffolk sport

Ipswich Witches put a difficult week behind them with an impressive 52-41 win over Championship leaders Glasgow Tigers at Foxhall last night.

After losing their unbeaten home record last Thursday, the Witches then wrongly sacked two riders at the weekend.

"It was brilliant, I couldn't have asked for anything more, we had to overcome a really tough test," said team manager Ritchie Hawkins.

Danny King (pictured) top scored with 14+1 while Rory Schlein weighed in with 11 points.

Sadly the win came at a cost for Ipswich, with Kyle Newman suffering ligament damage to his left foot in heat one - ruling him out of Sunday's pairs event in Peterborough.

Forecast for the day ahead: Cloudy but dry

Elizabeth Rizzini

BBC Look East weather

It'll be a largely fine day across the BBC East region, with some sunny spells, especially at first.

However some cloud is expected to bubble up through the day, and whilst this could bring one or two light showers, most places should stay day.

Here's my full forecast:

Keep up-to-date with the latest weather where you are with BBC Weather.

Bialkowski could see out career at Ipswich Town

Graeme Mac

BBC Radio Suffolk sport

Bartosz Bialkowski has been speaking to us ahead of Ipswich Town's first match of the new Championship season, and his words will be music to the ears of pretty much every Blues supporter.

The 30-year-old goalie, who has been Town's Player Of The Year for the past two seasons, has given his strongest indication yet that he will be going nowhere before the transfer window closes.

This despite the Pole attracting interest from other clubs, and having ambitions to play in the Premier League.

"There has always been some interest, but nothing formal and nothing on the table, and I am fully focused on playing for Ipswich," Bialkowski said.

"I'm not going into the manager's office and asking for a move because I love every single minute of my time at Ipswich and playing for the fans.

"My family don't want to leave Ipswich, they want to stay here forever and I'm the same."

The Polish national was then asked whether he could see himself ending his career in Suffolk:

"Of course! I live in a great area with fantasic people around me and I don't need to change that."

Birmingham City are the visitors to Portman Road on Saturday, with an 15:00 kick-off.

Hello and welcome to Friday's live updates for Suffolk.

The weekend is just around the corner and we'll be here until 18:00 with the latest news, sport, weather and travel for the county.

First up, we'll have a full weather forecast shortly.

You can contact us at any time via email, Facebook or Twitter.