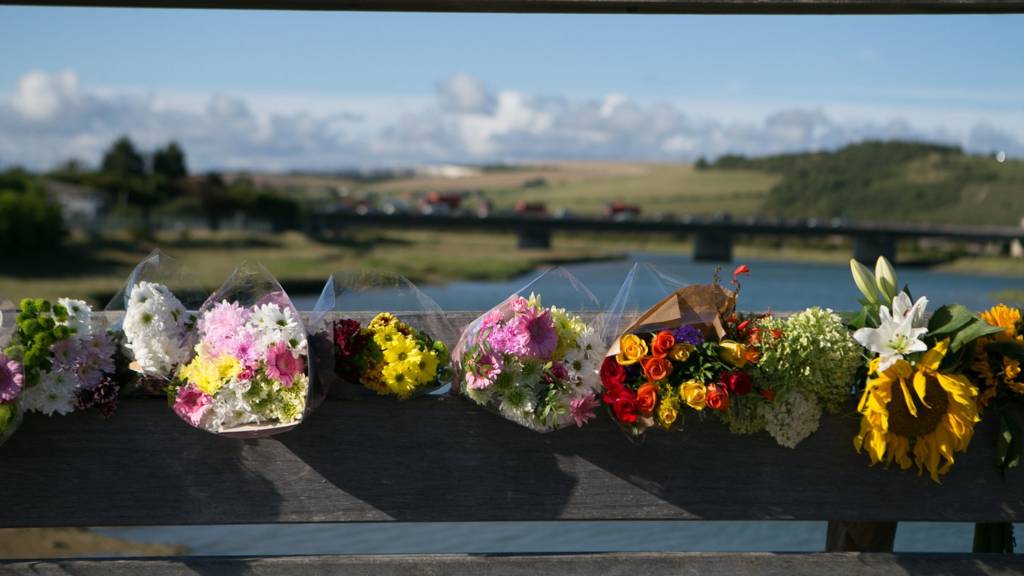 Shoreham air disaster: First anniversary
Leave your tributes to the victims, or tell us about your memories of the day, by tweeting us using the hashtag #Shoreham, sending us a Facebook message or an email
Plane owners 'settle two compensation claims'

The owners of the vintage jet that crashed during last year's Shoreham Airshow, killing 11 men, have settled two compensation claims, the BBC can reveal.  

ICYMI: Service of commemoration held in Shoreham

A service of commemoration was held on Saturday in Shoreham. 

'I understand the families want answers'

Sussex Police and Crime Commissioner Katy Bourne joined hundreds of people on Shoreham toll bridge to lay flowers as a mark of respect for those who died.

Quote Message: I understand that the families want answers and action and I know that Sussex Police are making every effort to secure the information and evidence required." from Katy Bourne Sussex Police and Crime Commissioner

Shoreham inquest 'may be delayed'

The West Sussex Coroner has told the BBC that the pre-inquest hearing into the Shoreham air crash, due on 19 September, is likely to be postponed. This, in turn, could lead to a delay in the inquest.

At present the inquest is still booked for March, but it depends on the outcome of the hearing. Sussex Police then needs its experts to look at any evidence that emerges, and the Crown Prosecution Service will need to make a decision on whether any prosecution is appropriate.

'The whole town has pulled together'

Cllr Louise Goldsmith has been speaking to us at today's memorial service in Shoreham.

Shoreham crash: 'I feel really lost without him'

We've been speaking to three people who were involved with the events of 22 August 2015 in Shoreham.

Brighton & Hove FC groundstaff pay their respects

Groundstaff from Brighton & Hove Albion visit the floral tributes at Shoreham Bridge.

One of the victims, Matthew Grimstone, was a colleague at the Amex.

'We miss his mischievous sense of humour'

Jacob Schilt died with his friend Matt Grimstone as they were on their way to play in a Worthing United football game. His parents spoke to us at today's memorial service.

The final tally of floral tributes left on the bridge for this afternoon's service.

The bells at St Mary de Haura Church in Shoreham chimed 11 times, to mark each of the lives lost in the Shoreham air crash.

Minute's silence marks Shoreham air crash anniversary

Here's part of the minute's silence to mark the first anniversary of the air crash. It was held on Shoreham toll bridge and at West Sussex County Council offices in Chichester. 

Worthing FC pay tribute to killed players

Matthew Grimstone and Jacob Schilt were on their way to their match against Loxwood FC when the Hawker Hunter jet crashed on the A27, killing them both. They played for Worthing FC's neighbours Worthing United.

Getting ready for the minute's silence

A minute's silence will take place on Shoreham toll bridge at 13:22 BST. Here are the latest pictures we received from the bridge a few minutes ago.

Colourful tributes planned

Bob Dale

Live from Shoreham

Relatives and friends of the victims plan to release balloons as part of the ceremony.

Eleven church bells will ring for each victim that lost their life

Hundreds of people have joined families and friends for a minute's silence to remember the 11 men who were killed when a vintage jet crashed at Shoreham airshow last August.

Our reporter Heather Edwards is at the bridge today.

Preperations for the commemoration

Bob Dale

Live from Shoreham

With just under an hour before the minute's silence, media crews from around the UK are preparing to carry the event live.

'We want to celebrate him'

The mother of Shoreham air crash victim, 23-year-old  Daniele Polito, says he lived life to the full.

'It's important we get this right'

Sussex Police say it has been a challenging investigation - and they're still waiting for high court judges to decide whether they'll be given access to evidence gathered by air accident investigators.