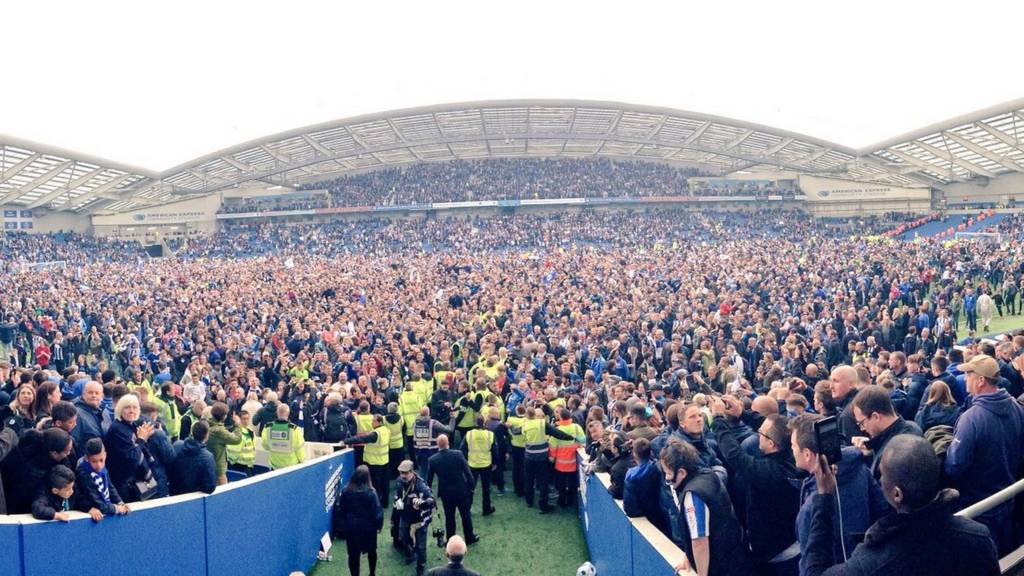 Good night from the BBC Live team

Bob Dale

BBC Live reporter

General Election 2017: Will there be more than one issue?

Bob Dale

BBC Live reporter

MPs will vote tomorrow on whether to trigger an early general election.

South East politicians from each of the main parties gave us their reaction.

Rare primates get second chance

The Uckfield-based charity International Animal Rescue is helping to save these slow lorises, critically-endangered primates seized by the authorities in West Java.

Seagulls in the Premier League

Stuart Maisner

BBC Live reporter

Here's the reaction of fans after Brighton & Hove Albion secured promotion to the Premier League with a 2-1 win against Wigan at the Amex.   

Seagulls: 'This is their moment'

Stuart Maisner

BBC Live reporter

Brighton & Hove Albion manager Chris Hughton says winning the Championship is now his priority after securing promotion.   

Full steam ahead for the holidays

One of the world's most famous steam engines is spending Easter in Sussex.

The Flying Scotsmen will be at the Bluebell Railway until Wednesday.

Hot water bottles and sunscreen

Rachel Mackley

Weather Presenter

Cold nights and sunny days - it's spring in the South East.

Here's my forecast.

Bob Dale

BBC Live reporter

Police say they're concerned about a 14-year-old who's gone missing.

Codi Milner was last seen heading towards Southwick train station around midday on 15 April.

She was wearing a dark navy Nike tracksuit and carrying a black Nike holdall.

Codi also has links to the Eastbourne area.

How many of these Seagulls facts did you know?

Brighton Albion have made it to the Premier League for the first time in the club's history.

Speaking of history, we've compiled some facts about the Seagulls that you may not have known.

Is your local beach a deathtrap for wildlife?

Yvette Austin

BBC Environment Correspondent

Environmental campaigners say there's a growing problem of plastic litter washing up on the South East's beaches.

Mother dead after 4-week hospital battle

Lizzie Massey

BBC Live reporter

After more than four weeks fighting for her life in hospital, Valerie Austen has died.

The 59-year-old mum from Horndean in Hampshire, was injured in a three-vehicle collision on the A272 at Rogate, West Sussex, last month.

Married for 41 years to Mick Austen, the pair had two children and five grandchildren.

The customer care manager had been en route to an appointment when she was involved in the crash with a Renault box van and a Peugeot 307 car.

Image caption: Valerie Austen

Quote Message: Her death has been a tragedy for us, and not least for mum's grandchildren, who idolised her, just as she did them. She was a very kind, very generous and invariably happy person, full of fun and younger than her years. from Lisa Walsh Daughter of Valerie Austen

General Election 2017: Analysis from our Political Editor

Helen Catt

Political editor, BBC South East

Here's my take on what will a snap general election mean for the South East.

On their way to the Premier League

Stuart Maisner

BBC Live reporter

Brighton fans and players celebrated one of the biggest days in the club's history.      

Kate Kinsella

Weather presenter

Did you take off your winter duvet? Then this forecast's not for you.

How the South East voted last time

Stuart Maisner

BBC Live reporter

The Prime Minister wants a general election on 8 June. Here's the current political make-up of the South East.

Fans celebrate with players

It was a night to remember for some Brighton and Hove Albion fans - they got the chance to celebrate with the club's players.

Green co-leader reacts to general election announcement

Helen Catt

Political editor, BBC South East

Green Party co-leader and MP for Brighton Pavilion, Caroline Lucas, gave the following reaction:

Quote Message: Today's announcement means that people are rightly given a say over the direction this country is going to take. Only the Green Party offers a bold, positive vision for a different kind of Britain."