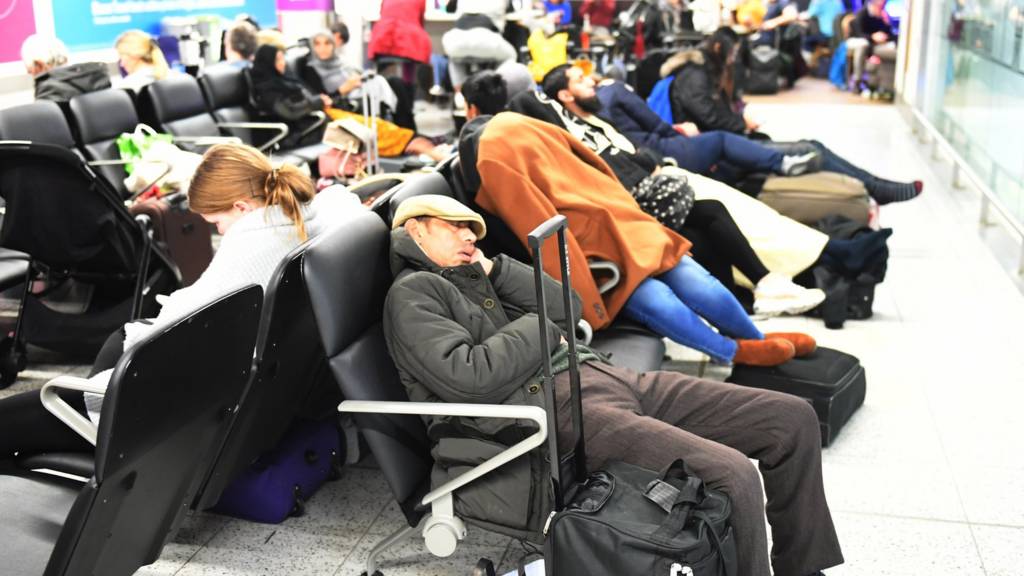 Gatwick drones: As it happened
Have you been affected? You can get in touch by email, on our South East Facebook page or on Twitter @bbcsoutheast. You can read the full story here.
Summary
Gatwick drones: As it happened
Drone drill to take place after Gatwick incident

Ben Weisz

Political reporter, BBC Sussex

There will be a drill to practice for another drone incident at an airport in the near future - according to Sussex's Police and Crime Commissioner.

Katy Bourne was asking Sussex Police Chief Constable Giles York about his force's response to the incident at Gatwick Airport last month, when multiple drone sightings over the airfield forced the runway to shut and disrupted thousands of passengers.

Ms Bourne told the meeting that the transport secretary, Chris Grayling, had written to her setting out how the government was preparing in case another incident took place.

One of the measures would be a "rehearsal" organised by the Centre for the Protection of National Infrastructure, Ms Bourne said.

Copyright: Sussex Police and Crime Commissioner

Image caption: Katy Bourne was told Sussex Police's criminal investigation into the Gatwick drone incident is still ongoing

Disruption for Gatwick Airport trains after points failure

A points failure at Gatwick Airport is causing disruption to trains at the station.

Trains may be cancelled or delayed, Network Rail said.

Following overnight engineering, a set of points failed between Gatwick Airport and Three Bridges.

Network Rail signallers are working around this problem, but as more services begin their journeys, delays and congestion will build up, the travel body said.

Engineers are on site, and attempting to find the cause for this incident.

Armed police were poised to shoot down Gatwick drone

Tom Burridge

BBC transport correspondent

Although shooting-down a drone is far from straight-forward and potentially very risky, I understand that armed police were poised at Gatwick to start shooting during the incident before Christmas.

I'm also told that some of the drone sightings at Gatwick were in critical parts of the airport, near or in landing and take-off zones, making the threat to aircraft all the more real.

The police are said to have photos of the drone or drones used at Gatwick.

However no credible arrests have been made.

UK weighs up drone deterrent options

Tom Burridge

BBC transport correspondent

Image caption: Drone sightings caused days of disruption at Gatwick before Christmas

The BBC understands that the government is considering installing military-grade anti-drone equipment at all major UK airports, as well as at other critical infrastructure such as prisons and power stations.

Aviation Minister, Baroness Sugg, is meeting airport bosses this afternoon.

It follows the major disruption at Gatwick before Christmas and the suspension of departures from Heathrow for nearly an hour on Tuesday night following drone sightings at both airports.

Tom Burridge

Transport correspondent, BBC News

Vincent Kearney

BBC News NI Home Affairs Correspondent

Gatwick master plan consultation inadequate - council

Karen Dunn

Local Democracy Reporter

Copyright: Gatwick Airport

Gatwick Airport's master plan consultation contains insufficient information for interested parties to make informed decisions, a council report has declared, just days before the public deadline for comments.

The 12-week public consultation on the airport's latest vision for its future ends on 10 January, but Chichester District Council officers say there is not enough detail on the most controversial aspect - the proposed use of its emergency runway for regular flights - to make an informed decision.

In a report to the council's cabinet, which meets on Tuesday, it says: "At this stage, insufficient information and evidence is available to fully inform a considered response to this option, particularly the potential noise impact on residents in the northern parishes of Chichester district, the existing infrastructure to the south of the airport and any potential additional need for housing arising in the wider area."

Echoing the comments of some West Sussex county councillors, who have criticised its vagueness, the report also says other associated impacts - such as the potential for a deterioration in air quality as a result of increased road traffic congestion - are unknown, too.

However, the report does acknowledge the importance of the airport to the county and backs suggested improvements to road and rail links.

A spokesman for Gatwick said: "We are following best practice and consulting people early on our intentions. While this means that not all the detailed work has yet been worked up, more detailed plans, and a public consultation, are likely to follow if we pursue our plans to use our standby runway."