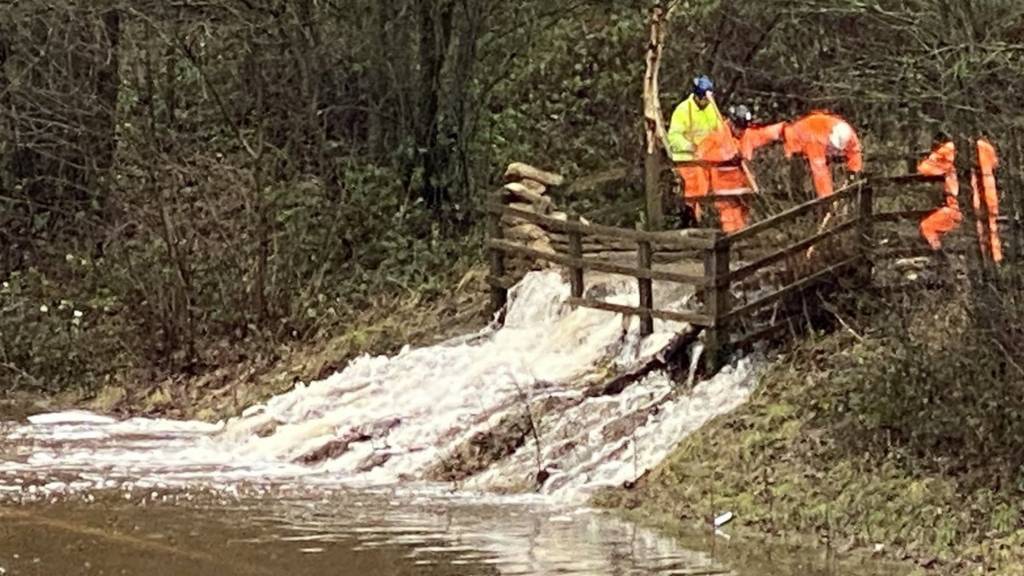 Our live coverage has ended

For the latest on today's story please click here.

The M23 was closed both ways near Gatwick, with landslips shutting train lines.

Significant rail disruption due to the weather

Heavy rainfall is continuing to cause major disruption across the Southern, Thameslink and Gatwick Express rail network.

Disruption is expected to continue until the end of the day.

Two areas have been worst affected:

Three Bridges to Brighton (flooding at Balcombe) -there is no direct service from London to Brighton, Lewes or Littlehampton.
Warnham and Ockley cannot be served due to local flooding.

On Southeastern a landslip between Robertsbridge and Etchingham means trains are currently unable to run between these stations. Disruption is expected until 19:00.

There has also been a landslip between Strood and Maidstone West, blocking the lines there too. Disruption is expected for the rest of the day.

M23 reopens after flooding

Copyright: Eddie Mitchell

The M23 motorway in West Sussex is now open again in both directions following earlier flooding, Sussex Police said.

Pictures: Lamberhurst under water

Here are some pictures of flooding in Lamberhurst, Kent.

Motorists "ignoring road closure signs" following flooding

Highways officials in West Sussex say they are "alarmed" by reports of motorists ignoring road closure signs following the widespread flooding.

Medway Towns serviced by diverted trains

People coming to Medway from London later will be able to use the St Pancras to Maidstone West services if they need to get to Rochester, Chatham or Gillingham.

Aerial video shows floods in South East England, including the M23 which is closed.

Burst river banks flood gardens

The bank of the River Tiese has burst at Lamberhurst, Kent.

The river water has now flooded people's gardens.

'I'm missing my Christmas bonus because of this'

Lizzie Massey

BBC Live reporter

Ellis Hart was on his way to a work Christmas meal, but missed it when he got stuck in the M23 backlog following severe flooding.

The stone restorer was stuck near to Pease Potage for more than two hours, after the motorway flooded.

Mr Hart, 26, said: "We were all going for a curry in London, paid for by the boss. It was our Christmas bonus.

"I was looking forward to that, but I've missed it now.

"I was meant to get the train, but saw the 10:04 was cancelled so jumped in the car to drive.

"I didn't check the traffic online, but there were no police, or signs anywhere to say the road was closed, or diverting people.

"I'm just glad I didn't bring my three kids with me. I was going to drop them off with my mum on the way."

Six hours ago Sussex Roads Police tweeted: "We are trying our best to get you turned around, but please be patient: with the road closure on, there's a lot of traffic to move into a very small space at Pease Pottage."

Landslip in East Sussex causes train disruption until 1900

Rail operator Southeastern says a landslip at Robertsbridge means no trains are running between Tunbridge Wells and Hastings.

Both lines have been blocked. Trains have been cancelled, delayed or revised. And the disruption is expected to continue until 19:00.

Network Rail response staff are on site.

Bob Dale

BBC Live reporter

Many rivers in Kent are now close to overflowing.

Glenn Ebrey is in Edenbridge.

Motorists urged not to drive through flood water

With flood water high in places, West Sussex Fire and Rescue Service have urged motorists not to drive through flood water.

Meanwhile, in neighbouring East Sussex, fire officials there have asked people to only call 999 in an emergency.

No opening time for flooded M23

Copyright: Eddie MItchell

Highways England say there is no estimated opened time for reopening the M23, which is flooded across both carriageways between junctions 10 and 11.

However, the stream of water onto the road has been stemmed and they are "making progress", a spokesperson said.

New landslip halts trains in East Sussex

A fresh landslip is causing new problems on the rail network in parts of East Sussex this afternoon.

Trains are not expected to start running again until 15:00 GMT.

Small reprieve for people in Frant

Heavy rain caused a high water level at Frant, East Sussex, earlier which affected the signalling system.

It has now been sorted out, but there are still knock-on delays from issues in other areas.

M23 still closed after flooding

The M23 is closed between junctions 10 and 11 in both directions in West Sussex, Highways England said. Footage from Eddie Mitchell shows Highways England teams out in force on the motorway.

Significant delays between Brighton and Gatwick

Services between Brighton and Gatwick have been vastly cut back as a result of the weather.

Disruption expected until 14:00 GMT

Copyright: Thameslink Railway

If you're travelling on the following routes your journey will be delayed by about two hours due to flooding on the tracks, Thameslink Railway has warned:

Between Brighton and Gatwick Airport:
To and from Uckfield
Warnham & Ockley
Mitcham Junction / Eastfields

People are advised to check before they travel.