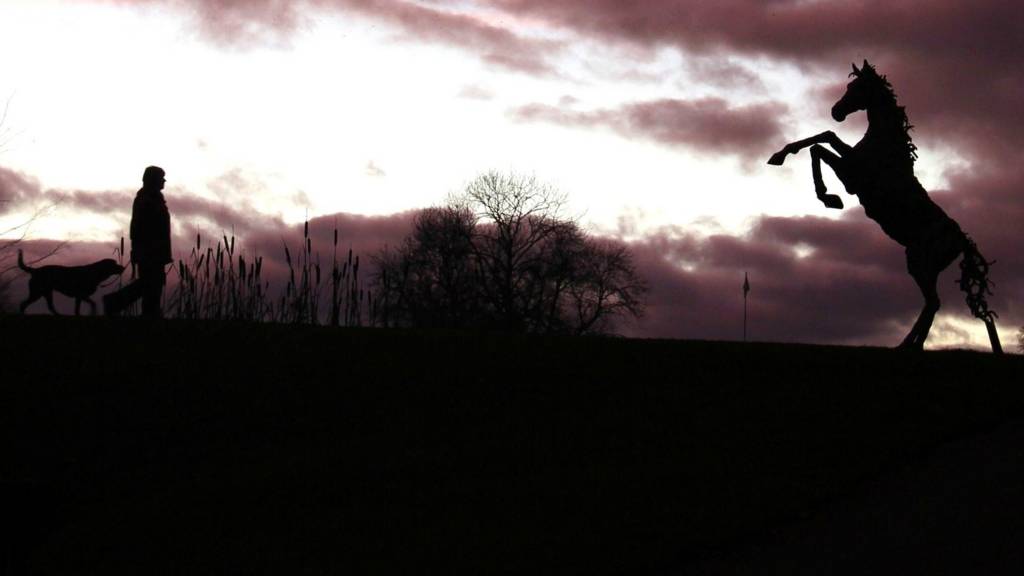 BBC Local Live: North-east England
Summary
Updates on Friday 9 January 2015
That's all from Local Live for today. We will be back from 08:00 on Monday.

Match facts: Reading v Middlesbrough

Firefighters from Tyne and Wear Fire and Rescue Service said they attended eight weather-related incidents this morning when winds were at their strongest.

Copyright: Shields Gazette

They included Selkirk Street, Jarrow, where the outer part of the gable end of a house fell down, and a partial collapse of a gable end in Runcorn Road, Sunderland.

Group manager John Allison said: "The high winds caused damage to a number of properties which could have put the safety of the public at risk. Thankfully no-one has been injured in any of these incidents."

Match facts: Chelsea v Newcastle

Newcastle have won four of their last six league matches against Chelsea, but both their defeats came in their last two meetings at Stamford Bridge.

The Magpies could do the top-flight double against Chelsea for the first time since 1986-87, but they have won just twice in their last eight league games.

United have scored the highest proportion of second-half goals in the Premier League (76%).

Councillor 'racially abused'

Middlesbrough councillor Sajaad Khan was threatened with a knife and racially abused when he went to the rescue of a woman being terrorised in the street by her boyfriend.

London Welsh team captain and former Newcastle Falcons and England international Tom Mayis to retire at the end of the season.

Centre May, 35, joined Welsh in 2013 and led them to promotion via the Championship play-offs last season.

He began his professional career at Falcons, making his debut in March 1999, and went on to play for Toulon before joining Northampton.

"It's a tough decision to make because I've been playing for quite a while and it's what I've grown up knowing," said May, who has two England caps.

Parents tell of online safety fears

Barbour 'baffled' over staff strikes

Bosses at clothing firm Barbour say they are "baffled" by staff striking over proposed new, late-night shifts, at its Gateshead warehouse.

Members of Unite are staging a series of month-long strikes in protest at the new shift ending at 22:30.

But company spokeswoman, Brenda Readman-Bell, said she was "baffled" by the action as talks with workers had been ongoing since May.

Striking workers claim the shift will "wreck" their home lives. The proposed shifts are 07:00 to 15:00 and 14:30 to 22:30. The firm says they include a "substantial pay increase".

Black Cats set for Liverpool clash

Nick Barnes

BBC Newcastle commentator

The furry headphones are primed for Sunderland versus Liverpool at the Stadium of Light tomorrow.

The game kicks off at 12:45 and BBC Sport has the latest team news here.

Sunderland captain Lee Cattermole is struggling with a groin injury, while Jack Rodwell will be given a fitness test on a hamstring problem.

We've introduced BBC Local Live, which is written by reporters across the North East, to bring you the latest news, sport, travel and weather all in one place. Tell us what you think.

Tributes paid to former BBC man

Tributes have been paid to a former BBC broadcaster whose voice graced the airwaves of local radio for more than 20 years.

Copyright: Hartlepool Mail

Bill Hunter, who worked for the BBC station in Middlesbrough when it was known as Radio Teesside and later Radio Cleveland, died in Hartlepool & District Hospice on Wednesday. He was 87.

The top local headlines at 16:00 include:

BBC Tees: An increasing number of rogue traders are trying to target homeowners in Hartlepool, according to trading standards officers.
BBC Newcastle: Jon Harle and Anne Leuchars have a round-up of today's news.

Boro head south to Reading

Middlesbrough are at Reading tomorrow in the Sky Bet Championship. Royals captain Jem Karacan could make his first appearance in 16 months after recovering from a knee injury.

Anton Ferdinand and Pavel Pogrebnyak are both out with calf injuries and Hope Akpan's shoulder problem rules him out again.

The match at the Madejski Stadium kicks off at 15:00. You can watch highlights on The Football League Show; listen on BBC Radio 5 live and BBC Tees or keep up to date with text commentary on the BBC Sport website.

Loch Ness Monster 'photo'

Man sought over attack on bus

Police are hunting this man after a teenager was assaulted on a bus in Sunderland.

Copyright: Northumbria Police

The 18-year-old victim was travelling on a bus in Hall Farm Road when he was approached by another man and headbutted at 19:40 on 6 December.

Sissoko plays down transfer talk

Chris Conway

BBC Newcastle

Newcastle United's Moussa Sissoko has tweeted today saying: "I am a professional player and I remain focused on my team NUFC #dontlistentorumours."

The 25-year-old has been linked with a £20m move to Arsenal or French club PSG.

He has previously expressed his desire to play Champions League football.

The top local headlines at 16:00 include:

Winds causing problems on A66

Strong winds mean the A66 in County Durham is closed to high-sided vehicles between the A67 junction in Bowes and the A685 junction in Brough, BBC Travel News reports.

There is severe disruption in both directions.

Black Cats to put defence first

Mark Lawrenson

Football analyst

Gritter crews 'on standby'

Gateshead Council tweets: All our gritter crews on standby this weekend after Met Office forecast possible ice and snow for Saturday evening/Sunday morning.

Archbishop: We must not give in to fear

The Archbishop of Canterbury was at Durham Cathedral today ahead of receiving an honorary Doctor of Divinity from the city's university.

The Most Rev Justin Welby, formerly the Bishop of Durham, spoke out in support of free speech following the Charlie Hebdo attacks in Paris earlier this week.

He said: "This is a moment for courage."

Where does the water cash flow?

Inside Out returns to BBC One on Monday at 19:30. The team will be looking at Northumbrian Water and asking: "Who really owns the water that comes out of our taps and why does the profit flow out of the North East to the Far East?"

They will also have the story of 'slumdog medic' Robin Sengupta who sold fruit as a child to fund his education and went on to become a leading brain surgeon in Newcastle. He's now created a neuroscience hospital in Kolkata (formerly Calcutta). If you miss it you can catch up here.

The top local headlines at 15:00 include:

My prediction on Blues v NUFC

Mark Lawrenson

Football analyst

"This is a tough game for Newcastle's caretaker manager John Carver because I expect Chelsea to be back to business as usual after their defeat by Tottenham in their last league game.

"I do not see the Magpies causing the Chelsea defence the same sort of problems as Spurs did."

My prediction: Chelsea 3-0 Newcastle. See more of my predictions for this weekend's games by clicking here.

Krul back between the posts

Newcastle goalkeeper Tim Krul will replace Jak Alnwick in the starting line-up for tomorrow's game against Chelsea after proving his fitness in a practice match, BBC Sport reports.

Leading goalscorer Papiss Cisse and midfielder Cheick Tiote are both on Africa Cup of Nations duty.

United recorded a memorable victory against the Londoners at St James' Park just over a month ago and will be hoping for a repeat of that standout performance.

New appeal over hotel rape

Police investigating a rape in Newcastle have released an image of a man they want to speak to.

Copyright: Northumbria Police

A 21-year-old woman reported she had been attacked at an unnamed city centre hotel in the early hours of Monday, 22 December. Northumbria Police said she left the building at about 05:30.

The strong winds earlier uprooted this tree in Thornlea Gardens, Low Fell, Gateshead.

Thanks to Adam Nolan for sending it to us. Did you get any photos of the disruption caused by the weather? Send them to us by email, tweet us @BBCNewsNE or join our Facebook page.

The top local headlines at 14:00 include:

East Coast disruption cleared

East Coast Trains tweets: Disruption caused by a broken down train between Morpeth and Alnmouth for Alnwick has now ended. Services are no longer affected by this.

More on the Barbour dispute

Mark Denten

Political Correspondent, BBC North East & Cumbria

Union leaders at Barbour claim the firm's warehouses have been in "chaos" as strike action takes place over new shift patterns the company wants to introduce.

But the clothing firm says its warehouses are running well and adds only 10% of workers are staging industrial action over the plans to introduce shifts which finish at 22:30.

Listen to our Pardew interview

Listen to Alan Pardew's full interview with BBC Newcastle's Mick Lowes where he talks about his relationship with the fans and owner Mike Ashley.

Pardew says: "For everything that has been said and done I had a good relationship with him. Of course we had some bumps, but publicly I am not going to criticise him in any shape or form.

"Privately I'm trying to push for players or change this or that. Sometimes I won, sometimes I lost."

'No growth in north-south gap'

Chancellor George Osborne was on the programme this morning.

He was answering questions about the economy in the north of England. "We need to make sure we have a truly national economy," he said. "We don't accept in this country that the gap between the north and south grows."

The top local headlines at 13:00 include:

Labour group 'at war with itself'

A key electoral town's Labour group is "at war with itself", it is claimed.

The Redcar branch in Teesside was reviewed by the party in 2012 after complaints of bullying and physical intimidation between members.

But branch members said the situation had now become even worse.

Labour North said changes were already being made, with the party keen to win the constituency back from the Liberal Democrats in the General Election.

The A19 in Wolviston, County Durham, is blocked with stationary traffic northbound from the A689 junction to the Dalton Lodge junction.

New sponsor for Great North Run

Supermarket chain Morrisons has taken over as the sponsor of the Great Run Series, replacing Bupa who had backed it for 22 years.

Broadcaster and former Olympic medallist Brendan Foster created the Great North Run in 1981 and it has grown to be the second biggest half-marathon in the world.

Care unit attacked as 'not safe'

The top local headlines at 12:00 include:

BBC Tees: Middlesbrough head coach Aitor Karanka says Rhys Williams has the mental strength to get over his latest injury setback.

After the bad weather we saw this morning, it looks like former Newcastle United striker Tino Asprilla has opted for warmer climes. Earlier he tweeted this photo of himself at the beach:

Copyright: @tinoasprillah

Russell Ward

BBC Newcastle

Strong winds caused this damage in Seaham, County Durham, this morning.

MP hits back over 'back-garden burials'

Barbour workers in strike march

Mark Denten

Political Correspondent, BBC North East & Cumbria

Striking workers at the Barbour clothing company are staging a protest march in South Shields.

Warehouse staff are taking four weeks of industrial action over proposed changes to pay and working hours.

Barbour said the new shift patterns, which will see employees working until 22:30, included a "substantial pay increase".

The top local headlines at 11:00 include:

BBC Tees: The Labour Party no longer represents the working people of Teesside, according to Middlesbrough Mayoral candidate Len Junier, who was deselected from the group last May.
BBC Newcastle: Winds are easing across the North East after a very gusty start to the morning.

Power back on in Northumberland

Northern Powergrid tweets: All supplies have now been restored in the #NE68 #Seahouses area. Sorry once again and thanks for your patience today

Two-tonne shed blocks road

A 40-foot-long collapsed shed caused the closure of Saltburn Lane in Saltburn this morning.

The rail line between Newcastle and Sunderland is now clear, Network Rail has confirmed, and services should resume shortly.

As we told you at 10:06, strong winds blew a large piece of metal - from the floor of a Transit van from a nearby factory or garage - on to the track, bringing services to a standstill.

South Street in Durham is closed northbound from the Pimlico junction to the Crossgate junction because of a gas leak and emergency repairs.

If you're wondering why today's winds are so strong, the answer is a powerful jet stream is pushing a deep area of low pressure towards the UK.

But why is the jet stream so strong? You can hear BBC Weather's Chris Fawkes explain by clicking here.

Train runs over van floor

As we reported earlier, trains are still suspended between Newcastle and Sunderland.

This morning's high winds blew a large piece of metal - from the floor of a Transit van from a nearby garage or factory - on to the track, Northern Rail tells me.

Cutting equipment is currently being sent to enable workers to clear the obstruction in the next 45 minutes or so.

The top local headlines at 10:00 include:

BBC Tees: BBC Tees has obtained an internal Labour Party report which says the Redcar party is "dysfunctional" and has "serious failings".
BBC Newcastle: Gusts of up to 70mph have been recorded in the North East this morning and forecasters are warning of further extreme conditions.

We've introduced BBC Local Live, which is written by reporters across the North East, to bring you the latest news, sport, travel and weather all in one place. Tell us what you think.

End of house collapses in winds

High winds have caused the gable end of a house in Jarrow to collapse. Officers from South Shields and Hebburn fire stations were called out to the address in Selkirk Street at 04:00 this morning.

Copyright: Shields Gazette

Get the latest weather and travel updates as strong winds batter the region.

Bad weather? What bad weather? Not in Hartlepool.

Northern Powergrid says there is a power cut in the Lanchester area of County Durham.

A spokesman said: "Repair work is required on our overhead network. We aim to restore all supplies within the next few hours."

This morning's strong winds have seen the A189 in Bebside, Northumberland, closed to high-sided vehicles in both directions between the A193 Front Street junction and the A1147 junction, BBC Travel reports.

Elsewhere, Saltburn Lane in Saltburn is closed in both directions between the A174 junction and the Saltburn Bank junction because of an obstruction on the road.

The top local headlines at 09:00 include:

BBC Tees: BBC Tees has exclusively obtained an internal Labour Party report which says the Redcar party is "dysfunctional" and has "serious failings".
BBC Newcastle: The bomb disposal squad has been called to a Northumberland town after police found chemicals while searching a house.

Bus services hit by road closure

Go North East says that due to a road closure services 11 and 47 are terminating at Chopwell Bus Stand. Blackhall Mill cannot be served.

House collapses in Jarrow

Rebecca O'Neill

BBC Newcastle

A number of wheelie bins have blown over in this street in Newcastle.

Windy out by the Town Moor

Rebecca O'Neill

BBC Newcastle

I'm having to keep hold of all this and keep myself on my feet! It's very, very windy! Stay up to date with the latest with me on BBC Newcastle.

Problems over in Cumbria too

If you're travelling out west to Cumbria, there's plenty of problems there too.

The M6 is closed and there is slow traffic northbound between J38, A685 (Tebay) and J39, B6261 (Shap) because of an overturned lorry and recovery work.

The A592 Rayrigg Road in Windermere is closed and there is slow traffic in both directions between the Birthwaite Road junction and the Millbeckstock junction because of a fallen tree.

We're running a live page covering the disruption there - stay up to date here.

Trains off between Newcastle and Sunderland

Some Metro services suspended

Shed on A1 blew off lorry

More on the A1(M) being closed - a lorry carrying the shed was travelling northbound but the strong winds blew off the back and it then landed in the southbound carriageway.

Satellite image shows storm power

Simon King

5 live weather forecaster

It's an impressive storm that's now passing through the UK.

Breaking

A1 closed after shed blows into road

The A1(M) in County Durham is closed both ways at J62 for the A690 (Carrville) and J63 for Chester-le-Street and there's lots of stationary traffic as a large shed has blown into the road. Keep up to date here.

Seas rough during storms last night

This chart shows swell heights at sea during the storm.

Copyright: magicseaweed.com

The black colour indicates a swell of more than 40ft at 03:00. Calmer conditions have been forecast for later today.

Hannah Bayman

BBC Weather presenter

This is one of the strongest storms that we've seen so far this autumn and winter. It's going to be stronger for most people than the winds that we saw over Christmas.

It's a really powerful system whipping across the Atlantic. The North East is experiencing some very windy conditions, but not quite as bad as in Scotland.

Robert Cooper

BBC News Online

The North East and Cumbria is continuing to be hit by high winds after a night of gales. A yellow warning is in place for Northumberland, Cumbria and County Durham.

Last night two lorries were blown over on the M6 in Cumbria and a 50mph speed limit has been imposed on a stretch of the road.

This morning a gust of over 100mph was recorded in the Pennines above the Eden Valley. Over in the east, trains are being delayed by up to 20 minutes in Northumberland and by up to 10 minutes in County Durham.

Welcome to BBC Local Live on this very windy Friday morning. Wrap up tight if you're going out and be careful on the roads. We'll be bringing you all the news, sport, weather and travel updates from across the North East.

If you'd like us to feature your comments or pictures, send them to us by email, tweet us @BBCNewsNE or join our Facebook page.