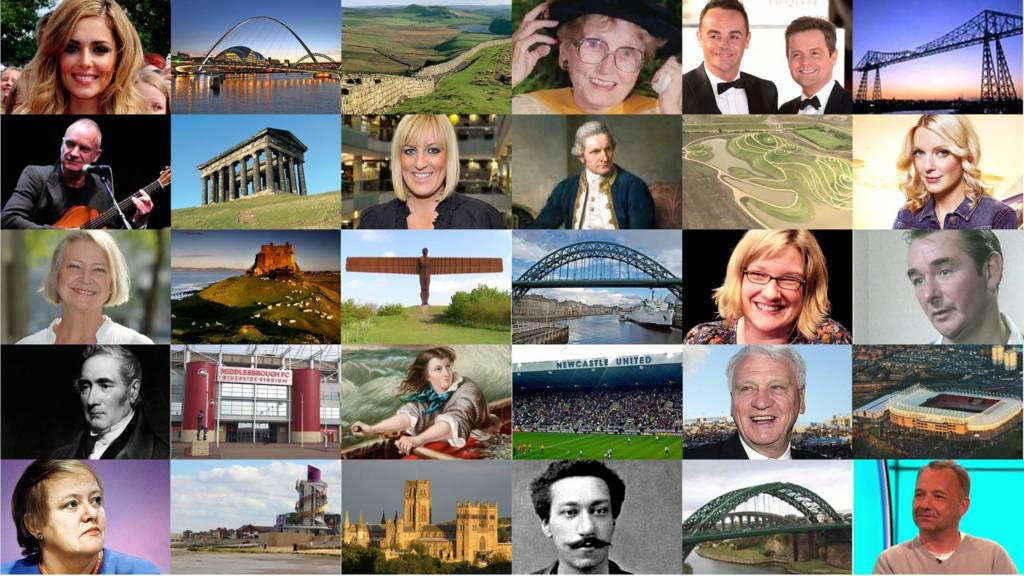 BBC Local Live: North East England
Our live coverage across the day

That's all from us for today and for the week - thank you for joining us.

You can still catch up with the latest news throughout the night on BBC Tees, BBC Newcastle, Look North, and online.

If you'd like to get in touch or share your North East pictures with us, you can do so on Twitter, Facebook, or via email. 

We'll be back on Monday from 08:00 when we'll be bringing you the results of all today's elections.

Hope you have a good weekend.

Weather: Sunny evening, cloudy tomorrow

It will be a sunny evening, but with fresh east to northeasterly winds. It will stay breezy overnight, although cloud will thicken from the east, with a risk of hill fog and one or two spots of light rain by dawn, especially for high ground. 

Minimum Temperature: 5C (41F).

Tomorrow the morning will be fairly cloudy with hill fog and perhaps a few outbreaks of light rain. However most places should stay dry, with some sunny spells developing later. The winds will gradually ease through the day. 

Maximum Temperature: 12C (54F).

Full Tees Valley Mayor voting figures

As reported earlier Ben Houchen from the Conservative Party has been elected as the first Tees Valley Mayor with the final decision being made using "second preference" votes. 

These were the standings after the first preference votes was counted:

Chris Foote-Wood, Liberal Democrat: 12,550Ben Houchen, Conservative Party: 40,278 Sue Jeffrey, Labour and Co-operative Party: 39,797 John David Edward Tennant, UK Independence Party (UKIP): 9,475

All those apart from Mr Houchen and Ms Jeffrey were eliminated as no candidate had received more than 50% of the first preference votes. Mr Houchen was then elected after second preference votes were taken into consideration.

The final numbers were:

Ben Houchen: 48,578 Sue Jeffrey: 46,400

The turnout was 21.31%.

Mike Ashley named richest man in the North East

Owner of Newcastle United Mike Ashley remains the richest man in the North East, according to the new edition of The Sunday Times Rich List.

The 52-year-old owner of Sports Direct has a fortune estimated to be more than £2bn. 

Sunderland owner Ellis Short's fortune is valued at £1.2bn. 

Others to feature in the list include Duncan Bannatyne, the Duke of Northumberland, Peter Stephenson - the founder of Able UK and Philanthropist Jonathan Ruffer - who is currently converting Auckland Castle into a major tourist destination.

Video link service on Teesside to help victims of sexual violence

BBC Tees

www.bbc.co.uk/BBCTees

It will now be easier for victims of sexual violence from Teesside to speak out in court thanks to a new video link service.

The link has been installed at the Teesside Sexual Assault Referral Centre and means that survivors will no longer need to appear in court to give evidence. 

The money for the new kit was donated by Barry Coppinger, Cleveland's Police and Crime Commissioner.

He said: "It's something I hope we can repeat and extend elsewhere as it gives the victim a very good opportunity to set the record straight."

Possible promotion and relegation in store for North East football clubs

It's a busy weekend ahead for North East football with possible promotion for the Magpies and possible relegation for Hartlepool. 

Newcastle United could win the title this weekend if they beat Barnsley at St James' Park on Sunday and Aston Villa deny first place Brighton a victory.  

Magpies skipper Jamaal Lascelles is out after groin surgery and winger Matt Ritchie is suspended, but striker Dwight Gayle (hamstring) is hopeful of being included.

In League Two now it could be a weekend of sorrow for fans of Hartlepool United who are facing possible relegation this weekend. 

Hartlepool are  currently sitting in 23rd place ahead of the final game of the season against Doncaster, two points adrift of safety. The club's chairman, Gary Coxall recently resigned after facing criticism due to the club's poor performance. 

Labour retain majority but lose 20 seats on Durham County Council

Mark Denten

BBC Look North

Labour have retained control of Durham County Council but been given a bloody nose in this election.

They have 20 fewer seats then they had this morning - 74 compared to 94 in the old council.

The thing which struck me is that in the past you would have expected Labour to have had control by lunchtime/early afternoon, today it went right up to late afternoon.

Labour council leader Simon Henig said they will learn lessons from this election.

SAFC accounts reveal £850,000 settlement for former chief executive Margaret Byrne

Former Sunderland AFC chief executive Margaret Byrne walked away with a £850,000 settlement after quitting over the handling of the Adam Johnson case, according to the club's latest financial report.

Copyright: Sunderland Echo

Relief for Labour as they retain control of Durham County Council

Labour have kept control of Durham County Council but BBC Look North Political Editor Richard Moss says they were close to losing their majority.

Breaking

Labour hold Durham County Council

Mark Denten

BBC Look North

Labour have retained control of Durham County Council.

More to follow.

Durham County Council election result is tight

Tonight's BBL coverage on BBC Sport

Worcester Wolves v Newcastle Eagles (19:30 BST)

British Basketball returns to the BBC this evening with Newcastle Eagles travelling to Worcester Wolves at the University of Worcester.

Newcastle Eagles are on the verge of booking their place in the BBL play-off final. The Eagles won the semi-final first-leg against Worcester Wolves 105-86 at Sport Central.

Coverage is live from 19:30 across the BBC Sport website, app and selected Connected TVs. You can watch it right here and you can learn more about the BBC's coverage of the BBL and WBBL here.

Durham Cathedral has relocated to Scotland according to Marvel fan page

An unofficial Marvel fan page has attracted a few comments after claiming that Durham Cathedral was actually located in Scotland. 

The cathedral is rumoured to be the filming location for the new Avengers superhero movie. 

Durham residents have been quick to point out the mistake. 

The fan page, which has over 1m "likes", also described the North East landmark as a castle.

Durham County Council election: Labour need to hold 17 seats to keep control

Labour need to hold 17 seats to keep control of Durham County Council. 

There are 43 seats still to declare.

Tees Valley Mayor Conservative victory 'sensational'

Richard Moss

Political Editor, BBC Look North

This is a sensational vote for the Conservatives.

Beating Labour in the first round, we perhaps thought Labour might claw it back with second preference votes. They were counted then but actually Conservatives pulled further ahead and Ben Houchen beat Sue Jeffrey the Labour candidate in a run off to become the Tees Valley Mayor. 

He has now got to deliver on certain promises, one of which is to take control of Durham Tees Valley Airport and try to revive its fortunes. 

He talked about turning the Tees Valley blue in the General Election in just over a month's time and that will be the Conservative focus now 

Watch as Ben Houchen is elected as Tees Vally Mayor

Conservative Ben Houchen has been elected as the first Tees Valley Mayor. 

Our Political Editor Richard Moss was live at the announcement and you can watch here.

Conservative victory in Tees Valley Mayor election 'a political earthquake'

Richard Moss

Political Editor, BBC Look North

Ben Houchen says his victory as Tees Valley mayor is a political earthquake and next step is to turn the area blue. 

Breaking

Conservative Ben Houchen becomes first Tees Valley Mayor

Richard Moss

Political Editor, BBC Look North

Conservative Ben Houchen wins the election to become the first Mayor of the Tees Valley.