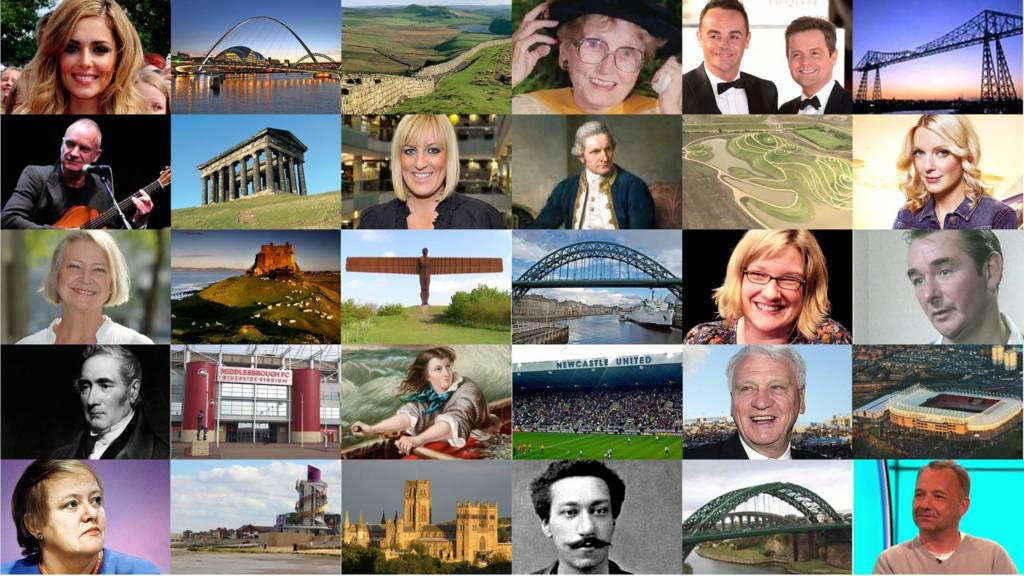 BBC Local Live: North East England
Our live coverage across the day

Man arrested over knife robbery

A man has been arrested in connection with an armed robbery at a Sainsbury's Local store in South Shields.

Police said a man wielding a knife demanded cash from staff at the Binchester Street branch on Saturday evening.

The 27-year-old has been released under investigation.

No-one was hurt during the incident, police said.

Power tools stolen from work vehicles

BBC Tees

www.bbc.co.uk/BBCTees

Thieves targeted a series of work vehicles to steal power tools during a night of thefts in Hartlepool on 24 June, Cleveland Police have said.

The thefts took place between the hours of midnight and about 04:00 in Trentbrooke Avenue, Greta Avenue, Station Lane, Robinson Close, Lawson Road, Ashgrove Avenue, Haswell Avenue, Dumfries Road and Oban Avenue.

A black Volkswagen Bora was later recovered in the Dallas Road area along with some of the suspected stolen tools.

Police are appealing for witnesses especially anyone who may have seen the Bora on the morning of the thefts.

From Sting to Ed Sheeran: The celebrities who saved the day

Recently, residents in Godolphin Cross in Cornwall were left stunned when the ruler of Dubai, Sheikh Mohammed Bin Rashid Al Maktoum, stepped in to help the village buy its Methodist chapel.

But it's not the first time a big name has got behind a project to save a building or facility treasured by the local community.

BBC News has looked at other acts of generosity towards the local community made by the rich and famous.

These include Geordie superstar Sting diving in with a financial pledge to help restore Tynemouth Outdoor Pool to its former glory.

Copyright: Friends of Tynemouth Outdoor Pool

Tributes paid to car crash death teen

BBC Tees

www.bbc.co.uk/BBCTees

The family of a teenager killed in a car crash say he will be "sadly missed".

Rhys Hemmingway, 17, from Coundon, died on the A68 near West Auckland on 29 June.

He was driving a black Peugeot 206 which collided with a beige Skoda Octavia at about 10:45 and was declared dead at the scene.

His family said: "He was a much-loved son, brother, foster brother, boyfriend and grandson and will be sadly missed. We wish to thank everyone for their support at this sad time and ask to be left so that we can grieve in peace with our loved ones."

It is understood Rhys was heading from Burtree in the direction of West Auckland coming down the hill when the collision occurred.

The 65-year-old female Skoda driver, from Bishop Auckland, was taken to hospital with broken ribs.

Durham MP moves from housing to international development

Durham MP Roberta Blackman-Woods has moved from housing to international development in Jeremy Corbyn's shadown cabinet.

Your photos: Noctilucent clouds

Each summer, high in the night skies of the far northern and southern hemispheres a unique phenomenon occurs - noctilucent clouds.

The beautiful sight is caused by sunlight shining on ice crystals 50 miles (80km) above the earth's surface.

These amazing photos were captured in Northumberland, Newcastle, Whitley Bay and Seaburn.

If you'd like to send us your images, you can tweet us @BBCNewsNE, email, or contact us via our Facebook page.

Checks reveal St James' Park cladding is safe

All the cladding in and around St James' Park is safe, Newcastle United have revealed.

On Friday, Premier League and Football League clubs were warned to check on any external cladding on their stadiums following the Grenfell Tower fire.

The club said in a statement: "Our team has checked all cladding in and around the stadium and can confirm that it is not the same type of cladding that was used as part of the infrastructure of Grenfell Tower.

"They have also carried out additional tests on the cladding around St. James' Park and can confirm it has non-combustible insulation and has passed all the necessary safety tests.

"We take this matter extremely seriously, hence the vigorous safety checks we have put in place.'

Defoe visits Bradley Lowery

Duncan Leatherdale

BBC News Online

You may have missed it over the weekend so here is another chance to read this story about footballer Jermain Defoe visiting terminally-ill Bradley Lowery.

Former Sunderland star Defoe has struck up a close friendship with the six-year-old avid Black Cats fan and club mascot.

Bradley, from Blackhall Colliery, near Hartlepool, has neuroblastoma and is receiving palliative care at home.

Defoe, 34, made the trip to County Durham on Friday, the day after he joined Premier League club Bournemouth.

Horse rider helped by rescue volunteers

BBC Tees

www.bbc.co.uk/BBCTees

A woman suffered a back injury and had to be helped by mountain rescue volunteers when she fell from her horse.

The 34-year-old fell during a long-distance riding event near Dunsdale at about midday, the Cleveland Mountain Rescue Team said.

Copyright: Cleveland Mountain Rescue Team

She was located by her family who were concerned when she didn't turn up at a check point.

Seventeen members of the team responded to the callout and, after providing initial treatment at the scene, they carried her half a mile (800m) to an ambulance to be taken to James Cook University Hospital.

It was the team's 30th callout of the year.

Severe accident: A1(M) County Durham southbound

BBC News Travel

A1(M) County Durham southbound severe accident, between J63 for A167 and J62 for A690.

A1(M) County Durham - Slow traffic and one lane closed on A1(M) southbound between J63, A167 (Chester-le-Street) and J62, A690 (Carrville), because of an accident earlier on.

To report traffic and travel incidents dial 0330 123 0184 at any time

Teachers' concern over Prevent anti-terror programme

Some teachers in England have expressed concern about a law requiring them to report pupils who show signs of being drawn into violent extremism, a report has found.

Two years ago, schools were required to join the fight against radicalisation under the so-called Prevent duty.

Durham University - along with the universities of Huddersfield and Coventry - carried out a small-scale study based on in-depth interviews with about 70 education professionals across 14 schools, eight council-level Prevent workers, as well as a national poll of 225 school and college staff.

This found concerns about increased stigmatisation of Muslim students, but also showed that teachers were more confident about reporting cases to the authorities.

South Shields celebrate FA Vase win with town parade

South Shields Football Club celebrated their winning of the FA Vase with a parade through the town at the weekend.

Thousands of people lined the streets on Saturday to see The Mariners and their silverware on an open-top bus.

The parade coincided with the launch of the town's summer festival of concerts and arts events.

The Mariners triumphed at Wembley last month, comfortably beating Cleethorpes Town 4 - 0 in the FA Vase final.

The club completed a historic quadruple after winning the Northern League Division One title as well as the Northern League Cup and Durham Challenge Cup.

Concern for missing 13-year-old boy

Police say they are concerned for the welfare of a 13-year-old Middlesbrough boy who has been missing since Thursday.

John James Connors was last seen in the Park End area of the town.

Copyright: Cleveland Police

He is about 4ft 11in, of slim build and speaks with an Irish accent. He was wearing a grey and blue tracksuit top, grey jogging bottoms and black trainers.

It is believed that John could have travelled to the London area or southern Ireland. He also has links to the Bristol area.

Breaking

Man jailed for racist abuse of Muslim woman

Boro's first home game gets TV slot

Garry Monk's first home game in charge of Middlesbrough against Sheffield United will be broadcast live on Sky after the EFL announced the latest batch oftelevised games.

Former Leeds boss Monk (pictured) was appointed Boro's new manager this summer and will be in the dugout for the club's Championship opener at Wolves before Chris Wilder's Blades visit the Riverside at 17:30 on 12 August.

CCTV released in hunt for club glass attacker

Police have released a CCTV image of a group of people they want to trace in connection with a Newcastle nightclub attack that left a woman scarred.

Kirsty Rustman, 30, was out celebrating a friend's birthday at the city's Livello bar on 4 February when a woman threw a drink over her fiancé on the dance floor.

Copyright: Northumbria Police

She then smashed a glass into Ms Rustman's face in what police said was an "unprovoked attack" that left a 3in gash across the her forehead - just missing her right eye.

Det Con Paul Horner, from Northumbria Police, said: "These witnesses have had plenty of opportunities to come forward and it is vital we speak to them.

"We believe they were with the offender on the evening of the assault.

"Family, friends and colleagues of those in the image will know who they are and we would appeal for them to contact police.

"Kirsty has been deeply affected by this but has been immensely brave throughout our investigation."

Copyright: Northumbria Police

The offender is described as white, in her late 20s to early 30s, 5ft 5in and of medium build.