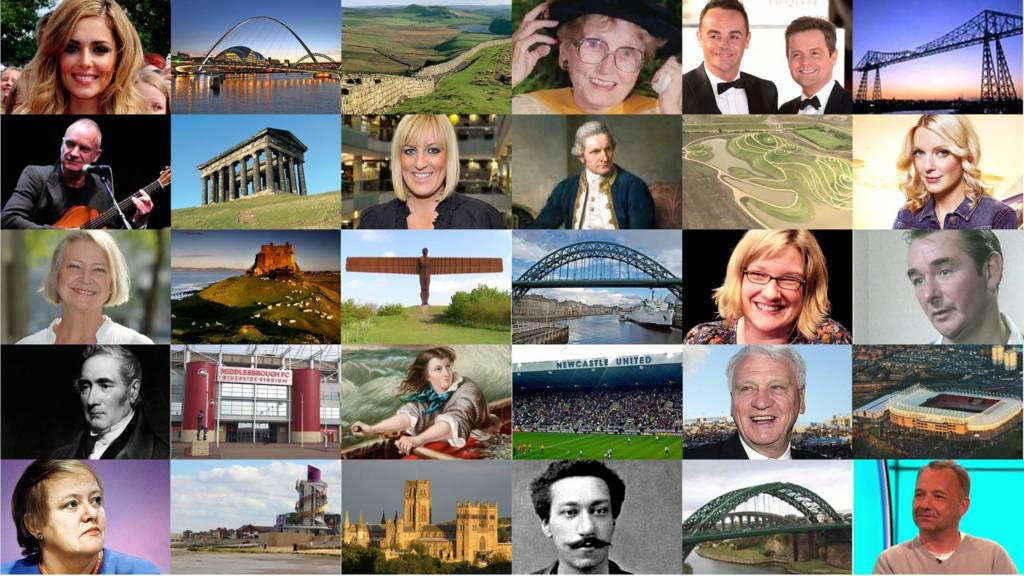 BBC Local Live: North East England
Our live coverage across the day

That's all from us for today - thank you for joining us.

You can still catch up with the latest news throughout the night on BBC Tees, BBC Newcastle, Look North, and online.

If you'd like to get in touch or share your North East pictures with us, you can do so on Twitter, Facebook, or via email.

We'll be back tomorrow from 08:00, have a good evening.

'No misconduct' over South Shields police shooting

The number of fatal shootings by police and deaths following police pursuits, rose significantly last year, the police watchdog has revealed.

A report by the Independent Police Complaints Commission says that in 2016-17, there were six fatal police shootings, including that of a 24-year-old man in South Shields.

James Wilson was shot by Northumbria Police after reports of a man being seen in the street with a handgun.

The Independent Police Complaints Commission has now ruled there was "no indication of misconduct by any firearms officer".

Hexham florist Jo Foster is a European champion powerlifter in her age group.

Fire crew lend a hand for hedgehog rescue

A fire crew was needed to lend a hand - literally - in the rescue of a hedgehog stuck in a drain under rocks and stones.

The animal was discovered by Job Centre staff at Houghton-le-Spring, who contacted the RSPCA.

Because the size of the drain - about 1ft deep and a tiny oval shape - it was completely wedged in and officers were unable to remove it, so called out the Tyne and Wear Fire Service for assistance.

Watch manager Dave Curtis said: "We were able to clear some debris from the drain but the hedgehog did not want to come out.

"Its defence mechanism of rolling into a ball also left no room to manoeuvre.

"Eventually we were able to get two hands around him and with a lot of gentle rolling, we were able to free our captive and pass it over to the RSPCA."

The animal was checked over and will be released.

Steven Taylor: 'He was seen as the best defender at Newcastle'

Peter Swan

BBC Radio Cambridgeshire sport

So as we've been mentioning today, defender Steven Taylor has joined Peterborough United on a two-year deal.

The 31-year-old is best known for his time at Newcastle United.

So surely those on Tyneside are in the best place to give their opinion on the experienced player?

Here's BBC Newcastle's Matt Raisbeck...

Taylor played almost 200 games in the top-flight - over 100 more than Posh's next player with Premier League experience...

Man armed with metal bar steals bookmaker cash

A robber who brandished a metal bar at staff at a bookmakers in Stockton is being sought by police.

The man, whose face was covered, targeted Ladbrokes in Oxbridge Lane at about 19:40 yesterday.

No-one was injured, and a small amount of cash was taken from the till.

Cleveland Police say it is not currently linking this incident to another robbery at Ladbrokes in Middlesbrough last week.

Steven Taylor: 'A very, very interesting signing'

Adam Jinkerson

BBC Local Live

Earlier we brought you news that ex-Premier League defender Steven Taylor has joined Peterborough United on a two-year deal.

The 31-year-old was famed for his time at Newcastle United and most recently Ipswich Town, plus a spell in the MLS in the United States of America.

But what can fans expect of him? Sam Edwards from our sports team has his thoughts about a "tough player"...

Football fans have also been having their say over on the BBC Match of the Day Facebook page and there are concerns about his history of injuries...

Electricity company reminds youngsters to 'play safe'

Parents across the North East have been urged to remind their children of the dangers of climbing on pylons and playing near overhead power lines or electricity substations.

Northern Powergrid has issued the warning now the summer holidays have arrived and youngsters are more likely to be playing outdoors.

Geoff Earl, from the company, said: "Just five minutes chatting with them about the potential dangers is all it takes so they know exactly what they should do if they see anything hanging from our power lines or accidentally kick a ball into one of our substations.

"Retrieving items yourself is extremely dangerous. It's always best call us by dialling 105 and we'll send someone out from our engineering team to help".

Copyright: Northern Powergrid

Millennium Bridge helps Quayside hit top spot

Newcastle's Quayside has been named as the top place in the region to live in the North East, according The Times.

It beat the likes of Durham and Alnwick in the newspaper's annual survey.

The reason it earned its top rating?

According to The Times: "Jesmond and Gosforth are all very well, but sometimes you want to aim a little bit higher than the respectable, family-friendly inner suburbs.

"Imagine strolling home from a concert at the Sage across the artfully lit rotating Millennium Bridge and you can see why we've picked the Quayside."

Witness appeal after man injured in nightclub

Police are appealing for witnesses after a man was injured in a Yarm nightclub.

The 23-year-old man suffered a broken jaw, believed to have been caused as a result of an assault, early on Sunday morning, in the upper bar area of the Keys.

He was taken to James Cook University Hospital and has since undergone surgery.

Cleveland Police said officers are keen to speak to a woman who approached staff about the incident outside of the premises after it happened as she may have information which could assist the investigation.

Doggy auditions for Legally Blonde team

Two four-legged stars are being sought to tread the boards in South Shields.

The Customs House Summer School production of Legally Blonde: The Musical - is based on the novel by Amanda Brown and the 2001 film starring Reese Witherspoon, which has also been big on Broadway and the West End.

Its canine characters are Bruiser - a chihuahua owned by the star of the show - and English Bulldog Rufus, the pet of a manicurist she befriends.

People are being invited to bring their pets to the theatre to meet a judging panel on 1 August at 13:00.

Gareth Hunter, the show's director, said: "For Bruiser we need a chihuahua that is comfortable being carried around in a handbag and doesn't bark too much.

"Rufus is a walk-on role, so the dog won't be required for as many rehearsals.

"They need to be good with kids and loud noises and available for all of the shows and rehearsals."

Anthony Renton leukemia announcement prompts 'overwhelming' response

Middlesbrough FC says it has been overwhelmed by the response of the footballing world to the news that Academy player Anthony Renton has been diagnosed with leukemia.

The club said there had been an "outpouring of sympathy and encouragement".

The 18-year-old defender, who signed his first professional deal at the Riverside in April 2017, has been admitted to the Freeman Hospital in Newcastle for treatment.

Copyright: Middlesbrough FC

Six detained after immigration raids

Six people have been detained following a swoop by immigration officials at businesses in Northumberland.

Northumbria Police also took part in the raids - part of ongoing of Operation Kestrel - on Friday evening.

Four Bangladeshi men, who had outstayed their visas, were arrested at Miveshi Restaurant in Alnwick, and steps are now being taken to remove them from the UK.

Officers also visited China Cook in Blyth and arrested two people, both Chinese - a 32-year-old woman who had outstayed her visa, and a man who had entered the UK illegally.

Both are being detained pending their removal from the country.

Copyright: Northumbria Police

Posh sign ex-Premier League/Championship defender

Peter Swan

BBC Radio Cambridgeshire sport

Peterborough United have announced the signing of former Newcastle defender Steven Taylor.

The centre back made over 200 appearances in the Premier League and captained the England under-21 side.

Copyright: Joe Dent/Peterborough United

The 31-year-old joins Posh on a two-year deal after a spell with Ipswich Town and in the US Major League.

The club announced the signing in a video that some social media users are calling "cringe".

Make your own mind up...

Wedding cake scoffed by dog causes last-minute panic

A Labrador is in the bad books with her County Durham owners after scoffing a wedding cake on the couple's big day.

The bridesmaid's dog, Bella, demolished the three-tier chocolate cake - which cost £120 - just hours before the vows.

Donna McMahon, who woke up to find her pet sitting beside the wrecked cake, had to arrange a last-minute replacement.

The couple were only told about the mishap after the ceremony, and howled with laughter when they found out.

Ms McMahon said: "They were so specific about what they wanted, it was a really big part of the day, so we kept it from them.

"Once [my husband] Liam had arranged to pick up the brand new three-tier cake, and had it taken to the venue and I saw everything was OK, that's when I broke the news to them."