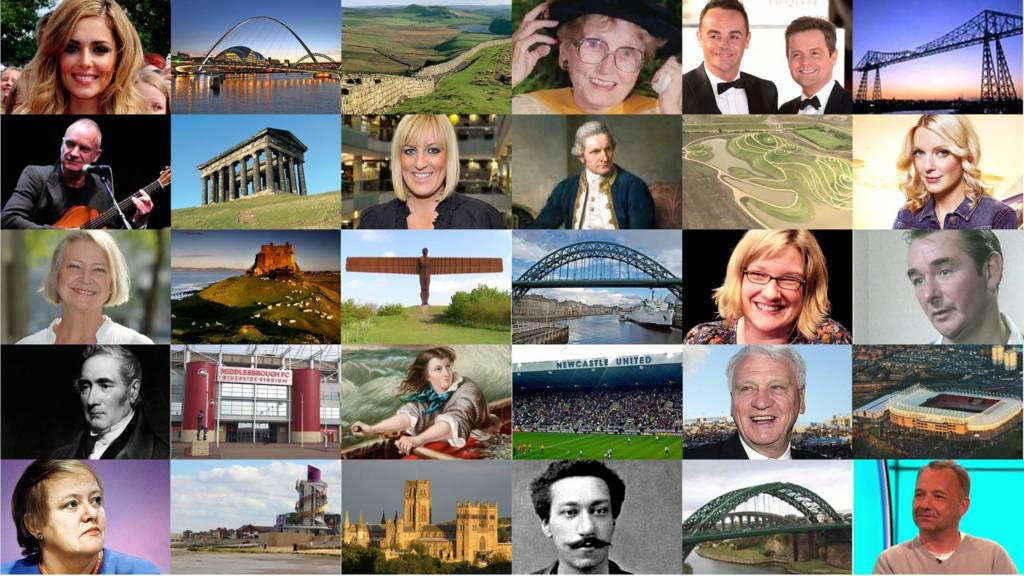 BBC Local Live: North East England
Our live coverage across the day

That's all from us for today - thank you for joining us.

You can still catch up with the latest news throughout the night on BBC Tees, BBC Newcastle, Look North, and online.

If you'd like to get in touch or share your North East pictures with us, you can do so on Twitter, Facebook, or via email.

We'll be back tomorrow from 08:00, have a good evening.

Seven motorbikes seized by police in Gateshead disorder crackdown

Northumbria Police have seized seven motorbikes in Gateshead as part of a crackdown on disorder.

Copyright: Northumbria Police

It comes as residents have complain about teenagers riding motorcycles at anti-social times and on public land - keeping many people awake at night.

Neighbourhood policing teams have found particular issues in the Felling, Mount Pleasant, Leam Lane and Staneway areas of the town.

Many of the bikes seized are uninsured, untaxed or do not have a valid MOT.

Neighbourhood officers have been visiting local schools to educate children on the law of off-road motorcycles and the offences committed.

Community raises £2,000 for burgled Darlington War veteran.

Kind-hearted fundraisers in Darlington have pulled together more than £2,000 for a 93-year-old war veteran and his wife who were robbed of their life savings.

Thieves broke into the couple's home in Parkside, Darlington, last month and escaped with cash and sentimental jewellery.

Stuart Allen, Richard Atkinson and Durham Police's special constabulary sargeant, Adam Hoskin,g decided to set up a crowdfunding page following the break-in.

The 93-year-old and his wife, aged 89, who wish to remain anonymous, thanked the generosity of those who set up and contributed to the page, saying:

Quote Message: Our thanks must also go to our family, friends, neighbours, carers and officers from the local police who did a great job in settling us down. Thank you to everyone who has given us valuable help and support."

Celtic FC to give £10,000 to Bradley Lowery charity

Celtic FC Foundation is to donate £10,000 in memory of Bradley Lowery.

Before kick-off on Saturday, club officials will make the donation to the Bradley Lowery Foundation.

The six-year-old from Blackhall Colliery lost his battle to neuroblastoma - a rare form of cancer - earlier this month.

His parents Carl and Gemma are now working to set up a charity to support families who need help to raising funds or equipment for treatments that are not available on the NHS.

Celtic FC Foundation chief executive Tony Hamilton said the club wanted to help:

Quote Message: The circumstances around this presentation are genuinely tragic and any parent's worst fear.

Quote Message: Through the fundraising efforts of many people associated with the club we are able to contribute in a small way, so that the next family affected by this terrible disease may have a different journey."

Medical graduate is third in family to qualify at Newcastle

A woman has become the third generation of her family to study medicine at Newcastle University.

Louisa Murray graduated this summer following in the footsteps of her mother, Dr Jennifer Lund and late grandfather, Dr John Fraser Lund.

She was one of 310 students to graduate with a degree in medicine.

Louisa's mother qualified from the University in 1985, and said she is very proud of her daughter:

Quote Message: It's a fantastic thing - it's a very hard course and very hard work.

Quote Message: It makes it extra special that Louisa is the third generation of our family to train at Newcastle University Medical School."

Copyright: Newcastle University

Louisa, 23, from Harrogate, will now stay in Newcastle to work with Northumbria Healthcare NHS Trust.She said there was never any pressure to study medicine:

Quote Message: Studying medicine is something I'd wanted to do from quite early on.

Quote Message: I've always felt quite drawn to it as a career as it offers so many opportunities. There are lot of different options to travel and meet different people, so it seemed like a good fit for me."

Police appealing to trace County Durham man not seen since yesterday

Police are appealing for help to find a Peterlee man who has not been seen since yesterday evening.

Peter Hodgson, 41, was last seen by family members at his home late last night.

He is described as being of large build, 6ft 4in with a shaved head, slight facial hair and several tattoos

He was seen wearing an Eddie Stobbart bomber jacket and may be driving a metallic blue 53-plate Renault Clio

Labour Party chair to speak at public meeting in north Cumbria

The chair of the Labour Party will tell activists in Cumbria that they can regain Carlisle and Copeland.

The party failed to win either seat at the last general election, with voters in most of the county's other constituencies swinging towards the Conservatives.

The MP for the North East constituency of Wansbeck, Ian Lavery, is set to tell the meeting at the Old Town Hall in Carlisle at 18:00 that his party is not far from forming the next government.

Copyright: UK Parliament (Used under Creative Commons Attribution 3.0 Unported license)

Port unveils new £6m crane

PD Port's new £6m ship-to-shore crane is now fully operational.

It's part of Teesport's growth plans, which have seen millions of pounds invested in state-of-the-art facilities, including a rail terminal.

PD Ports CEO Frans Calje said the crane will create a quicker service:

Quote Message: The addition of a fifth ship-to-shore crane will further enhance our service performance by reducing the time taken to transfer containers from port to road and rail for UK distribution."

Youth Newcastle United defender signs for Everton

A young Newcastle United defender has signed for Everton.

Lewis Gibson, 17, will join the U23 squad in Merseyside.

This fella is currently in a garden in West Rainton, County Durham.

Sue Dawson tells us it looks ok and is feeding on the ground.

Email us and we'll put you together.

Middlesbrough park closes due to vandalism

Louise Hobson

BBC Tees reporter

A park in Middlesbrough park has been forced to closed after it was damaged by vandals over the weekend.

The gates for the play area at the Manor Hub, Coulby Newham, have now been locked after what police said was "mindless vandalism".

Copyright: Cleveland Police

Quote Message: I think it's absolutely disgusting because my grandchildren and children use it and a lot of our family meet up here." from Gordon Williams Local grandfather

Coulby Newham ward councillor David Branson is encouraging people to report incidents like this to the police:

Quote Message: I'm very disappointed, I think it's really sad when a small minority of people wreck it for everybody else.

Quote Message: They should look at themselves, they're being very selfish, they are stopping other people enjoying themselves, stopping young children having the opportunity to come and play."

'No reasonable grounds' for Newcastle United tax fraud probe

Louise Hobson

BBC Tees reporter

High court judges have been told today that there were "no reasonable grounds for believing Newcastle was engaged in suspected tax fraud".

Officials from the club are challenging HMRC over the seizure of documents in April as part of an investigation into income tax and national insurance fraud.

West Ham United's ground was also raided.

The investigation focuses on football agents and payments made in transfer dealings between English and French clubs.

Newcastle's MD Lee Charnley was among a number of senior European football officials arrested and released without charge.

Richard Lissack QC, for NUFC, told Lord Justice Beatson and Mrs Justice Whipple the warrants were also unnecessary because other methods were available for obtaining information.