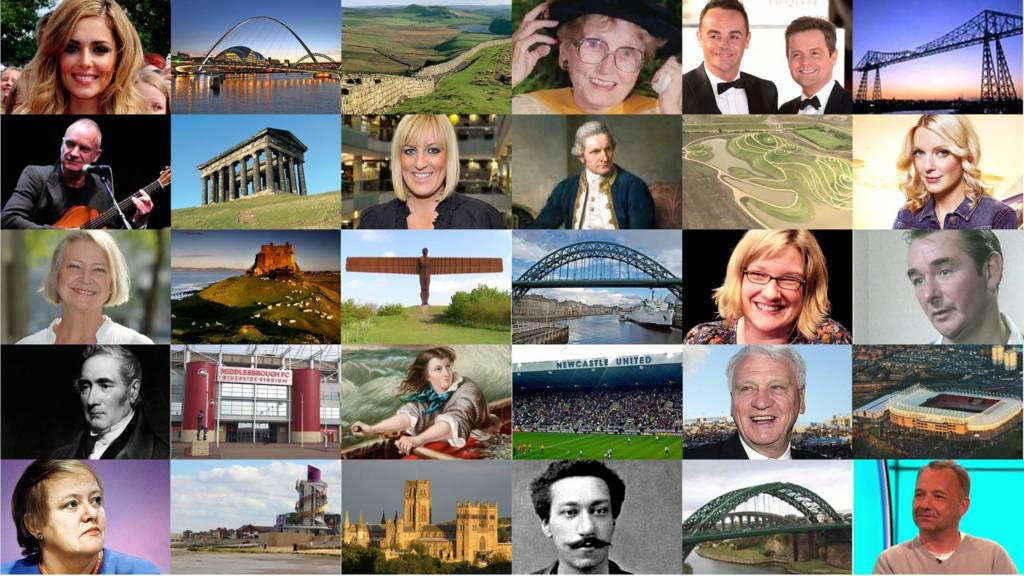 BBC Local Live: North East England
Our live coverage across the day

That's all from us here today - thank you for joining us.

You can stay in touch with the latest news overnight on BBC Tees, BBC Newcastle, Look North, and online.

If you'd like to get in touch with news or share your North East pictures with us, you can do so on Twitter, Facebook, or via email.

We'll be back tomorrow from 08:00.

Police force 'is tackling discriminatory behaviour'

BBC Tees

www.bbc.co.uk/BBCTees

Cleveland Police has already taken steps to show "discriminatory behaviour is totally unacceptable", Police and Crime Commissioner for the force Barry Coppinger said.

He also praised Mark Dias, the officer who has just received £500,000 from the force as compensation for being discriminated against, for "bringing about a change of culture within Cleveland Police" after he complained of racism.

Mr Coppinger said: "No member of police personnel should have to suffer discrimination. Actions speak louder than words and the steps we have already taken during this year send out the clear message that discriminatory behaviour is totally unacceptable."

He said steps taken include introducing new directorates and ethical codes across the force.

Discrimination payout force 'needs soul-searching'

BBC Tees

www.bbc.co.uk/BBCTees

Cleveland Police "desperately needs a review" after paying out £500,000 to a former officer who was discriminated against by the force, Tees Valley mayor Ben Houchen has said.

Mark Dias received the payout after the force admitted he was bullied, disadvantaged and put under unlawful surveillance.

Mr Houchen (pictured) said: "This is yet another example of why we desperately need a review of Cleveland Police.

"People want a force that does justice to the important work of our frontline officers – the women and men who are working around the clock to keep our streets safe.

"The force desperately needs to do some soul-searching so we can put this chapter to bed, and work to ensure our officers feel supported by an organisation which enjoys full public confidence."

The force has apologised to Mr Dias.

Sunset safaris held at Saltholme

BBC Tees

www.bbc.co.uk/BBCTees

A nature reserve is hosting a series of evening events for people to see what happens in nature when the sun sets.

Each Thursday and Sunday evening from 15:30 to 17:30 throughout November, RSPB Saltholme is hosting Sunset Safaris allowing visitors to watch wildfowl, waders and egrets heading to their roost sites for the night and the possibility of starling murmurations.

Dave Braithwaite, Saltholme site manager, said: "This is a very special time of year for nature lovers. The falling temperatures trigger mass migrations with late autumn and early winter offering a golden opportunity for bird enthusiasts. Nothing can describe the sight and sound of so many birds all moving together as one."

Booking for Saltholme's Sunset Safari is essential. Tickets are available from the reserve reception team on 01642 546625. Prices are £8 for RSPB members or £10 for non members.

University to hold rape victim support gig

BBC Tees

www.bbc.co.uk/BBCTees

A concert will be held at Teesside University to raise money for a charity which supports victims of rape and sexual violence.

Out of the Shadows will be held at The Hub on 24 November in aid of Arch North East.

The bands taking to the stage are Hartlepool's The Jar Family, Billingham's Mouses, Stockton's Head of Light Entertainment and Newcastle's Talk like Tigers.

All tickets purchased will include entry into the University's Hub Night Club, so the music doesn't have to stop when the gig does.

Weather: Dry but cold night ahead

Tonight should be dry with very little cloud and long clear periods allowing temperatures to quickly fall with the light winds.

A widespread slight frost will develop.

County Durham and Darlington's new fire dog has been hard at work and play today.

Fire engine leaves road and hits tree

Four firefighters were taken to hospital for "precautionary checks" after their vehicle came off the road and hit a tree.

No other vehicles were involved in the incident at Stocksfield earlier today.

Three further appliances were dispatched to the scene, along with police and the ambulance service.

A spokesperson for Northumberland Fire and Rescue Service said: "The cause of the accident is not yet known."

Firefighters were targeted with fireworks during a Bonfire Night call-out in Newcastle.

Renewed appeal to trace prison absconder

Anyone who may have seen John Henry Swales is asked to contact DS Louise Sproson from Cleveland Police.

New displays added to North East exhibition

An exhibition celebrating the North East is adding two new displays.

The Lost Dialect exhibition at The Word in South Shields was introduced to highlight the language spoken everywhere from schools to shipyards, much of which is no longer in everyday use.

It is now adding videos about the region's food history and childhood skipping games and rhymes of years gone by.

The Lost Dialect exhibition will be running until Easter 2018.

Police seek public's future funding views

Durham's Police and Crime Commissioner wants the public's views on future funding of the force.

Gang armed with bats and swords attacks trio

BBC Tees

www.bbc.co.uk/BBCTees

Three men have been attacked by a gang armed with swords and baseball bats, police have said.

The trio were attacked by a group of between five and seven men near the underpass close to Asda at South Bank in Middlesbrough at about 19:00 on Friday.

The suspects are described as being white males wearing hoodies and it is believed they were carrying swords and baseball bats, Cleveland Police said.

One of the victims aged 25, was taken to James Cook University Hospital where he received treatment for a fractured arm.

Another victim aged 49 was treated in the same hospital for a cut to his head and the third victim aged 26 was treated for bruises and cuts.

Police are appealing for witnesses.

Police make boy's birthday law-some

A seven-year-old boy's police-themed birthday party got a surprise visit from the real thing.

Ellis Hardy was celebrating his birthday at the Travelling Man in Boldon on Saturday when, at the request of his dad Keith, several Northumbria Police officers turned up with a card and present.

Copyright: Northumbria Police

Mr Hardy said: "Ellis absolutely loves everything about the police and has been talking for the past four years about joining the police when he is older.

"I honestly didn't think the officers would be able to make it so it was a great surprise on Saturday when they turned up. Ellis was over the moon and hasn't stop smiling since.

"It was a fantastic day and will certainly be a birthday Ellis will remember; we're not sure how we're going to be able to top this next year."

Breaking

Police pay former officer £500k over discrimination

Stuart Whincup

BBC Look North

A former Cleveland Police officer who was bullied, discriminated against and put under unlawful surveillance has received £500,000 in compensation.

Mark Dias (pictured) spent nine years with them before leaving in 2013 amid claims he had been 'discriminated against and disadvantaged' after he "stood up against institutional racism and wrongdoing" within the force.

Chief Constable Iain Spittal admitted the claims against the police and apologised to the former officer and his family for the hurt and distress caused.

Mr Spittall said Mr Dias had been "vindicated" and "is to be commended for his persistence in standing up for equality and integrity in policing".

Second teenager arrested over park rape

BBC Tees

www.bbc.co.uk/BBCTees

A second 17-year-old male has been arrested after a woman was raped in a Middlesbrough park.

The attack happened on 30 October sometime between 17:00 and 20:00 in Albert Park.

Both teenagers have been released while investigations continue.

Cleveland Police has additional patrols in the area around the park.

Firefighters attacked with fireworks

Firefighters in Newcastle have released a video which they say shows them being attacked with fireworks while tackling a blaze on a green.

Tyne and Wear Fire and Rescue said the crew was attacked in Fenham on 5 November.

Copyright: Tyne and Wear Fire and Rescue Service

Bus lane camera makes £2.5m

A controversial bus lane camera in Newcastle city centre took in £2.5m in just more than a year, the BBC has found.

The camera on John Dobson Street has now been suspended for having "inadequate" signs.

Between February 2016 and June this year it caught 92,000 people.

Disgruntled drivers won their case against the camera at a Traffic Penalty Tribunal in April but Newcastle City Council is appealing.

The council said: "This remains in the hands of the adjudicator and we must await the outcome before we can understand the implications and consider any actions which may be required."