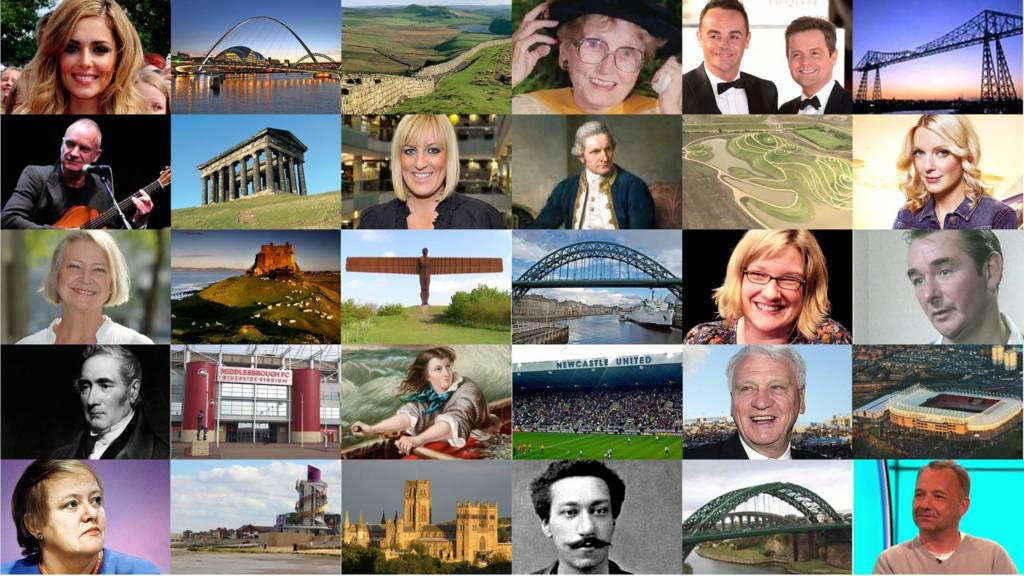 BBC Local Live: North East England
Daniel Wainwright

BBC News

Our live coverage across the day

That's all from us today - thank you for joining us.

You can stay in touch with the latest news overnight on BBC Tees, BBC Newcastle, Look North, and online.

If you've got a story or a picture you'd like to share with us you can tweet us @BBCNewsNE, email or contact us via Look North's Facebook page.

We're back tomorrow from 08:00.

Council announce parking improvements for Berwick

Northumberland County Council has released plans for further car and coach parking in Berwick.

Copyright: Northumberland County Council

After residents disapproved of plans to turn Chapel Street into four bus parking bays, a new planning application has been submitted for it to be permanently turned into a 22-space car park.

A long-stay coach parking area is under construction at the Swan Centre and is expected to take three weeks to complete.

Finally a short-stay coach parking facility will be created on Walkergate.

Quote Message: This current solution shows that we are listening to the concerns of residents and businesses, as well as continuing to promote the town's tourist sector." from Catherine Seymour Councillor, Berwick North

Cleveland and Durham launch operation to crackdown on dangerous drivers

Cleveland and Durham police are launching Operation Dragoon tomorrow to crack down on dangerous drivers.

It follows the success at Northumbria Police and will target the criminal and anti-social use of the roads in the region.

Copyright: Cleveland Police

Quote Message: We are continuing to identify and deal with high risk drivers; including those driving dangerously, without insurance, driving whilst disqualified or under the influence of drink or drugs, who pose a serious risk to themselves and innocent drivers. Their thoughtless behaviour will not be tolerated." from Graham Milne Chief Insp

Middlesbrough Council considering options for new headquarters

Middlesbrough Council is considering proposals to leave its current headquarters and create a new city centre base.

It's all in a move to reduce property costs and work more efficiently.

The council says that the current building requires about £6.5m over the next five years, and that maintenance costs will rise to £20m over the next 35 years.

The current Civic Centre building was built in the mid 1960s and has been the council's main hub for more than 50 years.

A report on the future of the centre will be considered at a meeting of Middlesbrough Council's executive a week today.

We've seen a lot of bad news about the cold snap, but look how beautiful Butterburn Waterfall is today.

Thanks to Anna Joy Brady for sending this in:

Copyright: Anna Joy Brady

Have you got any photos you'd like to share with us?

In that case you can tweet them to @BBCNewsNE, email, or contact us via Look North's Facebook page.

'It's not rocket science'

Newcastle v Everton (Weds, 19:45 GMT)

Newcastle have dropped dramatically in the PL table having lost six out of the last seven league games.

Here's more from Rafa:

"The festive period is always crucial. But it will be crucial in January, in April. Every game is important. We have to go and try to get three points in the next game.

"Hopefully we will win and things will be easier. We don't need to think about a run of games, losing or winning. We concentrate on the next one and see after that.

"Some games we are the youngest team in the Premier League. We have to learn quickly. This team is working very hard. Little things we have to improve and we will be stronger."

"We know our job. Everyone has an opinion. It's not rocket science - we need players in some positions. If we can, fine, if not, we will have to work harder."

Masterchef competition hots up in North East kitchen

Tomorrows episode of Masterchef is coming to the North East to put eight contestants through their paces.

The semi finalists of the cooking competition will be put through their paces by James Close at The Raby Hunt near Darlington.

The chefs will prepare his tasting menu during a packed lunchtime service and then replicate one of his signature dishes.

House price changes across the North East

Figures released by the Office for National Statistics show that house prices across the UK have grown by 4.5% in the year to October.

The East Midlands had the highest level of growth, with prices rising at three times the rate of London.

The table below shows how house prices have changed in local authority areas across the North East.

Copyright: Office for National Statistics

Flog It! filming at Durham college

We told you earlier the BBC antiques programme Flog It! is being filmed at Ushaw College, near Durham.

Anyone can go along with any antique or family heirloom and have it valued for free.

Looks like the team are hard at it:

Teesside charity donates £3,000 of presents to Salvation Army

A Teesside charity has donated £3,000 worth of presents to the Salvation Army in Middlesbrough.

The Boro Walkers Association were celebrating the end of a very successful year raising more than £100,000 for good causes across the region, when they received further donations of about £4,000.

Missing County Durham school boy found

Missing 14-year-old Cameron Pearlman from Wynyard has now been found.

Appeal for missing County Durham schoolboy

Police are appealing to trace missing schoolboy Cameron Pearlman.

Copyright: Cleveland Police

The 14-year-old was last seen in Wynyard at about 09:00 this morning.

He is about 5ft 4in with short wavy light brown hair and braces.

Post update

Newcastle v Everton (Weds, 19:45 GMT)

Newcastle team news.

Here's Rafa Benitez: "Jamaal Lascelles was nearly there (on Saturday). Having players with character and personality when things aren't going wrong is good. I haven't picked the team yet.

"Paul Dummett is getting better but still we have to wait. If everybody is available, hopefully we can be as solid as we were earlier in the season."

Rugby league fans from around the world will be descending on Newcastle in 2018

Rugby league fans from around the world will be descending on Newcastle next summer after the fixtures for the magic weekend were announced.

The Toronto Wolfpack and Toulouse Olympique XIII will be kicking off the two-day event at St James' Park.

Seven championship games will be played in Newcastle from 19 May.

How have house prices changed in your area?

Latest figures from the Office for National Statistics have found that across the UK house prices had grown by 4.5% in the year to October.

But how does this compare to our region?

North East prices increased by 2.4% whereas the highest rise was 7% in the East Midlands, the smallest growth was in London, which in the same period was 2.1%.

Police welcome sentence for owner of dangerous dog which attacked 12 children.

Police have welcomed the four-year sentence handed to the owner of a Staffordshire Bull Terrier which bit 12 children in a park.

Claire Neal, 38, from Blyth was jailed after Marley got into a park in May 2016, leaving 12 youngsters requiring hospital treatment.

Copyright: Northumbria police

The dog was seized by police and destroyed following an investigation.

Speaking outside of Newcastle Crown Court PC Craig Arkley from Northumbria Police said: The court has recognised the serious harm done to the children and families and we are pleased by the sentences handed down.

"I hope it will remind all dog owners to make sure their pets are appropriately looked after and not put in a position where they can harm others."

St James' Park sign blunder

Louise Hobson

BBC Local Live

Great news! St James' park has received some new signs to help guide fans on match days.

Bad news, there appear to be some spelling mistakes.

Take a look at what BBC Newcastle's Sunderland AFC commentator found...