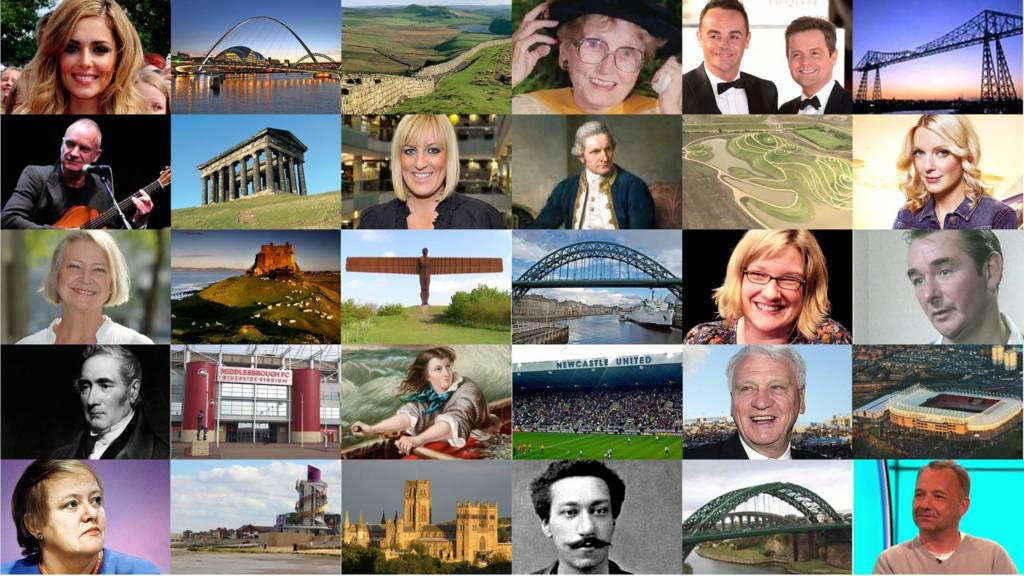 BBC Local Live: North East England
Summary
Updates on Monday 18 December 2017
Our live coverage across the day

That's all from us for today - thank you for joining us.

You can stay in touch with the latest news overnight on BBC Tees, BBC Newcastle, Look North, and online.

If you've got a story or a picture you'd like to share with us you can tweet us@BBCNewsNE,email, contact us via Look North'sFacebook page.

We're back tomorrow morning.

Severe accident: A69 Northumberland eastbound

BBC News Travel

A69 Northumberland eastbound severe accident, between A686 and B6531.

A69 Northumberland - A69 blocked and queuing traffic eastbound between the A686 junction in Haydon Bridge and the B6531 junction in Warden, because of a multi-vehicle accident. Diversion in operation.

To report traffic and travel incidents dial 0330 123 0184 at any time

Weather: Mostly dry tonight

It will be mostly dry overnight, but with some low cloud developing, especially on the hills where the odd spot of drizzle can't be ruled out. Possible frost in some sheltered eastern parts.

Minimum Temperature: 1C (34 F).

Tomorrow will be a mild, but increasingly breezy day with some bright or sunny spells in the east. However low cloud may bring some patchy fog and drizzle to the hills.

Maximum Temperature: 10C (50F).

Durham Employment Project one year in

An employment project in County Durham which helps local people find work or training has marked its first year of operation.

Of the 29 people who joined the Stepping Stones project in 2017, nine have found jobs, two have taken up apprenticeships, five have moved into further training and seven are volunteering.

The course is run by County Durham Housing Group in partnership with the Auckland Project. It is is free to attend, and focuses on improving self-confidence and interview skills, which are seen as hurdles to re-entering employment after a period out of work.

Photographer jailed for child sex attack

A photographer, acquitted of sexually assaulting a teenage girl eight years ago, has been jailed for similar attacks on two other victims.

James Swan, 46, was cleared in December 2009 of a sex attack on the teenager at his home in Rookhope, County Durham.

But when two further victims - one aged just 13 - made similar complaints last year, the father-of-two was arrested.

He was jailed for five years at Teesside Crown Court for offences including sexual activity with a child.

Sonny Stephenson death: Man warned of 'lengthy sentence'

A man who admitted killing a 17-year-old motorcyclist who died in a crash has been warned to expect a "lengthy prison sentence".

Matthew Buckworth, 34, denied murder but admitted the manslaughter of Sonny Stephenson, who was killed in the crash in Guisborough, Cleveland, in August.

At Teesside Crown Court, Buckworth, of Charlton's Garth, Guisborough, also admitted attempting to assault a passenger on the bike.

Buckworth will be sentenced on 26 January.

Copyright: CLEVELAND POLICE

Benitez 'key to Newcastle takeover'

TV's Scarlett Moffatt has a selfie warning for young girls

County Durham reality TV star Scarlett Moffatt is urging people not to believe all they see on social media.

The 2016 winner of I'm A Celebrity Get Me Out Of Here from Bishop Auckland posted two selfies side by side on Instagram showcasing two very different looks, along with a warning for young girls.

In one picture a natural-faced Scarlett smiles into the camera. The other shows the TV personality in full make-up with her features accentuated by a Snapchat filter.

Copyright: SCARLATT MOFFATT

"To all all you young girls (and older ladies) out there don't believe all you see on social media," she posted on Sunday.

"This goes to show what make-up and a filter can do. Love who you are and don't compare yourself to anybody else. As Dr Seuss once said.... Today you are You, that is truer than true . There is no one alive who is Youer than You."

Warning after Norovirus arrives in hospitals

Damian O'Neil

BBC Look North

Norovirus, often referred to as the "winter vomiting bug", has arrived at hospitals in Northumberland and North Tyneside.

The virus usually starts with a sense of feeling unwell, followed by vomiting, and watery, loose diarrhoea.

Depending on the person, it can also include stomach cramps, general aches and pains, headaches and fever. It is highly contagious and can spread at incredible speed in a number of ways.

People are being urged not to visit the hospitals unless it is absolutely necessary. Medical Director Jeremy Rushmer says "Every year we are affected by norovirus to one degree or another - this year is part of that pattern. If someone you know has symptoms of norovirus do not visit - you risk causing harm to them, yourself and those close to you. If you have symptoms yourself - stay away. There is no cure; you just have to wait it out."

Nobody who has suffered with Norovirus in the past will need to be told twice.

'Dramatic' origin of fairy lights revealed

Damian O'Neil

BBC Look North

Do you often wonder where the idea for fairy lights on your Christmas tree came from?

An energy expert from Newcastle University has the answer.

Dr Sara Walker says it was at the Savoy Theatre in London that the term "fairy lights" was first coined. Opened in 1881, the Savoy was the first public building in the world to be lit entirely by electricity and was fitted out with 1,200 incandescent light bulbs created by North East inventor Sir Joseph Swan.

A year later, Swan was commissioned by the theatre's owner, Richard D'Oyly Carte, to create miniature lights for the dresses of the lead fairies on the opening night of Gilbert and Sullivan's "Iolanthe".

So now you know.

You can see more on this on BBC TWO's "Inside the Factory" Christmas Special tonight at 19:30.

Plea to help poorly Hartlepool boy

The family of a Hartlepoool youngster battling a mystery condition are hoping the community will rally round to help him in his fight for independence.

Copyright: HARTLEPOOL MAIL

North East universities reach out to foreign students

Damian O'Neil

BBC Look North

Three of the region's seats of learning have signed up to a pilot scheme allowing easier access for international masters students.

Newcastle, Durham and York universities have joined more than 20 others around the country in the "Tier 4 Visa" pilot.

It confers responsibility for carrying out eligibility checks onto the universities themselves, meaning students have to submit fewer application documents overall.

The most recent Home Office statistics show that the number of students applying for visas increased by 8% over the past year, and there has been a 9% increase in the number of students applying to Russell Group universities.

The 23 universities taking part in the scheme were selected as their visa refusal rates are consistently the lowest in their area or region.

'I'd sit at my desk and not be able to stop the tears rolling down my face'

When it comes to subjects people feel they can talk about openly at work, it seems mental health far from being at the top.

When asked to select from a list, 36% said they would open up about a physical health matter, 26% about money problems and 18% about sex - while just 13% selected mental health illness.

For Natalie Hall, 36, the fear that she might lose her job with Northumbria Police or not be trusted in her day-to-day judgements was a barrier to talking openly to colleagues about her depression and anxiety disorder.

Copyright: Time to Change

Black Cats fans' delight as Sunderland secure home win

It has taken almost a year but Sunderland have finally won on home soil, and boss Chris Coleman was delighted to end the home hoodoo.

Copyright: SUNDERLAND ECHO

North East maritime town beats shandy-drinking southern commuter belt

Damian O'Neil

BBC Look North

In an often-confusing housing market full of variables, the port town of Blyth in Northumberland has seen off stiff competition from some of the poshest districts of the country when it comes to house prices.

This does not mean Blyth is suddenly overtaking Camberley in absolute values, but then you probably knew that already.

However, where the affluent Surrey town has seen the largest proportion of discounted houses for sale (nearly 54% with an average drop of £30,382), only 26% of houses in Blyth have been reduced by an average of £10,257.

Overall, the national survey released by property website Zoopla shows that prices in parts of Scotland and the North of England are holding up rather better than the south.

Middlesbrough is the exception, where nearly half the houses for sale (48.24%) have been reduced by an average of £11,534.

Daughter of former Middlesbrough coach killed in car crash

BBC Tees

www.bbc.co.uk/BBCTees

Middlesbrough fans have been sending condolences to the club's former goalkeeping coach Leo Percovich, who's lost a daughter in a car crash in Brazil.

Percovich is in hospital along with his wife, who were both in the vehicle along with two other children whose condition is described as "critical".

He joined the Teesside club in 2013 and spent three-and-a-half years there.

Warning issued on coastal stretch suicide spot

BBC Look North

North East and Cumbria

Some say it's become a blackspot for accidents and suicides - and now one man living near Marsden Grotto, on South Tyneside, wants to set up a centre to improve things.

Phil Brown claims more and more people are falling to their deaths in the area.

He's told BBC Newcastle he wants to set up a centre dedicated to educating people about the dangers.