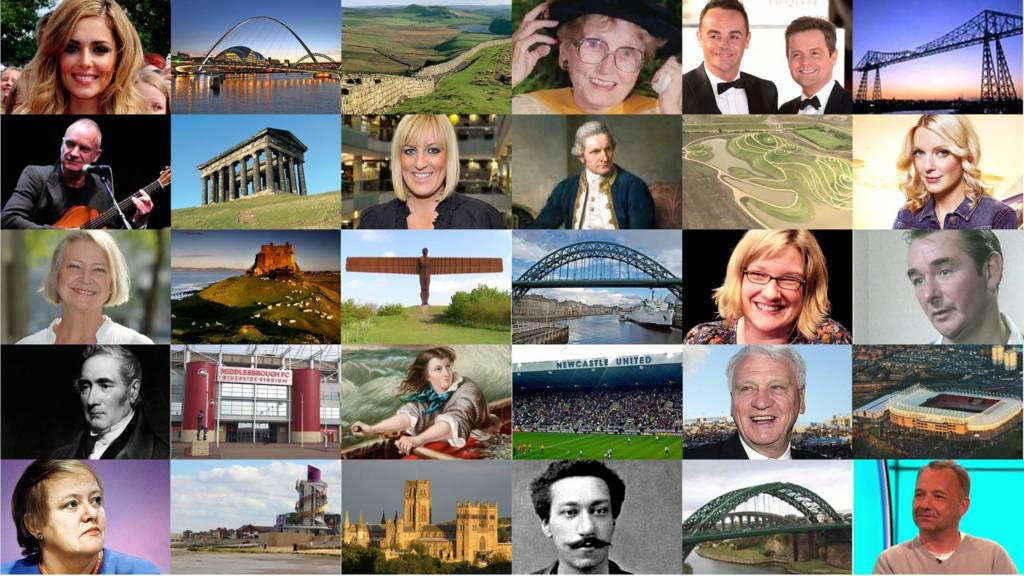 BBC Local Live: North East England
By Saj Chowdhury

BBC Sport

Weather: Cloudy and light rain

Staying cloudy over the hills with fog and patchy light rain.

More cloud filling in slowly further east but mist or fog patches will form where clear skies persist.

Woman assaulted in Middlesbrough

A woman was hit by a man riding a bike outside of House of Fraser in Middlesbrough yesterday.

Police are treating the incident as an "assault". The suspect then cycled off to Newport Road, towards the bus station.

As a result, the victim received treatment at hospital for minor injuries and police are now appealing for witnesses.

Watch: A Christmas for international students

This is how almost 200 Durham University students will spend Christmas day.

Twenty-one people now held over bar drugs allegations

In total 21 people have been arrested by police probing drugs allegations involving a number of bars in Newcastle.

They have all been released while investigations continue.

Madame Koo, House of Smith and Florita's, on Collingwood Street, and The Empress, at The Side, were issued with 48-hour closure notices on Monday.

South Tyneside Magistrates' Court has now ruled that The Empress should be shut for 14 days.

A decision on the Collingwood Street bars will be made on 28 December.

Drugs and imitation firearm seized

Drugs and an imitation firearm have been seized by Northumbria Police.

Two people were also arrested linked to an investigation into the supply of Class A drugs at bars and nightclubs in Newcastle.

Madame Koo, House of Smith and Florita's, on Collingwood Street, and The Empress, at The Side, were issued with 48-hour closure notices on Monday.

Copyright: NORTHUMBRIA POLICE

Copyright: NORTHUMBRIA POLICE

There are currently delays on trains running between Byker and Longbenton.

Unpopular flight axed after just three months

An airline is stopping its service between Norwich and Durham because not enough passengers booked flights.

Loganair began flying between the cities in October, but said it was not "economically sustainable".

"The route wasn't performing in line with expectations with no signs of improving, so we've regrettably taken the decision to withdraw the service from January 7th," a spokesman said.

Loganair is the lead operator at Norwich International and described the airport as a "key priority".

Passengers with tickets are eligible for a full refund.

Norovirus continues to impact patients and staff hospital across the North East.

Visitor restrictions have been put in place, but outpatient services are unaffected.

Today:
Full visitor restrictions remain in place except in cases of relatives visiting patients receiving end of life care.

Tomorrow:
Visitor restrictions will be partially lifted for unaffected wards.
The following are closed and will not be open to visitors tomorrow:
Wansbeck General Hospital: Wards 5 and 9, North Tyneside General Hospital: Wards 15, 18 and 24, The Northumbria (Cramlington): Wards 3, 4, 10 and ITU (critical care), Hexham General Hospital: Ward 2.

Merry Christmas from BBC Newcastle

Here's a festive treat for you to enjoy.

Did you witness this crash?

Two drivers were left with serious injuries after a crash in Gateshead.

The collision happened on Windy Nook Road, at 14:30 last Friday, when a Black Vauxhall Corsa collided with a Red Vauxhall Agila.

Both drivers were taken to hospital and police are now appealing for witnesses.

Merry Christmas and a warning from Durham police

Durham Police's dog Spike is warning everyone out there not to "over indulge" today.

Watch: Santa's reindeer get ready for Christmas

Meet the North East reindeer getting ready to work with Santa.

Deadline day for steelworkers' pension transfer

BBC Tees

www.bbc.co.uk/BBCTees

Today is the deadline for thousands of current and former steelworkers - including many on Teesside - to decide whether or not to join the new Tata-backed pension scheme.

British Steel Pension Scheme (BSPS) members will automatically go into the Pension Protection Fund if they do not ask to move.

Earlier this month, a group of Teessiders gave evidence to a committee of MPs amid concerns that changes to their pensions would see thousands lose out.

As last-minute Christmas presents go...

If you're looking for a last-minute Christmas present then this might just be the perfect gift for the football fan in your life... Hartlepool United have been put up for sale.

Owners Sage Investments say they've taken the club as far as they can and want to hear from potential investors.

Sage has bankrolled Pools since taking full control in June.

The club might cost more than the pair of socks or wooly jumper you'd normally buy, but we reckon it'd still be a fair bit cheaper than the £300m Mike Ashley wants for Newcastle United.