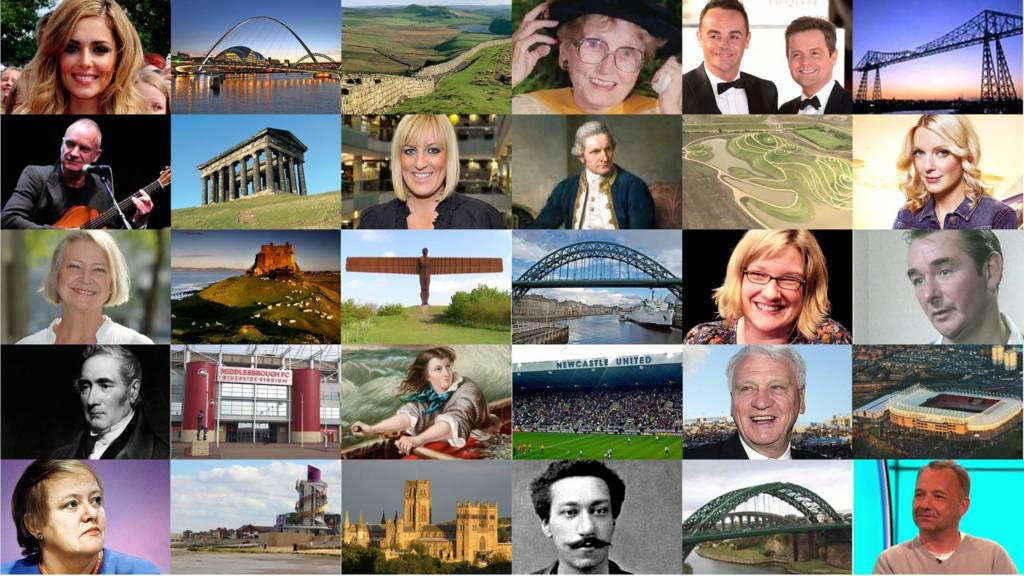 BBC Local Live: North East England
Man held over murder of mother-of-six found dead

A man charged with murdering a mother-of-six has been found dead in prison.

Liam Murray was on remand at HMP Durham after he was charged with murdering Stacey Murray, 34, formerly known as Stacey Cooper.

Police were called by the ambulance service to an address in Malham Gill, Redcar, Teesside, on New Year's Eve, where they found her body.

Mr Murray had appeared in court and his case was due to be heard later this month. He was found dead on Tuesday.

The 27-year-old, of Whitby Avenue, Guisborough, was also charged with possession of a knife.

Copyright: Cleveland Police

A Prison Service spokeswoman said: "Our thoughts are with his friends and family.

"As with all deaths in custody, there will be an independent investigation by the Prisons and Probation Ombudsman."

Breaking

Trial date set for man accused of terror offences

A trial date has been set for a man accused of terror offences.

John Nimmo, 31, of Osborne Avenue in South Shields, appeared via videolink at Liverpool Crown Court today.

The court heard he is charged with three offences under terrorism legislation, two under the Public Order Act and one count of breaching a criminal behaviour order.

Nimmo, who spoke to confirm his name, date of birth, address and nationality as English, is accused of possessing document The Anarchist Cookbook and is alleged to have provided a web link that enabled others to read a terrorist publication.

He is also accused of publishing material online which allegedly encouraged the public to commit acts of terrorism and which was intended to stir up racial hatred.

Judge Mr Justice Sweeney said a plea hearing would be held at Newcastle Crown Court on 30 March and a trial date was set for June 15.

Mr Nimmo remains on conditional bail.

How do you feel about where you live?

A study in Sunderland hopes to find out what effect upgrading run-down historic buildings has on local people.

Historic England has commissioned Newcastle-based research consultancy ERS Ltd to assess the impact of the Sunderland Heritage Action Zone Initiative on people's wellbeing.

The Heritage Action Zone initiative is reviving the high streets of Sunderland focusing on Fawcett Street, Church Street, High Street East and High Street West.

Many historic buildings in this area have fallen into disrepair and disuse.

Historic England says that by funding repairs, finding new uses for empty buildings and engaging the community, the initiative aims to stimulate economic growth.

The organisation says that the research will try to find the effect on people of improvements to historic buildings

Inspection work to close bridge to traffic

Queen Alexandra Bridge in Sunderland is set to close for a week for a routine inspection.

Traffic will be unable to cross between 27 January and 3 February, although it will remain open for cyclists and pedestrians.

The survey, which will including rope access work and riverside inspection by divers, will record the current condition of the Grade II-listed structure and recommend appropriate maintenance.

The last major works on the bridge, which is 111 years old this year, were in 2005-06 when the deck was resurfaced and its steelwork refurbished and repainted.

Amy Wilson, cabinet member for environment and transport, said: "Just like house and property maintenance or a car with its MOT, structures such as the Queen Alexandra Bridge have routine inspections which inform maintenance activities.

"To complete the survey in an appropriate timescale and in a safe working environment for the inspection team, there needs to be full access to all of the structure.

"Therefore it is necessary to have complete closure to road traffic."

Industrial site 'more suited to business than housing'

A proposal to buy a "critical" employment site is to go before councillors in Stockton.

The 26-hectare area, at Durham Lane Industrial Park in Eaglescliffe, is being eyed by national housing developers, so the council's cabinet is considering purchasing it to "secure its future as a place for business and jobs".

If agreed during a meeting in February, the purchase would be paid for with money from the Tees Valley Combined Authority's Indigenous Growth Fund.

Bob Cook, leader of Stockton-on-Tees Borough Council, said: "This particular site is a critical employment site, sitting directly alongside big industrial leaders like Nifco and Tata Global Beverages and offering an ideal location for more big industrial firms like these.

"It is already earmarked for employment use in the Borough's Local Plan, and buying it now would enable us to safeguard its future for that very use amid interest from housing developers."

Tees Valley Mayor Ben Houchen said: "There is a need for new houses across the Tees Valley, but I've always said they must be the right type of homes in the right places.

"This site by Durham Lane Industrial Park is much more suited to supporting our risk takers, our innovators and our job creators than it is to housing."

Redcar house death: Man accused of murder dies in prison

A man accused of murdering a Redcar woman who was found on New Year's Eve has been found dead in prison.

The body of Stacey Murray, 34, formerly known as Stacey Cooper, was discovered by emergency services called to an address in Malham Gill, Redcar, Teesside.

Liam Murray, of Whitby Avenue, Guisborough, was charged with murder as well as possession of a knife

Copyright: Cleveland Police

He had yet to enter a plea and was in custody at Durham Prison. He was due to appear in court at the end of this month.

However, the 27-year-old was found dead on Tuesday.

A Prison Service spokesperson said there would now be an independent investigation by the Prisons and Probation Ombudsman.

Tour de Yorkshire to finish in Redcar

The official route for the 2020 Tour De Yorkshire has been revealed this morning.

Redcar had previously been revealed as host town but it has now been confirmed that the riders will pass through Easington, Loftus, Carlin How, Brotton and Marske before finishing on The Stray in Redcar.

The finish is expected to be mid to late afternoon on 30 April.

The seaside town is the most northerly location for the race.

Other host towns include Barnsley, Beverley,Leeds and Leyburn.

Last year, the event attracted a record 28 million television viewers, and brought in nearly £60m to the economy.

Tour de Yorkshire 2020: Stage One route revealed

The route of first stage of the 2020 Tour de Yorkshire has been released.

Copyright: Tour De Yorkshire

Starting in Beverley on 30 April, the route will take in Hornsea and then head up the east coast to Bridlington.

From there cyclists will pass by Whitby Abbey and into Robin Hood's Bay and on to Redcar, where the 176.5km stage will finish.

Tour de Yorkshire 2020: Stage One route revealed

The route of first stage of the 2020 Tour de Yorkshire has been released.

Copyright: Tour De Yorkshire

Starting in Redcar on 30 April, the route will take in Whitby Abbey and Robin Hood's Bay, before heading down the east coast towards Bridlington.

From there cyclists will pass through Skipsea and Hornsea before the route cuts inland towards Beverley, where the 176.5km stage will finish.

Two North East councils call for change in alcohol law

Two North East councils are backing calls for a law which would ban strong alcohol being sold at "pocket money prices".

Sunderland City and South Tyneside Borough councils support an MUP - that's a minimum price for every unit of alcohol in a drink.

It already exists in Scotland where a unit of alcohol costs at least 50p.

Sheffield University research says a similar rule in England would save hundreds of lives over 20-years in Sunderland and South Tyneside and save their local NHS services more than one and a half million pounds a year.

Witnesses sought to railing car crash

A man was left in a critical condition after his car crashed into railings in Boldon Colliery.

The 48-year-old was driving a Mercedes which left the road in the early hours of yesterday.

He suffered severe head injuries and remains in hospital where his condition is described as critical but stable.

Northumbria Police has appealed for witnesses to the collision which happened on New Road, close to Boldon School, at 03:00.

Quote Message: We are committed to finding out the cause of the collision, and we are now appealing for anybody who witnessed the incident or who saw the Mercedes in the moments before to get in touch." from Sgt Lee Butler Northumbria Police Motor Patrols Unit

Bishop Auckland MP vows to reduce violence

The new Conservative MP for Bishop Auckland has vowed to champion policies to reduce violence.

Dehenna Davison told the Commons how when she was 13 her father was killed by a single punch from a man who admitted he was high on drink and drugs.

She thanked the NHS staff who fought to save him, and told MPs she wanted now to use her time in office to push for policies to help educate disadvantaged young people, rehabilitate offenders and give the police the resources they need to do their jobs.

Copyright: Conservative Party

Metro delay figures during strike action revealed

Daniel Holland

Local Democracy Reporter

The extent of Metro delays during the recent industrial dispute with train drivers has been revealed.

Latest figures show that only 73% of Metro services arrived on time in the network's latest four-week monitoring period between the 8 December and 4 January, which includes a two-day shutdown caused by an RMT union strike.

The industrial action was halted on 27 December after a breakthrough in negotiations, with a new contract agreement expected to be formally put to ballots of RMT and Aslef union members later this month.

A Nexus spokesman said: "Metro performance and punctuality is something we are continually working to improve.