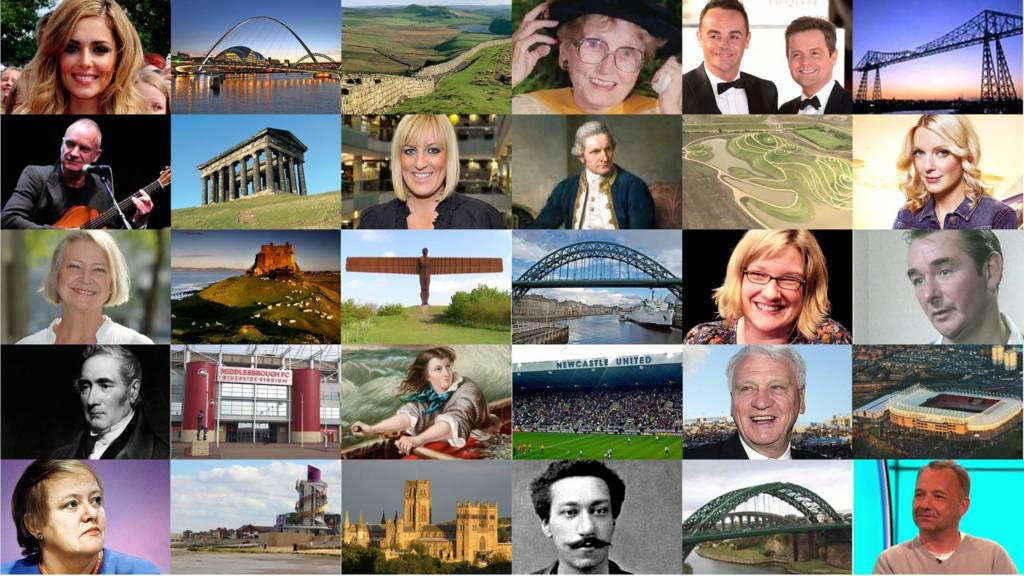 BBC Local Live: North East England
Student 'crushed' in tragedy at club

Students told of their horror after a woman is believed to have been crushed to death outside a nightclub.

School 'shocked' at death of former head girl

Bournemouth School for Girls has said it is "shocked and saddened" at the death of former head girl Olivia Burt.

The 20-year-old, from Milford-on-Sea, died from head injuries in a crush involving a barrier outside a nightclub in Durham on Wednesday.

She was in her first year of studies at Durham University.

Quote Message: Olivia was a model student in every way. She carried out her role of Head Girl with distinction and was also a talented sailor. We will all remember her with enormous pride and affection. from Alistair Brien Headteacher, Bournemouth School for Girls

Stuart used a kidney swap with another couple to save his wife Andrea's life.

Dippy the diplodocus to visit Newcastle

After 112 years at London's Natural History Museum, Dippy the dinosaur has started a UK tour with the first stop in Dorset.

The 70ft-long (21m) replica of a diplodocus has 292 bones.

It only just squeezed into Dorset County Museum in Dorchester, with just 4in (10cm) to spare.

The tour, which ends in late 2020, will also take in Newcastle and Birmingham.

Weather warning in place for ice and snow

Owain Wyn Evans

Weather presenter, BBC Look North

We do have a weather warning in place - a yellow be aware one - for ice and snow.

But rain should clear those snow showers and it will brighten up across the North East and Cumbria and hopefully we shall see some sunshine.

It should remain dry this evening.

Check out the weather near you.

Good morning. Welcome to our live coverage

Good morning and welcome to BBC Local Live.

We'll be with you throughout the day to bring you the latest news, weather, sport and travel updates from across the North East.

Have you got any photos you'd like to share with us? In that case you can tweet them to @BBCNewsNE, email them, or contact us via our Facebookpage.

Severe disruption: A167(M) Tyne And Wear northbound

BBC News Travel

A167(M) Tyne And Wear northbound severe disruption, at A186 City Road.

A167(M) Tyne And Wear - One lane closed and very slow traffic on A167(M) northbound in Newcastle Upon Tyne at A186, Swanhouse Roundabout, because of a broken down vehicle.

To report traffic and travel incidents dial 0330 123 0184 at any time

The 70ft-long (21m) dinosaur replica only just squeezed into its new home in Dorset.

Our live coverage across the day

That's the end of our live coverage today.

You can keep up to date with what's happening with BBC Newcastle, BBC Tees and Look North.

This page will continue to be updated with any breaking news and travel.

We'll be back with updates at 08:00 tomorrow morning.

Have a safe journey home and a nice evening.

Buses to be fitted with new engines to tackle pollution

A £3m scheme will aim to improve air quality on Tyneside by cutting harmful emissions from buses.

Almost 200 vehicles operating on 20 routes in Newcastle, Gateshead, and North Tyneside will be fitted with new engine technology, which significantly reduces levels of pollutants.

It will help to address excessive levels of nitrogen dioxide on roads such as the Tyne Bridge, and parts of the Coast Road and Central Motorway.

The new technology will be fitted to the buses over the next 12 month on the Stagecoach, Go North East and Arriva buses.

Funding for the project was announced earlier at the UK Bus Summit in London.

Men in CCTV footage south over robbery

These four men are being sought after a robbery in Ellison Place in Newcastle.

The attack took place on January 21, at about 00:30 when a 27-year-old man was knocked unconscious and his mobile phone was stolen.

The men in the image were in the area at the time.

Anyone with information should contact Northumbria Police.

Copyright: Northumbria Police

Your photos: Sunrise at Whitley Bay

We have had some beautiful red skies over the last week. Press Association took this off Whitley Bay.

It shows the Scarlett Manx Bulk Carrier off the coast.

Have you got any photos you'd like to share with us? In that case you can tweet them to @BBCNewsNE, email them,or contact us via our Facebook page.

Aung San Suu Kyi will be stripped of freedom of Newcastle

Councillors have voted to strip Aung San Suu Kyi of the Freedom of Newcastle, seven years after she received the honour.

Council leader Nick Forbes started the process at a meeting last night, in protest at the plight of the Rohingya people, who are being persecuted in Myanmar, which was formally called Burma.

The politician has faced international criticism over her failure to speak out and act against the persecution of the Rohingya Muslim minority. You can read more about the crisis here.

It's the first time there has been a proposal to revoke a Freedom of the City award in Newcastle.

Woman duped maggot-filled rubbish

A Sunderland fly-tipper was snared after a letter addressed to her was found among maggot-filled household rubbish dumped on a green space where children play.

Copyright: SUNDERLAND ECHO

Serial sex offender back behind bars

A serial sex fiend who was living under a different identity attacked a woman after he smashed his way into her home then lay in wait for her to return.

Copyright: SHIELDS GAZETTE

Brian Meechan

BBC Wales business correspondent

Dual Control to Middlesbrough

Will Self continues his tour of urban Britain travelling only by coach and bus, assessing British identity at a time of flux.

Will heads to Middlesbrough where he learns about the booming digital scene and findsout what happened to the 1700 workers laid off at the Redcar steelworks two years ago.

Producer: Laurence Grissell.