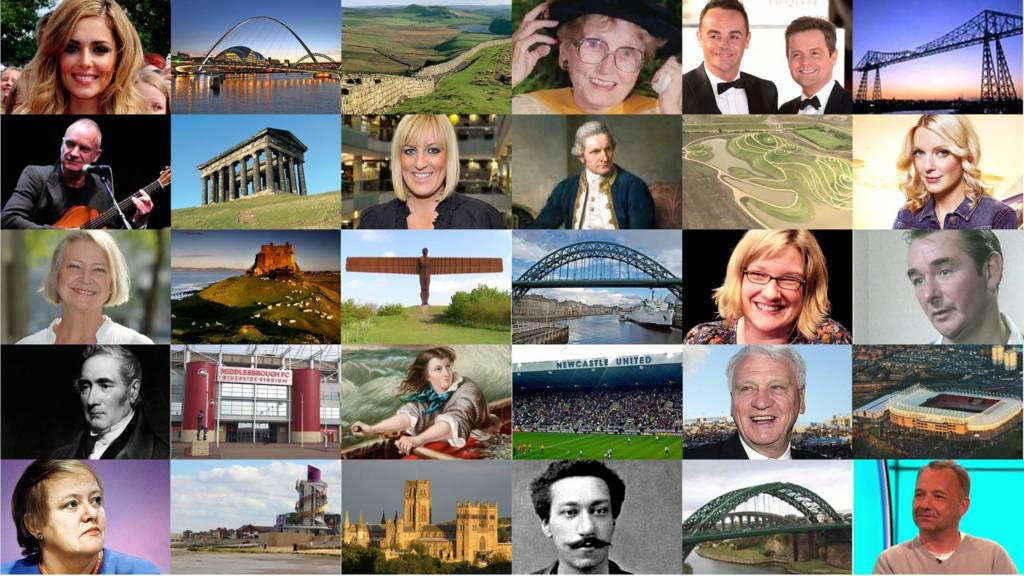 BBC Local Live: North East England
Our updates here have now finished for the day. Thank you for joining us.

You can keep up-to-date with the latest news, on BBC Newcastle and BBC Tees and on Look North.

We'll be back with more updates on Monday.

Off-duty firefighters save crash driver's life

Two Northumberland firefighters found themselves saving a life outside the county as they made their way to a training course.Paul Cameron and Tom Oliver, of Northumberland Fire Service (NFS) were on their way to a boat operating course on the River Tyne at Newcastle Quayside when they came upon a crashed car with an unconscious man inside.

They performed CPR on the man, who they believe may have suffered a cardiac arrest, until paramedics arrived, saving his life, NFS said.

Pair released in ATM explosion investigation

BBC Tees

www.bbc.co.uk/BBCTees

Two men arrested in connection with the blowing up of a cash machine have been released under investigation, Durham Police have said.

A five-figure sum of cash was stolen from the free-standing ATM after it was detonated in Darlington on Wednesday.

A 34-year-old man from the Bradford area was arrested in Leeds, and a 33-year-old man, also from the Bradford area, was arrested in Darlington.

Woman, 92, left heartbroken by burglary

A 92-year-old woman has been left heartbroken after jewellery given to her by her late husband was stolen, police have said.

The burglary happened at a property in Ashford Drive, Sacriston, when a thief stole the jewellery as the victim slept in the early hours of this morning.

A spokesman for Durham Police said: "The woman is extremely shaken up by this incident and has been left heartbroken that her jewellery was stolen.

"Some of the jewellery was given to this woman by her late husband when she was just 15 years old. He was her first boyfriend who she later went on to marry. The pieces are of tremendous sentimental value and she had wanted to give the jewellery to her grandkids."

Teenage troublemakers warned they face arrest

Talks shed light on historical family

A series of talks aims to shed light on a wealthy and influential County Durham family.

The Marquesses of Londonderry owned significant amounts of land in the area, and were responsible for the building of Seaham Harbour, amongst other landmarks.

Historical documents relating to the family, as well as those who worked for them and lived on their land are held in a special collection at Durham County Record Office.

These will form the subject of talks at County Hall on 19 and 22 February.

Copyright: Durham County Council

Quote Message: "The history of the Marquesses is fascinating, and touches on both national and international politics, as well as local families." from Dawn Layland Archivist at Durham County Council

Sleepy police dog in full song

New homes coming to Newton Aycliffe

New homes are set to be built in Newton Aycliffe.

A £6.8m grant for infrastructure has been awarded to Durham County Council, allowing 1,500 houses to be built.

The money will also be used to improve roads and utilities, upgrading the A167 in order to "reduce congestion" and help "tackle traffic capacity issues".

Carl Marshall, Cabinet member for economic regeneration, said: "This cash will enable the delivery of much-needed new homes in the south of our county, which will have a significant impact on the economic growth of the area and wider county."

A 17-year-old from South Tyneside has gone missing.

Kyle Brownlee is believed to be in Newcastle, police say.

Copyright: NORTHUMBRIA POLICE

Rob Lee: Newcastle United 'does not feel like' a huge club

Newcastle United "does not feel like" a huge club anymore and people "don't want to play for them", says the club's former midfielder Rob Lee.

The Magpies are 13th in the Premier League but just two points above the relegation zone.

Owner Mike Ashley put the club up for sale in October, but ended talks last monthover a potential £250m sale.

"It is a shame. The club has been in decline for such a long time," Lee told BBC Newcastle.

The Year of the (police) Dog

Happy Chinese New Year everybody.

To celebrate the Year of the Dog, Tyne and Wear Fire and Rescue Service have shared a picture of their loyal pooch Spencer, who they say fits all the traits of the Chinese symbol.

Last chance for your own cup glory!

#FAPeoplesCup

The deadline to get involved in the 2018 FA People's Cup is midnight THIS Sunday - so get your entry in now.

It's FREE
There are 18 different categories
You get the chance to play at St George's Park and go to the FA Cup final

What have you got to lose?

Find out all the details and how to sign up here.

Concert popularity has 'resurgence' in the North East

Concert and gig-goers in the North East spend almost £44m a year on tickets, travel, and food & drink, a report shows.

The UK Live Music Census, the first nationwide live music survey of its kind, also found the industry supports more than 1600 full-time jobs in the region.

Joel Thompson, the Venue Manager at The Cluny in Newcastle, says the industry has had "a resurgence recently", and thinks the key to the success in the region may be "variety".

Funeral held of TV farmer Hannah Hauxwell

The funeral has taken place for Hannah Hauxwell whose tough life as a farmer in the north of England featured in a series of television programmes.

Hannah Hauxwell found fame in the 1970s as the programmes showed her difficult and remote life in Baldersdale, near Barnard Castle.

She died aged 91 at a nursing home in West Auckland, County Durham, in January.

The service took place at Barnard Castle Methodist Church.

It was in 1973 when Yorkshire Television's documentary Too Long A Winter introduced Hannah.

Viewers saw her struggle to run the 80-acre Low Birk Hatt farm after the death of her parents, and attempting to survive on less than £200 per year.

The Reverend Beverley Hollings, who took the service, said: "People just admired her for her determination for keeping going in those conditions."

Robbery in Darlington Post Office

A Post Office has been robbed in Darlington.

Cash and cigarettes were stolen from the Blackwell store at about 05:45 this morning.

A member of staff was threatened with what is being described as a handgun, but nobody was injured.

The sunrise looked beautiful in Seaham this morning.

Copyright: DAVID PARKINSON

Have you got any photos of the North East you'd like to share with us? You tweet them to @BBCNewsNE, email them, or contact us via our Facebook page.