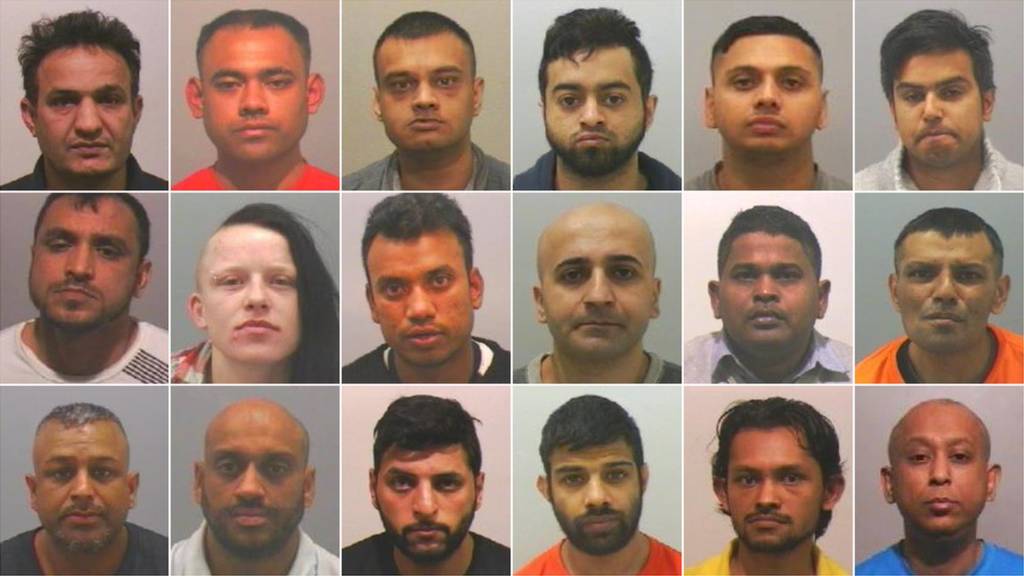 Reaction to critical report into grooming
Our live coverage of the Operation Sanctuary report

Our live coverage of today's Serious Case Review into Operation Sanctuary has come to an end.

The report made a number of findings, including:

Copyright: NORTHUMBRIA POLICE

You can read more about today's review here.

Thank you for joining us.

Girls 'were plied with booze and M-Cat before being assaulted'

This photo was issued last year by police showing the designer drug M-Cat, which was used to groom girls at "parties" across Newcastle.

Last August Chief Constable Steve Ashman said dangerous men would not be behind bars if he had not decided to pay a convicted child rapist almost £10,000 to spy on these 'sessions', where it was suspected under-age girls were fed drugs and sexually abused.

Copyright: Northumbria Police

Watch: Trauma specialist urges victims to 'talk to someone'

A sexual trauma specialist has addressed victims of sexual abuse following today's Serious Case Review.

Zoe Lodrick wants women to "talk to someone" and come forward, understanding the conflict victims can feel.

Perpetrators were 'undeterred' by police

Today's report into Operation Sanctuary determined that professionals should only rely on victims' statements to prosecute perpetrators when it is "unavoidable due to lack of other evidence".

This is said to be to protect victims and stop offenders before damage has been caused.

The review was also "unable" to gain a true understanding of the offences through communicating with the perpetrators, as they were "undeterred by involvement of the police and other agencies".

The report adds: "There is an urgent need for guidance to robustly address these issues."

The man behind the report into abuse in Newcastle

David Spicer, the man who wrote today's report, is a barrister and former chair of the British Association for the Study and Prevention of Child Abuse and Neglect.

He has worked on more than 30 Serious Case Reviews (SCRs), Child Practice Review Reports and Multi-Agency Vulnerable Adult Review Reports.

Recently, he has undertaken more than 16 SCRs, most notably into the death of London girl Victoria Climbie in 2001.

David Spicer warns everyone to be 'vigilant'

The government is being warned it's likely vulnerable women are being abused extensively across the UK, and much of it is unrecognised.

The review into Operation Sanctuary found that while there were similarities to grooming networks in other cities, the exploitation of adults was "unique" and had to be addressed urgently.

Speaking at a news conference, the author of the report, David Spicer, said all agencies, people and officials have to be alert.

Dr Spicer said that it may be "easy to identify if a child is not attending school regularly" or "continually going missing", however that may not always be the case.

Some of the victims that were looked at in this Serious Case Review attended school regularly, and teachers were "certainly" not aware of what was happening.

He added: "Everybody has to be vigilant about the likelihood of this happening... everywhere."

Watch: Safeguarding manager's message to victims

A safeguarding manager for Newcastle City Council is urging victims of sexual abuse and exploitation to come forward.

Sam Keith says she is aware of how hard it can be for victims to share their stories, but insists professionals are "here to listen".

The story of one of the Operation Shelter victims

Chris Jackson

BBC Inside Out

Sarah (not her real name) was 19, extremely vulnerable and unable to look after herself.

Along with other at-risk teenagers she was regularly abused by older men.

In the new year of 2014, Sarah told the police she'd been raped by Abdul Minoyee.

A police officer took Sarah on a tour of the West End to try identify Minoyee's house and car and other places where these "parties" had taken place.

Sarah's information was a red flag - the abuse was on a much bigger scale.

The detective in charge of Sarah's case told his bosses that what she had said signalled something much bigger.

Days later the officer's hunch was given added weight when two girls in care reported that they'd been repeatedly raped by a group of older Asian men.

The girls were aged 14 and 15.

They described being driven into Newcastle where they were plied with alcohol and cocaine before being raped and beaten by several men.

They were given money before being returned home.

Sexual abuse inquiry spawned multiple investigations

Operation Shelter was one of a number of spin-offs from Operation Sanctuary.

This was launched in late 2013 to investigate claims of sexual abuse against vulnerable women and girls.

Police took to the streets handing out leaflets in a publicity drive, as dozens of potential victims came forward.

Such was the scale of the inquiry, that it split off into more than a dozen operations, with Shelter focusing on reports of girls being abused at parties at addresses in the West End of Newcastle.

The number of defendants led to four separate trials - the first commencing in September 2015 - with reporting restrictions in place until the final one concluded in August last year.

Key points in grooming report

The Serious Case Review published today was undertaken by the Newcastle Safeguarding Adults Board and Newcastle Safeguarding Children Board.

The main aim of the report was to "consider and learn" from sexual exploitation involving children and young adults in Newcastle.

Some of the key points it examined were:

The complex nature of the exploitation
The extreme impact it had on victims
That exploitation happens to adults as well as children
Difficulties identifying and preventing exploitation

How the BBC fought to report the full story

The editor of Inside Out in the North East and Cumbria wrote a blog last year about how the BBC fought to report this story:

Here's a snippet:

Spring 2016. Inside Out Producer Dan Farthing rings from Newcastle Crown Court.

"You will not believe what I have just heard…" and what he went on to describe was indeed pretty extraordinary.

Dan was following a series of interlinked trials of more than twenty Asian men, accused of grooming vulnerable young teenagers in the west end of Newcastle. Reporting restrictions banning broadcasts until the conclusion of the final trial meant we'd seen little early evidence of Dan's regular days on the press bench.

Then, out of the blue, the prosecution revealed Northumbria Police had used a CHIS - a covert human intelligence source - to supply information on so-called "parties" where teenagers were plied with drink and drugs and sexually assaulted.

Sexual exploitation report praised by NSPCC

The NSPCC has praised the Serious Case Review into Operation Sanctuary.

The charity states that "significant strides have been made" in dealing with child exploitation in Newcastle.

It added the crimes committed were "abhorrent" and highlighted that "knowledge must continue to be shared across the UK".

Police officer sacked for being 'grossly negligent'

Last year it emerged a police officer was sacked for failing to investigate a sex offender's phone linked to Operation Sanctuary.

Northumbria Chief Constable Steve Ashman said the officer was dismissed after his actions were found to be "grossly negligent".

The officer had sight of Bahmani Ahmadi's phone but did not "interrogate" it when he dealt with a complaint from a teenage girl in 2012.

If the handset had been checked, it could have revealed the extent of his grooming, police said.

Two years later Ahmadi was re-arrested and subsequently charged and jailed.

Mr Ashman said: "It was evident that an officer who had had an opportunity to investigate an individual offender hadn't done a very good job at all.

"In fact the standard of investigation fell so far short of what I would expect that we deemed it to be grossly negligent and he was dismissed."

'I couldn't face reliving it'

One victim of sexual abuse spoke at length about how the court case badly affected her:

Quote Message: I waited a long time for a trial date. There were video interviews, statements, identity parades. I gave full evidence at the trial and was cross examined.

Quote Message: Court was awful, the worst experience ever – spoken down to – felt I was on trial – the defence. The judge intervened a lot to stop it but it still went on.

Quote Message: I was commended for my strength by the police and prosecution. Shortly afterwards, thinking it was over, I was told there was a legal problem with a part of the case, not to do with me or my and evidence. The trial was stopped.

Quote Message: A year later I was asked to give evidence again. I couldn't face reliving it. To stand up in front of all those people - and then told I had to do it again – I had already made statements. If I only had to tell it once that would be brilliant.

Quote Message: The police understood and asked the CPS to consider using evidence from the original trial because of the impact on my mental health. The CPS requested a mental health assessment, which resulted in a brief meeting. I was asked first off to take Diazepam to go through with the trial.

Quote Message: The allegations referred to drugs being used for the purposes of rape and I was now being asked to take a drug to help relive it and put up with another full trial. I couldn't do it and refused.

Quote Message: Two days later I was sectioned under the mental health act for risks to my own life, whilst the men despite all the evidence were set free.

Quote Message: Why couldn't that jury have seen my evidence like they saw my original video evidence? They record everything anyway. If this had been allowed I might've got justice for what happened to me. They walked free.

Quote Message: The impact of the crimes and failed court process to the victim and close family is intolerable."

Newcastle council chief executive reacts to report

The chief executive of Newcastle City Council believes that adults are "being abused as well as young women".

Pat Ritchie has spoken out about today's report, which she says is the first to identify that particular issue.

She added that it's important to acknowledged that abuse does not "automatically stop at 18".

Charity believes more can be done across the UK

Operation Sanctuary's Serious Case Review demonstrates "the enormous progress that has been made in Newcastle" in tackling grooming and exploitation, the Children's Society says.

The organisation, which supports, young people in Newcastle affected by child sexual exploitation, is concerned that victims across the UK continue to be let down by professionals.

It believes this comes as a result of a failure to recognise "vulnerable" people who are at risk.

The charity highlights that other areas can "learn lessons" from the work done in Newcastle, but insists that there is "more to do" in the city.

Operation Sanctuary arrests still continuing

Operation Sanctuary continues to this day, with seven people arrested over human trafficking offences only a few weeks ago.

Police carried out six warrants at homes in the West End of Newcastle on 30 January as part of an investigation into modern day slavery and said 11 potential victims had been rescued.

Copyright: Northumbria Police

Government urged to look at taxi licensing

The Government must look at "weaknesses" in taxi licensing which may allow people to keep driving after their licence is removed, the report says.

If someone has licence to operate a taxi revoked they can still continue as a private operator of larger vehicles.

A suggestion was also made about creating a national database of licence removals.

Victim was 'accused' of lying over compensation

One of the Operation Sanctuary victims was "startled" after being cross examined about the compensation she received.

The victim says she was "accused" of coming forward only to receive money.

She added:

Quote Message: When cross-examined I was called a liar – that it was all untrue. It was hard to put up a fight. I knew the police believed me."

Quote Message: You should not be questioned about stuff outside the time zone for the case. For me, some of it was years ago. For some it's new and fresh. You can put it at the back of your mind.

Quote Message: I was questioned about a note for school asking for absence when I forged my mother's signature years before."