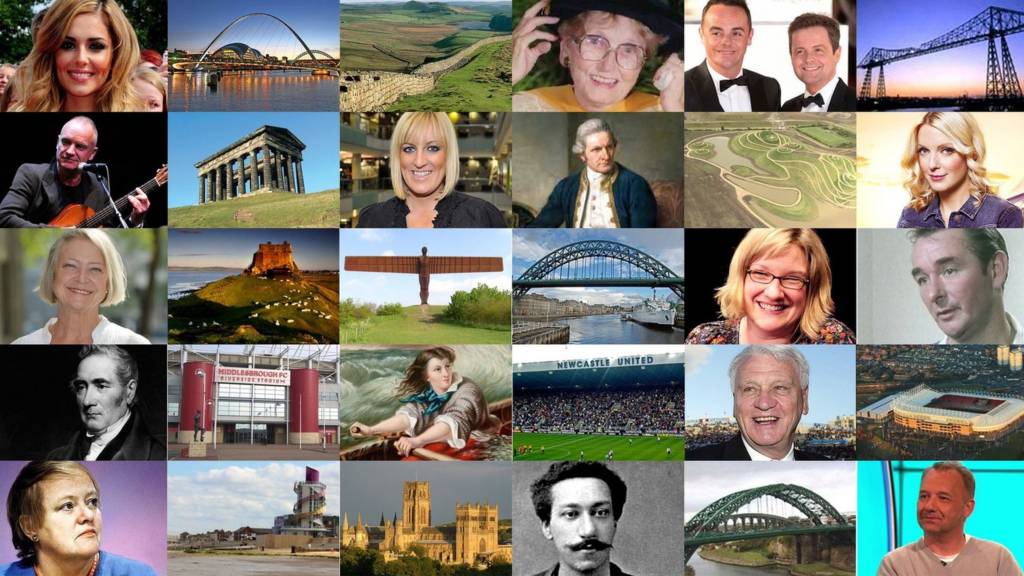 Latest updates from North East England Live
Listen to your local radio stations: BBC Newcastle and BBC Tees
Severe accident: A174 North Yorkshire eastbound

BBC News Travel

A174 North Yorkshire eastbound severe accident, from A19 to A1044.

A174 North Yorkshire - One lane closed and slow traffic on A174 eastbound in Stainton from the A19 junction to the A1044 junction, because of an accident.

To report traffic and travel incidents dial 0330 123 0184 at any time

Our live coverage across the day

Our live updates have finished for the day and for the week but any breaking news, sport or travel will still appear here for the next few hours.

You can also stay up to date with BBC Newcastle, BBC Tees and Look North over the weekend.

We'll be back with more updates from 08:00 on Monday and we hope you can join us then.

If you want to get in touch with any news or send us photos you can tweet us, contact us via our Facebook page or email us.

Weather: Further snow showers tonight

Staying partly cloudy with the further risk of snow showers tonight, though such showers will become increasingly confined to the east as the night progresses.

Cold again with a brisk northerly wind.

Minimum Temperature: -3 to 0C (27 to 3°F).

Partly cloudy and often dry on Saturday with only the odd wintry shower across eastern districts, mainly early in the morning. The best of the sunshine will be in the west.

Cold with a northerly wind.

Maximum Temperature: 1 to 4C (34 to 39F).

Metro drivers lured away by bigger salaries

Local Democracy Reporting Service

James Harrison

Tyne and Wear Metro drivers are being lured away by bigger salaries at other rail operators, according to those responsible for the service.

Yesterday Chris Carson, Nexus' metro services director, discussed the problem with the North East Joint Transport Committee Tyne and Wear Sub-Committee.

He said: "In more recent years, in terms of retention, we've noticed that with increased timetables that the likes of Northern Rail and freight operators are doing and the salaries they can offer, that it is more attractive for those drivers with more flexibility to move on.

"We've also recently lost drivers to First Trans Pennine Express."

According to a report prepared for members of the committee, a quarter of all delays over the summer, during the World Cup, were caused by a shortage of drivers.

Nexus hopes to improve reliability in the coming months by returning staff to driving duties who were "temporarily allocated to non-driving duties".

Brexit: Labour MPs in 'show us the money' row

Prominent Labour MPs - including Redcar's Anna Turley - have warned their colleagues not to accept money for their constituencies in return for supporting Theresa May's Brexit deal.

The government is understood to be considering proposals from a group of Labour MPs in predominantly Leave-supporting constituencies, to allocate more funds to their communities for big infrastructure projects.

It is thought the MPs have urged the prime minister to consider re-allocating the EU's regional aid budget away from big cities and local councils and to give the cash direct to smaller communities, often in former steel and coal mining areas.

However, Ms Turley, told the BBC's Newsnight programme she found the idea "appalling".

Quote Message: We have had nearly a decade now of austerity that has seen constituencies like mine absolutely hammered, £6bn has come out of public spending in the North by this government and if [there is] a programme or national renewal, I'm afraid it's too little too late." from Anna Turley

Northen train services in the North East will be affected by strike action tomorrow.

The RMT strike action will see Northern running approximately 700 services, but with few Northern services running after 17:00.

Train services are expected to be extremely busy.

RMT has also called strikes on Saturday 9 and Saturday 16 February in a long-running dispute over safety concerns at plans to remove guards from trains.

Northern says driver only trains are safe and has called on the RMT to suspend strike action and accept an independent ACAS inquiry.

Sunderland-based SCS pulls out of Sofa.com deal

Sunderland-based furniture retailer ScS has pulled out of the running to buy Sofa.com, paving the way for Mike Ashley to acquire the group.

ScS said it is "no longer in discussions" with the firm about a deal.

It had been up against Newcastle United owner Mr Ashley's Sports Direct to buy the firm in a multimillion-pound tie up.

Sofa.com has concessions in House of Fraser, the department store Mr Ashley bought out of administration in August last year.

ScS also had 27 concessions in the chain, but has now ceased trading from all of them.

Gateshead FC general manager resigns

Gateshead Football Club have announced that general manager and head of football operations, Mike Coulson, has resigned.

His resignation comes two weeks after he was appointed head of football operations.

He has held a number of roles at the club since the 1990s, including club secretary, chairman and even a brief spell as owner.

In a statement he said: "It's with a heavy heart that I felt it necessary to resign from my position at the football club.

"I'd like to thank everyone who made my time at Gateshead such a positive and fulfilling experience."

In a statement the club said: "Everyone at Gateshead would like to sincerely thank Mike for his tremendous and unrivalled services to the football club and wish him the very best for the future."

Two men are being hunted after they lit a petrol can underneath the vehicle in Stockton.

Tyne Tunnel fare increases confirmed

Local Democracy Reporting Service

James Harrison

Drivers will have to pay more to use the Tyne Tunnel from April.

The cost of using the crossing will increase by 10p, from £1.70 to £1.80, for cars, although permit holders will also still be able to get a 10% discount.

The price hike was recommended by the North East Joint Transport Committee last week and given final approval by the Tyne and Wear Sub-Committee yesterday.

The decision also means van drivers will have to pay 20p more, with their toll rising to £3.60.

Speaking at yesterday's meeting, Paul Woods, the North East Combined Authority's chief finance officer, repeated his assertion the Tyne Tunnel was unlikely to follow the example of the Severn Bridge between England and Wales in scrapping charges.

Transport bosses also heard more drivers were switching over to the tunnel's new number plate recognition system for payment, which was implemented last year.

More tech innovations for the tunnels include the announcement that O2 and Vodafone customers will be able to maintain phone signal even when in the tunnels.

An app to keep users up to date with any tunnel incidents is also being developed.

Batsman Ryan Davies leaves Durham

Durham batsman Ryan Davies has decided to leave the club due to personal reasons.

He joined Durham last season from Somerset and made three first-class appearances for the club.

A club statement said: "DCCC have agreed to let the 22-year-old leave the club with immediate effect and extend their best wishes to him and his cricketing future.

"The club will be making no further comment. "

Don't call police over ungritted roads

Cleveland Police says it is not responsible for the deployment of gritters.

Check out beautiful Slaley in the snow

Snow has been falling in the North East overnight and today creating some travel disruption, but also some beautiful wintry scenes.

Check out these photographs of Slaley, Northumberland from BBC Weather Watcher Stella.

You can see more weather photos from our region on the BBC Weather Watchers website.

Asylum seeker number have double over five years

Luke Walton

BBC Look North

The number of asylum seekers in the North East has more than doubled over five years to more than 4,000 last year.

Analysis by the BBC shows nearly 75% of that number are in just four local authorities - Newcastle, Gateshead, Middlesbrough and Stockton while a number of other areas have relatively few.

In September, the housing provider the Mears Group takes over the contract to provide homes for asylum seekers from G4S after criticism about the standard of some of the accommodation.

There's more on this story on Loon North at 18:00 tonight on BBC One and Sunday Politics on Sunday at 11:00 also on BBC One.

Arrest after man seriously assaulted in Easington Colliery

A man has been arrested by police investigating a serious assault of a 47-year-old man in Easington Colliery.

It's believed the man was hurt in a house on Argent Street yesterday afternoon.

A 35-year-old man is helping officers with their inquiries and Durham Police are appealing for any information from members of the community.

Det Insp Tonya Cook said: "This is an isolated incident and there is no risk to the public.

"There are a number of local officers patrolling in the area for reassurance and also conducting enquiries".