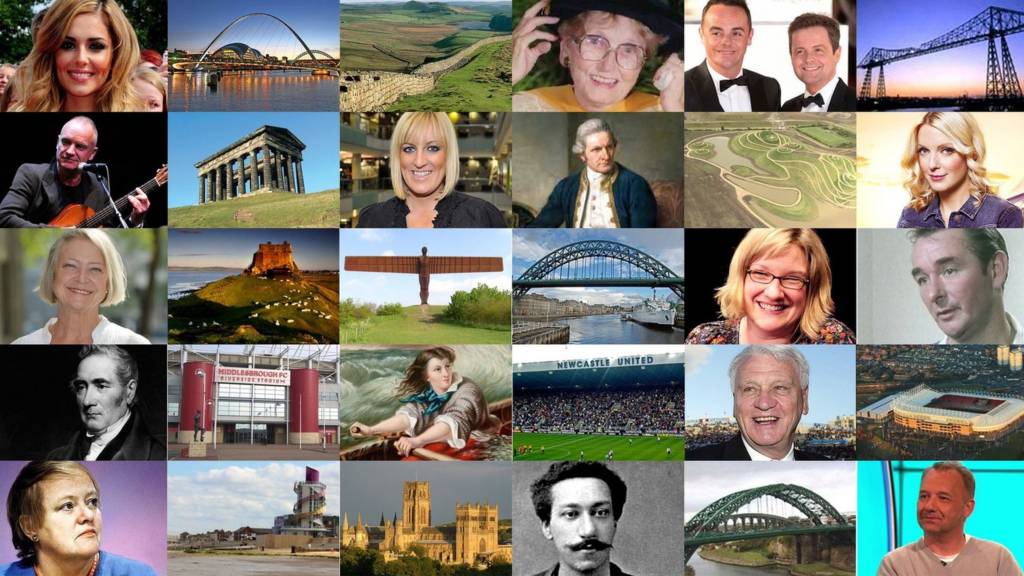 Latest updates from North East England Live
Listen to your local radio stations: BBC Newcastle and BBC Tees
Our live coverage across the week

Our updates here have finished for the week. As ever, thanks for joining us.

You can stay up to date here, on BBC Newcastle, BBC Tees and on Look North.

If you want to get in touch with any news or send us photos you can tweet us, contact us via our Facebook page or email us.

We'll be back on Tuesday from 08:00 with more live updates.

Fines handed out in council crackdown on litter

Thirty-five people have been fined in the first two weeks of a Sunderland City Council crackdown on litter.

The fines of £150 each have been handed out as part of the council's drive to make the city centre cleaner.

The action is part of a deep cleaning programme, which is backed with an additional £460,000 investment in frontline services.

Sunderland City Council's executive director of neighbourhoods, Fiona Brown, said: "We want a city centre we can all be proud of and we know our residents do too.

"That's why we've committed to investing an additional £460,000 into frontline environmental services as part of our commitment to a clean green city.

"It's also why we will continue to fine anyone we catch dropping litter. No-one wants to see litter strewn pavements covered in cigarette ends or chewing gum.

"We all want to see a successful, vibrant and attractive city centre that people want to spend time in and businesses want to invest in and this in an important step to getting to where we want to be."

Extra trains between Newcastle and Carlisle

An extra train an hour will run between Newcastle and Carlisle as part of Northern's timetable switch in May.

Regional director Anna Weeks said: "We're delighted to be able to strengthen the links between Newcastle and Carlisle – doubling the number of trains on weekdays and Saturdays and giving some stations on the route three trains per hour.

"The extra services provide excellent links along the line and will give our customers new commuting, business and leisure opportunities."

The changes also include train refurbishment and station improvements.

It's almost Bank Holiday time - and the weather forecast looks promising.

Tonight will be dry and clear, with lows of 4C .

Any misty patches will disperse by Friday morning, making way for another sunny day.

There will be plenty of sunshine over the long weekend as well with highs of 21C on Saturday.

The UK's first ever guide horse has added another skill to his CV: Travelling on trains.

No trains Gateshead Stadium - Hebburn/Brockley Whins

If you're going to the Sunderland game tomorrow - or travelling on the Metro network this Bank Holiday weekend - leave extra time for your journey.

No trains will be running between Gateshead Stadium - Hebburn/Brockley Whins as track renewal work continues.

A replacement bus service will be in operation.

Man charged after MP's office windows smashed

A man has been charged after two windows of the constituency office of Labour MP Helen Goodman were smashed.

The incident happened on Cockton Hill Road, Bishop Auckland, in the evening of Saturday 6 April.

Colin Dodds, 44, of Douthwaite Road, Bishop Auckland, has been charged with criminal damage and public order.

A second man, aged 50, was arrested on suspicion of criminal damage and public order.

Mr Dodds will appear at Newton Aycliffe Magistrates' Court, on Thursday 2 May.

Volunteer efforts recognised by the Queen

Two volunteers from the Diocese of Durham will receive special recognition from the Queen today.

Jean Carleton and Revd Roy Merrin will be given the Maundy Money at the Royal Maundy Service at St George's Chapel in Windsor.

It is to acknowledge their volunteer work.

The Right Revd Paul Butler, Bishop of Durham said: "I am delighted that Her Majesty The Queen in her 93rd birthday year has chosen to recognise these outstanding individuals.

"The amazing work that Jean and Roy do and the way that they do it in our communities in blessing them for the transformation of us all is simply outstanding.

"Each recipient has made a significant and lasting difference to their communities through their voluntary service and I am thrilled that the Queen's award of Maundy Money recognises this vital contribution."

The Maundy Thursday service is an annual ceremony, which dates back to the 1200s.

Landmark dodgeball centre could open in Hartlepool

Local Democracy Reporting Service

Nic Marko

Hartlepool could get the first dedicated dodgeball centre in the UK, if new plans go ahead.

It would be located in the building adjacent to the Iceland Food store on the Oakesway Trading Estate off Skerne Road, according to proposals.

The planning statement is submitted by Paul Hewitson, on behalf of Stott Fitness.

It says the site has been targeted as there is a demand for dodgeball in the area.

"There has been a notable demand for children's dodgeball and as such the Hartlepool Mavericks Dodgeball Club now has 120 Hartlepool children registered and partaking in classes each week.

"The existing setup of the dodgeball club is restrictive in that the club has only been able to rent hall space from other community venues for a limited number of sessions each week.

"We have identified that the only way to offer more to the young people in town is to establish the first "dodgeball centre" in the U.K. here in Hartlepool."

The building would offer one full-size dodgeball court, along with three smaller courts, a coaching area, activity room and a waiting area for parents.

Hartlepool Borough Council planning department is aiming to make a decision on the plans in the next month.

New centre will help dogs stay fit

Local Democracy Reporting Service

James Harrison

Poochies will be able to exercise in a specially created dog park if plans go ahead.

An application has been submitted to convert two acres of farmland at Mundles Farm, off Mundles Lane, in East Boldon.

According to proposals from 'start up business' Odin Valley Dog Park, the site will provide walkers a 'secure environment to train and exercise their own dogs.

The plans promise that the area will be fenced off and 'temporary agility and training structures' will be installed.

The facility has also applied to be allowed to open 08:00 – 20:00 every day of the year.

Comments on the proposals will be accepted until Friday 31 May.

Teesside jail says use of the drug Spice is decreasing

The governor of a Teesside jail says there's been a significant drop in the number of prisoners testing positive for the drug Spice.

In 2017, staff at Holme House prison in Stockton were exposed to the drug 140 times - more than four times as often as any other medium security jail in the country.

Five kilos of the drug were discovered at the jail during the same year, hidden in cereal boxes.

Governor Chris Dyer says they were averaging about 30% of tests for the drug coming back positive and that is now down to about 10%.

"So a significant reduction that's played out in a reduction in violence and self harm within the prison," he says.

"We've put in a lot of security but we've also put in a lot of the demand reduction and the continuity of care element for people going out of the prison."

Former school site set for rental homes development

Local Democracy Reporting Service

Plans for a £14.1m estate on a former school site have been given the green light.

Last year, Placefirst Developments lodged plans for 116 homes on the ex-Easington Lane Primary School site in Sunderland, which has been vacant for more than a decade.

It included a mix of 26 two-bedroom bungalows, 46 three-bedroom houses and 44 four-bedroom homes alongside a new children's play area and community gardens.

Sunderland City Council's area Development Control Sub-Committee has now agreed a "build to rent" scheme.

While planners originally asked developers to pay almost £315,000 towards education provision in the area in a section 106 agreement, a reduced sum of just under £50,000 was agreed due to "viability issues" around the estate.

The funds will be channelled into primary schools in the Hetton ward with any shortfall around education funded from a 'capital receipt' from the council selling the land.

The developer aims to start construction this summer with the estate expected to be completed by the end of 2020.

Armed police have shot a cow dead after it escaped next to the Central Motorway in Newcastle and became distressed.

Three other cows were brought to safety in Cowgate last night.

Northumbria Police say officers were forced to act because of the potential risk to the public and drivers.

Perrie Edwards reveals anxiety struggle

Perrie Edwards has opened up about her mental health struggles to fans.

In an Instagram post, the Little Mix star shared her experience of anxiety and panic attacks, which made her feel like she was "losing her mind."

She said: "Over the past few years I have suffered really badly with anxiety and panic attacks.

"When I first started to feel the effects of anxiety I thought I was losing my mind and it terrified me.

"I felt so alone and like I was the first person in the world to ever experience it."

At one point, the condition got so severe she wasn't able to leave the house.

"I would step foot out the door and feel the overwhelming need to go straight back inside.

"It completely took over my life," Perrie said.

What helped the singer's recovery was realising that many other people had experienced the same thing.

"I don't want to hide it anymore. I suffer from anxiety and I want you to all know if you suffer from anxiety you're not alone."

For more information on mental health, visit the BBC Advice pages.