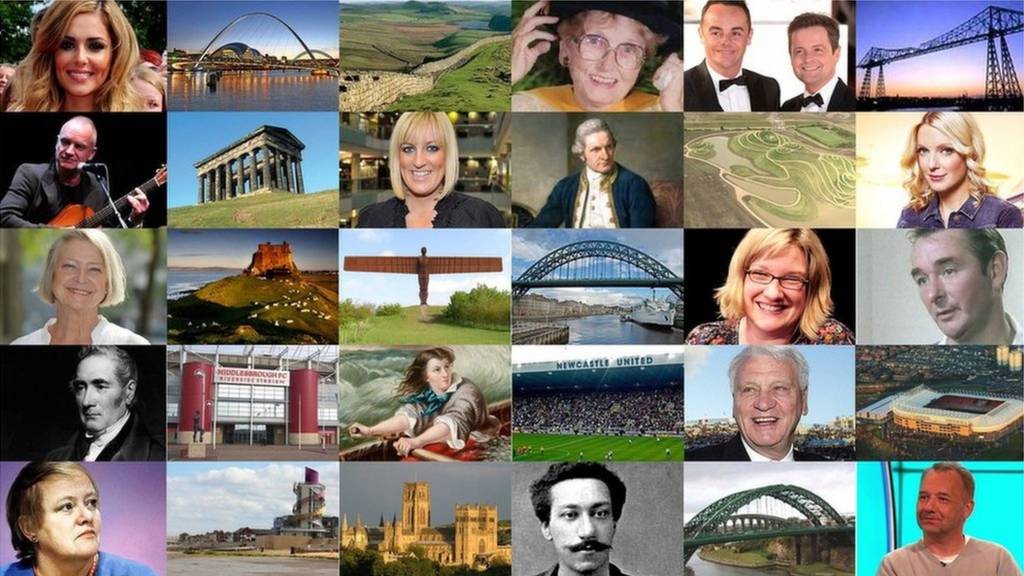 Latest updates from North East England Live
Listen live to your local radio station: BBC Newcastle and BBC Tees
Gareth Vincent

BBC Sport Wales

Our live coverage across the day

Our live updates here have finished for the week.

You can stay up to date on BBC Newcastle, BBC Tees and Look North.

We'll be back with more live updates from 08:00 on Monday

If you want to get in touch with any news or send us photos you can tweet us, contact us via our Facebook page or email us.

Who makes the best parmo?

What's being described as a "world championship" has been launched to find the Teesside restaurant that makes the best parmos.

The breadcrumbed chicken or pork topped with bechamel sauce and cheese is now a worldwide phenomenon and Middlesbrough Council believes it should be recognised as such.

Local restaurants have been invited to take part in the competition, which will be held in the town hall at the end of next month.

Copyright: JAY LEADBEATER/CENTRAL PARK CAFE

More from climate change protests in Sunderland

Graeme Jobes, chair of Parents for Future Sunderland said his two children are on strike.

"I think it's the only voice [young voices] we need to hear because we've got to think about the future.

"My children have been striking since March and it started with only three of them, Luke and two friends, and it's grown from three to four to five to 10, to hopefully about 50 today and I think we need to start thinking about sustainability in the correct fashion and act as it is an emergency.

"We are starting on a community level, we're all community gardeners so we are working out plans of regenerative cultures around sustainability and people understanding community resilience. On a national level, it is really up to our leaders to address the issues around carbon emissions, reliance on fossil fuels and deal with the corporate global world which is leading us to a point of destruction.

"My hope is the energy that you will see and transformative will of young people – we'll see a revolutionary change away from profit towards people and planet."

His son, nine-year-old Luke, said: "To help the environment and plant more trees, I'm worried."

Middlesbrough Labour MP on SSI deaths

Business Secretary 'saddened' by SSI explosion deaths

The Business Secretary has sent her condolences to the families of two men killed in the explosion at the Redcar SSI plant.

Andrea Leadsom said: "I am very sad to learn of the deaths of two workers on the former SSI site, my thoughts are with their families and friends.

"South Tees Site Company are working closely with the Health and Safety Executive and the emergency services to investigate what happened, and to provide support to those affected."

Climate change protests hit Newcastle

Here are more pictures from the climate change protests in Newcastle today:

Climate change protests in Sunderland

We have been out speaking to people at the climate change protests in Sunderland.

Stephanie Taylor broke her 100% attendance record at sixth form to attend the protest.

She said: "I think the future of our world is more important than my education at this point, because I can't get a good education if I feel like my whole future is at risk. This is such an important cause.

"I think the government needs to just stop using fossil fuels mainly, that's like a huge problem.

"I think they [young people] really care about their future, it's more important than anything else. You know, the world's basically going to go to rubbish in 2050… we want to make a change, we want our futures and we want to be heard."

Rachel Milne from South Tyneside Tree Action Group, said: "I'm here because I think, as really a concerned parent, I came with my daughter to show support for the climate strike.

"We want people to really take notice of this and to make changes in their daily life. But, more importantly than that, we want the politicians and the councils to implement changes that are going to have a positive effect on the environment."

SSI deaths 'terrible tragedy for families and friends'

Dave Cocks, who used to work on the SSI site, said: "Where this accident happened, it was involved in the cleaning of the gasses produced by the coke-making process.

"Coke is made by converting coal to coke and as that conversion takes place, gasses are produced which are then cleaned and used as a fuel, and it would appear that this terrible accident has happened in part of that gas-cleaning process

"Clearing a site of this nature does take a lot of planning and preparation and there's no doubt over the last four years there will be areas off the plant where there would be materials that would need to be removed to keep the plant safe for demolition.

"It's a terrible tragedy for the families and friends of the people involve and yes, the cleaning of any industrial site does present certain risks and hazards that have to be eliminated wherever possible

"Closing down an iron-making site of this size is very rarely done in the UK so the planning could take months or indeed years, and it could be years and years before we see the site cleared."

Workers killed in explosion 'were on cherry-picker'

Two workers who died in an explosion at a former coking plant for a huge steelworks were on a cherry-picker at the time, it has emerged.

Flames could still be seen at times at the SSI site in South Bank, Teesside, some three miles from the old Redcar blast furnace which closed nearly four years ago.

Fire crews attended the SSI site in South Bank, at 14:15 yesterday after a blaze broke out on the premises.

On Friday morning, Cleveland Police confirmed two men had died in the incident.

The blast appeared to have engulfed the two workers who were on a blue cherry-picker at the time, working at a height.

It looked to have happened as they worked on large pipes near a gas holder.

This morning police widened a cordon around the site after flames were seen coming from the blast area.

Smoke billows across Teesside after fatal coke works fire

This was the scene earlier from South Gare on Teesside as smoke continued to billow from the fire at the former SSI coke ovens which claimed the lives of two men:

Four women arrested in connection with suspected prison drug dealing

Copyright: Northumbria Police

Four women have been arrested as part of an investigation into a suspected drug ring operating in a North East prison.

The investigation was launched after police received intelligence about drugs being delivered to HMP Durham through drones and visits to the facility.

Four women were arrested on suspicion of conspiracy to commit money laundering in connection with suspected drug dealing after properties in Sunderland and Teesside were raided on Wednesday.

A total of £1,500 in cash and two drones were also seized.

The women, aged 20, 31, 32 and 62 remain in police custody at this time.