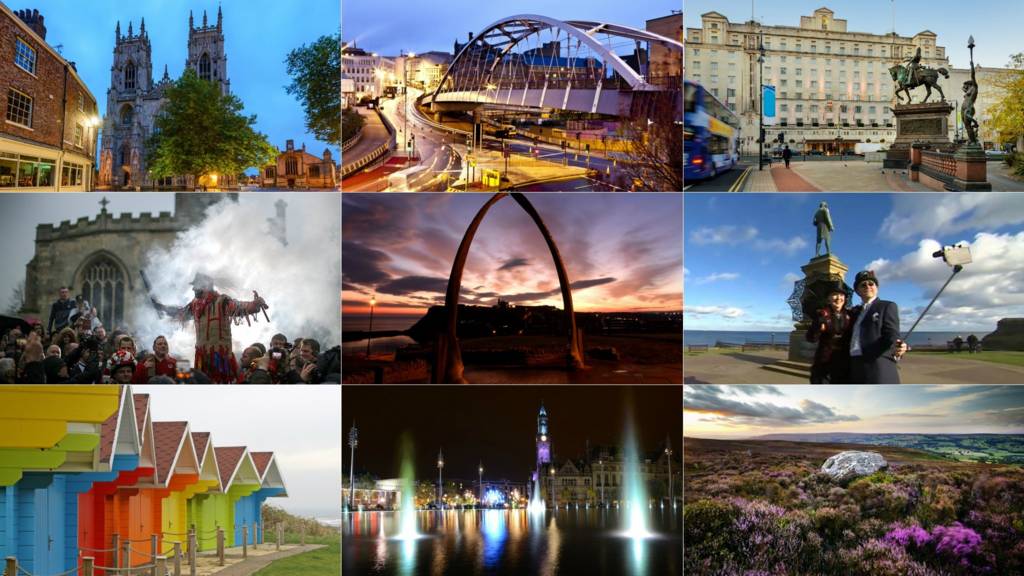 By Pauline McLean

BBC Scotland arts correspondent

Our top five stories today

That's all from us for today. We'll be back tomorrow from 06:30 with all the latest news, sport, weather and travel for Yorkshire. 

Updates on breaking news will continue here through the night, but before we go, let's look back at some of our top stories from today:

Latest Yorkshire weather forecast

Paul Hudson

Weather presenter, BBC Look North

Tonight will see scattered heavy showers slowly dying out, with clear periods developing.

The minimum temperature  will be about -1C (30F) with ice on untreated surfaces.

There'll also be a freshening westerly wind.  

Listen: Meet the girl helping teddies find a new family

Jules Bellerby

Presenter, BBC Radio York

An 11-year-old girl from Harrogate is raising money for charity by encouraging people to donate teddy bears and other cuddly toys with the promise she'll find them a new home.

Scarlet Smith-Dunn has set up a website where people can choose to pay to "adopt" a teddy.

She washes, brushes and prepares each teddy for adoption before they are sent out to their new "parents". 

The website only launched a week ago , but already she's had people buying the teddies for £30 a piece.

Scarlet and mum Victoria explain what brought about the idea: 

New Leeds United film headlines International Festival

A specially commissioned film about Leeds United will be among the headline attractions at the first Leeds International Festival which comes to the city in April. 

The brand new project, made by Moving Image, is set to be premiered at an as-yet-unconfirmed city centre location and features narration from club legends Gordon Strachan (pictured) and Vinnie Jones.

The film will be part of a wider cultural festival, which will be held from 22 to 30 April.

It incorporates the already established Live at Leeds music festival, with Brit award winner Rag 'n' Bone Man among the acts who will perform at various venues around the city.

BBC Broadcaster Lauren Laverne will also lead an Empowering Woman with Tech conference, with other female business leaders also set to feature.

Tommy Ward investigation to feature on Crimewatch

CCTV footage linked to the death of a pensioner killed following a violent robbery in South Yorkshire will be shown on the BBC's Crimewatch later.

Ex-miner Tommy Ward, 80, was found badly beaten at his house in Salisbury Road, Maltby, South Yorkshire on 1 October 2015. He died from his injuries in hospital on 23 February, 2016.

About £30,000 of his life savings was thought to have been stolen from his home in the attack.

The video shows a car driving along Salisbury Road, then making a U-turn before continuing back on the same road.  

Crimewatch is on BBC 1 at 21:00 tonight .

Knife-wielding man attacks and robs woman in Huddersfield

A knife-wielding man grabbed and threatened a woman in Huddersfield before stealing her mobile phone last week, police have revealed.

The incident happened on Union Street at about 21:45 on Wednesday 22 February as the 21-year-old woman was walking along the path.

She was approached from behind by the man who then grabbed her by the arm and threatened her with a knife before they both fell to the floor. 

During the struggle he took the victim's mobile phone and then ran off.

The suspect is described as tall and wearing dark clothing, with his face covered. 

It's beginning to feel a lot like...winter

Countdown for Wakefield city centre improvement fund

It's the last day for businesses in Wakefield to vote on plans to set up a fund to improve the city centre.

They've been voting on whether they want to establish  a Business Improvement District  - something  already operating in places including Leeds and Keighley. 

Businesses would pay subscriptions and the money would then be used on big projects to promote the city.

From Manor Top to top of the world: Sheffield man ready for Everest challenge

A Sheffield man with terminal cancer has raised enough money to climb Mount Everest.

Copyright: AFP/Getty Images

Ian Toothill is trying to fundraise for MacMillan Cancer research and is now ready to head off in less than a month.  

He says he'll definitely face some challenges on the climb: "I eat a very specific diet to offset the effects of cancer and I won't really be able to eat that diet.

"Also there'll obviously be problems with acclimatisation and even though I was born in Manor Top that doesn't quite count as acclimatisation!"