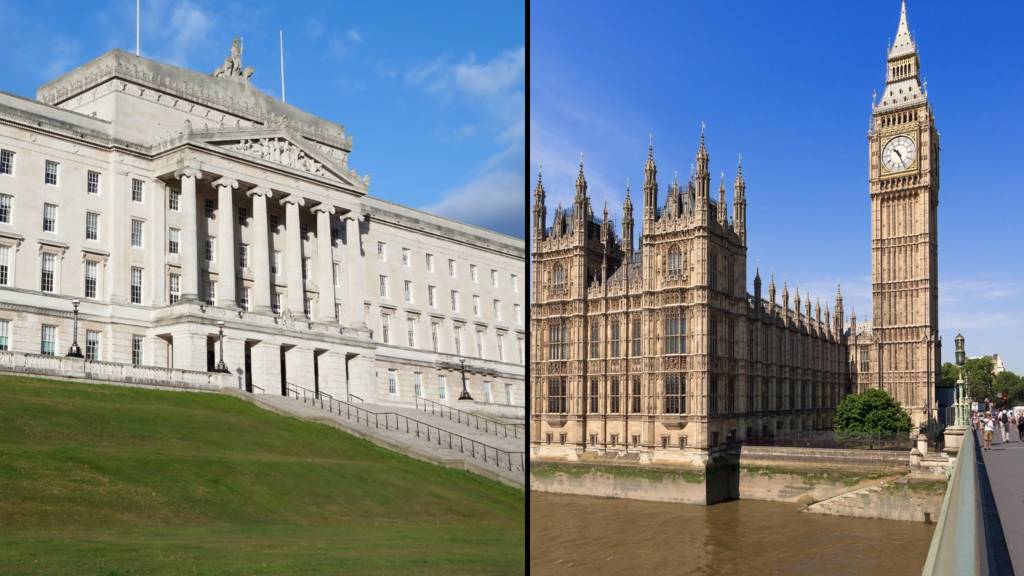 Live
Political talks in Stormont and London
Summary
Talks to restore power-sharing in Northern Ireland are under way
NI secretary James Brokenshire says he will continue to chair Stormont talks
Conservative backbenchers to press for more details on possible deal with the DUP
DUP's Foster is to meet the PM on Tuesday about a possible DUP-supported Tory government
Sinn Féin 's Adams says no DUP-Conservative deal would be good for Northern Ireland
Back to the drawing board?

BBC Radio Ulster's Talkback team have cleared their election grid - for now.

DUP is a 'compassionate' party

Former DUP MLA for North Belfast, Nelson McCausland, said: "The DUP would tend to be a fairly compassionate party. They would be a party that would want to avoid extremes of austerity"

He told the BBC's Today programme: "They would favour the retention of the triple lock on pensions, they favour the retention of the winter fuel payments as a universal benefit, they have expressed concerns about the 'dementia tax' and so on," he added.

Analysis: High stakes poker

Enda McClafferty

Political correspondent

All the parties will be back at Stormont on Monday, but it is likely that the focus will be on political partnerships in London and not Belfast.

The DUP is up for supporting a Conservative Government but only if its demands are met. Read more here.

Deals, deals, deals and more deals

No prizes for guessing what dominates this morning's papers in Northern Ireland.

Brokenshire will continue to chair Stormont talks

The Secretary of State, James Brokenshire, has warned that Northern Ireland may face direct rule if talks aimed at restoring power-sharing fail. He said he would continue to chair the talks, despite calls for an "independent broker".

He said: "The point is that we have a process already, which involves, yes the UK government, but the Irish government too and also the head of the Northern Ireland Civil Service."

Another election 'expected' within a year

Former Culture Secretary John Whittingdale says he believes there'll be another general election within a year.

The Conservative MP for Maldon thinks the prime minister has been damaged by her party's campaign in the run up to last week's vote, which saw them lose their Commons majority.

He said: "Governments, when they are in a minority of this kind, cannot survive for long.

"It means there's a lot of business that's almost impossible to get done, because you don't have any confidence of getting it through Parliament.

"The expectation is we may need another general election."

Stormont talks due to resume

Talks to restore power-sharing in Northern Ireland are set to resume later.

Stormont leaders are expected to meet Secretary of State James Brokenshire and the Irish minister for foreign affairs.

Today is likely to be even tougher than usual for PM

Theresa May will face tough questions later from her backbenchers after the Conservatives lost their majority at last week's election.

The 1922 committee is also expected to raise concerns about her leadership style, and press for more details on talks with the Democratic Unionists.

Another busy day ahead in politics

Hello and welcome to our special live coverage of today's political developments both at Stormont and in London.

Talks to restore power-sharing in Northern Ireland are set to resume amid uncertainty about an anticipated DUP-Conservative parliamentary deal. Stay with us as we bring you all the latest developments.